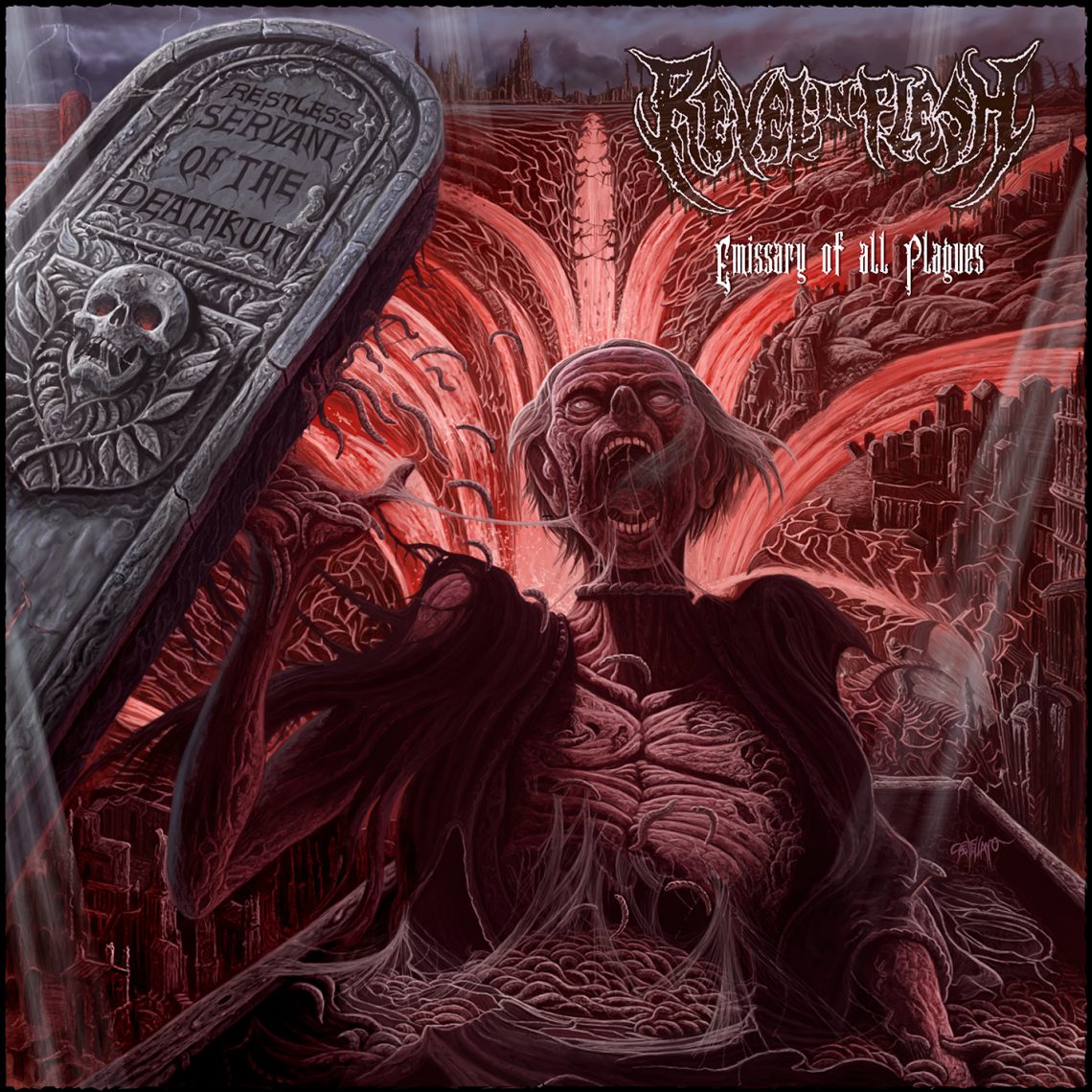 Revel In Flesh – Emissary of All Plagues CD Review
29th November 2016
0
By
Fraser
I was pointed in the direction of Revel In Flesh by esteemed illustrator Mark Riddick during our interview a few weeks ago. And I think it's fair to say I owe Mr Riddick a pint. This German quintet could easily be mistaken for some of the gore-drenched Swedes that clawed their way into death metal's spotlight in the '90s. The early albums of Revel In Flesh was a worthy tribute to their beloved Swe-death, but not much more. With Emissary of All Plagues, these Germans take their sound to the next level and give the impression they would have dominated Stockholm's scene alongside Grave and Entombed, had they been born in a different place and time.
These Swe-death worshippers have no objections to wearing their influences on their sleeves – the band are even named after a track from Entombed's genre-defining debut Left Hand Path. However, though you could be forgiven for mistaking Revel In Flesh for a hidden gem of the Swedish '90s scene, the Swedish influence is just that – an influence. Though the riffs carry that signature Swedish sound, the band have not merely aped their predecessors. This album simply sounds like Revel In Flesh, such is the progression from their Entombed worshipping roots. 
Throughout Emissary of All Plagues, Revel In Flesh display their mastery of keeping things interesting. Not everything on this record is going at 666bpm. And nor should it. Though it's fair to say the album has more than it's fair share of thrashy, buzzsaw riffing, there is plenty of slower, almost doomy passages to break what could have been a monotonous 45 minutes. A really telling sign of just how excellent Emissary of All Plagues really is, is the pure excitement I felt every time I listened to the record in the build up to writing this.
The album ticks every box for what makes a good death metal album, but not in a sterile, cookie-cutter fashion. There is an abundance of skull-shattering riffs. There is plenty of blasting, pulverizing drumming. The whole record is steeped in a sombre melody that gives a truly haunting atmosphere to the listen. Each of Emissary of All Plagues' tracks embody all of the elements of Revel In Flesh's music. There isn't one fast song, and one really doomy song, and one super melodic song. All of Revel In Flesh's musical arsenal is present on the vast majority of the album's track list, without it sounding ragtag and thrown together.
Picking highlights for this record is a tough one, given the supreme standard displayed throughout. The opening three tracks prove to me a death metal masterclass. Emissary of All Plagues' title track excellently gives the listener a display of the kind of brutalisation to be expected throughout the record. The band focus a bit more on their buzzsaw riffing with Casket Ride, while Fortress of Gloom carries a melancholic melody that will haunt you. With Torture Throne and Dead to This World, Revel In Flesh further prove their mastery of mixing soaring, hooky melodies with a sinister, evil, and simply eviscerating heaviness.
The only negative to Emissary of All Plagues is the closing track. While Revel In Flesh must be commended for choosing a more unique cover (UFO's Doctor, Doctor) than what would be expected, the classic rock riffing just didn't convert to death metal well. The leads worked magnificently, and the inclusion of double bass in the song was refreshing, but on the whole the track just didn't really work. A cover of a slightly heavier band, or another original track to the same standard of the rest of Emissary of All Plagues would have been a better choice.
Everything about this record is just so much fun to listen to. Although Emissary of All Plagues is definitely brutal and old-school enough to appease the elitists, the whole album is absolutely dripping with hooks. Every single one of the original songs here would be a pleasure to see live. Truly, Revel In Flesh have taken the bar they had set on previous records, and have absolutely decimated it. A different cover song, or a new song altogether, would have left me with no choice but to give this stunning album a 10/10, but Doctor, Doctor does drag the score down a notch. On the whole, however, Emissary of All Plagues is, without a doubt, one of 2016's best offerings.
Score: 9 out of 10
Emissary of All Plagues Information
Tracklist:
1. Emissary of All Plagues
2. Casket Ride
3. Fortress of Gloom
4. Servants of the Deathkult
5. Torture Throne
6. The Dead Lives On
7. Lord of Flesh
8. Sepulchral Passage
9. Dead To The World
10. Doctor, Doctor (UFO Cover)
Record Label:
Cyclone Empire
Release Date:
2nd of December 2016
For fans of…
Entombed, Grave, Obscure Infinity
Preorder Emissary of All Plagues here!
How useful was this post?
Click on a thumb to rate it!
Average rating 3 / 5. Vote count: 1
No votes so far! Be the first to rate this post.
Related
About the author
This bearded wildman from North of the wall survives the harsh ever-present winter of Scotland on a healthy diet of thrash, death metal and beer.