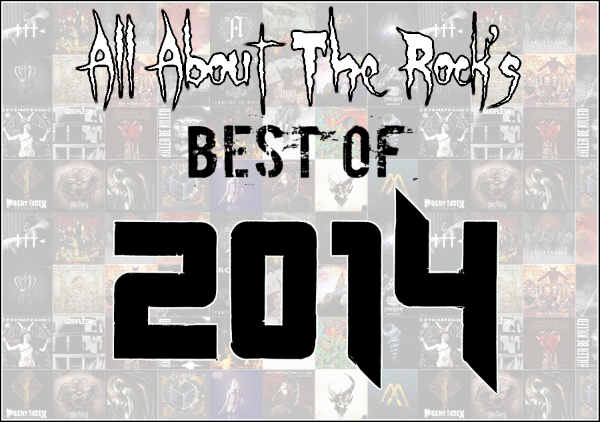 Rich Dodgin's Best of 2014
8th January 2015
RICH DODGIN'S BEST OF 2014
1. Symphony Novel – Ethereal Ash (single)
My favourite release of the year without any question. I was a big fan of ARIA, the debut album by this Mumbai based progressive / experimental band when it was released last year, but with Ethereal Ash the band have taken their music to the next level.
Combining the cello, heavy rhythm guitars, stylistic Indian classical vocals, and western vocals Symphony Novel have created a beautiful piece of progressive rock music that is simply breathtaking.
The fact that these guys won "Best Metal Song" (for the song Infirmity from last year's album, ARIA) at the Indian 2014 Radio City Freedom Awards a couple of weeks ago shows that the music Symphony Novel is creating is really starting to be appreciated by rock and metal audiences in India.
2. Miseo – Lunatic Confessions
When I reviewed this, Miseo's debut album, for AATR I said I was impressed but that this album wasn't groundbreaking. And it isn't… but for some reason for the few weeks after I'd written the review I found I couldn't stop listening to this.
Lunatic Confessions is brutal, catchy as hell, and has some amazing riffs – and quite honestly it's just all done so damn well. This album has had more of an impact on me than the new Obituary, Machine head, or Slipknot albums. And I'm huge fans of all three of those bands.
3. Bush – Man on the Run
I'm a massive Bush fan and I've had their latest release, Man on the Run, on repeat play since I first got my hands on a copy.
It's nothing particularly new, but Bush do what they do very well and this album has really struck a chord with me. It's energetic but melancholic soundscapes seem perfect for whatever mood I'm in, and Man on the Run has been my soundtrack for the last couple of months.
4. Prong – Ruining Lives
This album is faultless. From start to finish it is simply amazing – hard hitting, catchy, head bangingly awesome.
Prong are a band who have never been afraid to try something different, effortlessly combining metal and industrial elements to create their own unique sound. Ruining Lives is the natural progression of that musical style and of a band who've been making music for years – industrial tinged metal with riffs and hooks that mean these songs get stuck in your head for months.
5. Hagana – One Year
This is an album of catchy as hell pop-rock tunes that sits somewhere between grunge, punk, and indie rock.
I've been lucky enough to see these guys play live several times in 2014, and the energy and intensity of their live shows is something that Hagana have managed to capture on One Year. Simply fantastic.