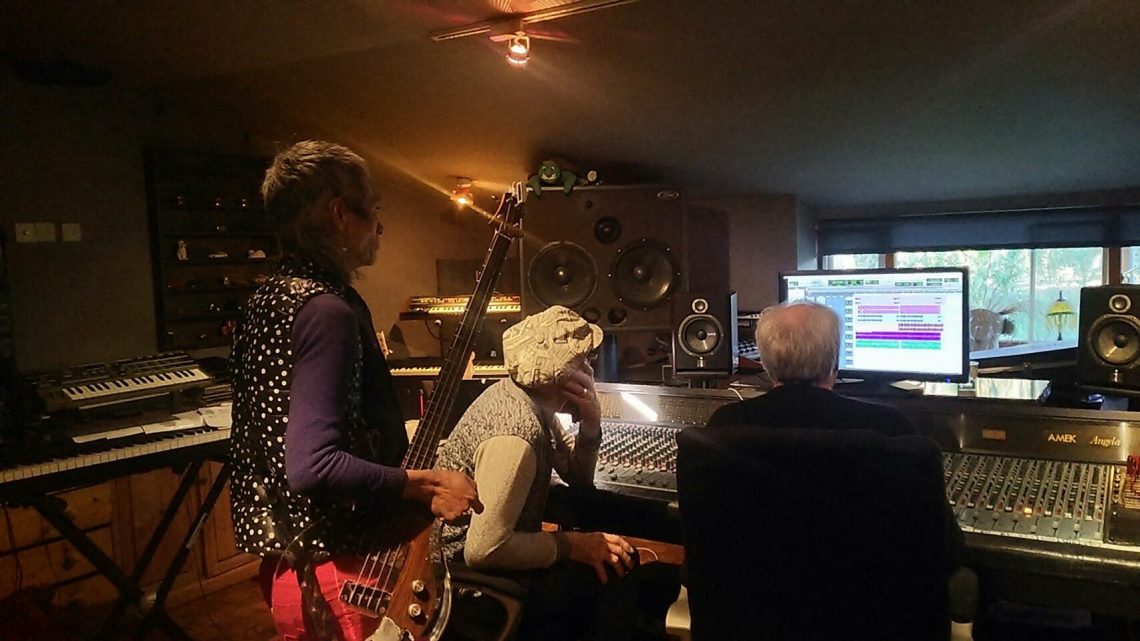 Richard Strange / TV Smith – Don't Panic England
19th November 2021
TV SMITH AND RICHARD STRANGE  DON'T PANIC ENGLAND Written and recorded by TV Smith and Richard Strange, Mixed by Martyn Ware (Human League) and Tom Gillieron
Live dates :
 October 15th London 100 Club
October 22 Shoreham By Sea Duke of Wellington
October 23rd Bath The Bell Inn
1978
is a collection of songs written and performed by the frontman of Doctors of Madness and frontman of The Adverts, two seminal bands of the mid 70s.
TV Smith
wrote three of the most iconic songs of the punk era…
One Chord Wonders, Bored Teenagers
and the hit single Gary Gilmore's Eyes, and has released 14 albums to date. His live shows are legendary for the fervour and the almost religious zeal of his fans.
Richard "Kid" Strange
went on to work with artists as varied as Tom Waits, Frank Zappa, The Nightingales and Marianne Faithfull, as well as working as an actor in the films
Batman, Robin Hood, Gangs of New York
and Harry Potter.
Their friendship dates back to a chance meeting a Doctors of Madness gig in 1976, and has endured these past 45 years, through the unique journeys their lives have taken them on.
These songs were recorded at Strange's flat, on a two-track stereo Revox tape recorder.
No record companies were involved, nor management nor publishers.
These eight songs, never before available commercially, were a labour of love-
a collaboration of two of the most original lyricists and composers of their generation,
overlooked at the time because of their refusal to play the game.
Their fans are as diverse as their music…from Henry Rollins, Joe Elliott and Julian Cope
to Vic Reeves and Atilla the Stockbroker.
This beautifully packaged record, available only on red vinyl, will show you why.
TV Smith and Richard Strange will be doing a number of live shows together around the UK
in Autumn 2021 and a brand-new song,
RICHARD STRANGE
Writer, musician, composer, nightclub host, curator, actor and adventurer, Richard Strange was born in London in 1951. Since his proto-punk rock band The Doctors of Madness ("The missing link between David Bowie and The Sex Pistols…" wrote The Guardian in May 2017) was first unleashed on an uncomprehending public in 1975 (the band was supported by the Sex Pistols, The Jam and Joy Division) he has been a Zelig-like figure whose presence has been felt in every corner of London's cultural life. Now comes his solo show An Accent Waiting To Happen, an evening of songs, films clips, stories, readings and downright scurrilous gossip from his 40 years in the arts and entertainment world. He founded the hugely influential mixed-media Cabaret Futura in 1980, and has subsequently worked as an actor, appearing extensively on stage, in films and on television. Strange has been seen in films as diverse as Batman, Mona Lisa, Robin Hood-Prince of Thieves, Gangs of New York and Harry Potter. He has made numerous TV appearances, and as a stage actor he has worked alongside household names such as Peter Capaldi and Marianne Faithfull.
www.richardstrange.com
www.doctorsofmadness.com
www.facebook.com/richard.strange.33