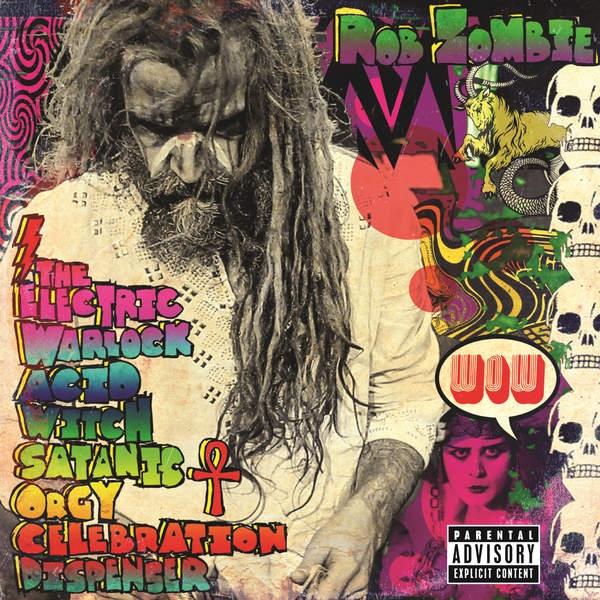 Rob Zombie – The Electric Warlock Acid Witch Satanic Orgy Celebration Dispenser – CD Review
1st May 2016
After the mixed feelings of Rob Zombies last couple of albums it was with great tentativeness. But this is as fucked up as it gets from Rob Zombie.
All the usual horror B movie samples are present. John 5s guitar work is as mind numbing as one would expect.
This is his heaviest work since White Zombies La Sexorcisto:Devil Music Volume One, which is not really surprising, as half of this band used to be with Marilyn Manson (John 5 & Ginger Fish). It appears that now that Piggy D (Wednesday 13)& Ginger Fish have settled in, their influences are now starting to come through in that it's a lot more punk than a typical Rob album.
Lead Single Well, Everybody's Fucking in a U.F.O. didn't pump my 'nads as Robs music usually does which is the main reason I was nervous about hearing & reviewing this album. But when placed in context it works.

The new single In The Age Of The Consecrated Vampire We All Get High is a typical Zombie track & represents the record better (& yes avid reader, it did indeed pump my 'nads & may've caused a little bit of wee too)

Rob Zombie has been producing short albums for some time now & this is no exception. Clocking in at just 31 minutes it leaves even those with attention span of a gnat asking for more.
It's really difficult to single out 1 track,  so the fact that there's 2 separate songs taken from the album is no mean feat.
Each track on this recording forms a dodecagon type shape. So unless you're keeping eye on which track your on it glides efortlessly from one to the other.
This opus is a return to Rob Zombie form.
For fans of B-movie horror, Fear Factory, Punk & experimental metal then this is a worthy purchase.
Out Now via Universal music & available from all the usual & unusual places. Don't forget a deep breath when ordering over the phone or in a record store.

Track List:
01. The Last Of The Demons Defeated
02. Satanic Cyanide! The Killer Rocks On!
03. The Life And Times Of A Teenage Rock God
04. Well, Everybody's Fucking In A U.F.O.
05. A Hearse Overturns With The Coffin Bursting Open
06. The Hideous Exhibitions Of A Dedicated Gore Whore
07. Medication For The Melancholy
08. In The Age Of The Consecrated Vampire We All Get High
09. Super-Doom-Hex-Gloom Part One
10. In The Bone Pile
11. Get Your Boots On! That's The End Of Rock And Roll
12. Wurdalak
Line-up:
Rob Zombie – vocals
John 5 – guitar, backing vocals
Piggy D. – bass guitar, backing vocals
Ginger Fish – drums, percussion
Score 8/10