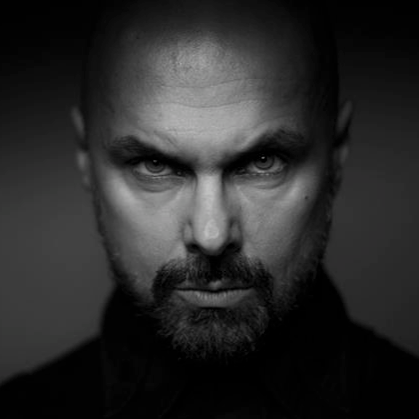 Roy Khan, vocalist of Conception (ex Kamelot) Interview
28th June 2018
0
By
Blair K. Rose
When I first decided I wanted to start writing about metal, one of my «pipe dreams» was always to speak to my favourite musician. We all have our reasons and our muses. For me at the time it was just that, a pipe dream. But lo and behold, the recent news of Conception's return to music, and with them, lead vocalist and ex-Kamelot front man, Roy Khan's return to music. Can you guess who my muse and pipe dream is? Well it's not a pipe dream anymore. I had the immense pleasure to speak with him about Conception's upcoming EP, return to the industry and their Pledgemusic crowdfunding campaign that has garnered mass interest and success. Never let go of your dreams, friends. So without further ado, here we speak to Mr. Roy Khan about Conception, his YouTube solo single, and life in Norway in the past seven years. Take a look and check out the Pledgemusic campaign and show Conception and Khan some love.

How was your 17th of May (17th of May is Norway's Constitutional Day)?

It was, uhh,pretty cool. I got three little kids and the 17th of May is pretty much a children's type of day. You run around in parades and do silly games and pretty much follow your kids around during the day and buy them ice cream.

Each Conception records sounds extremely distinct and I expect this new one will as well, especially now that you are all grown.Now that you're all much more self assured, and have grown and changed so much in the intervening years how has the sound of Conception started to develop with this new record?

That's kind of hard to pinpoint exactly, you know. We always had a policy to try to write songs that don't sound like any other songs that we have written in the past. We try to stick to that. None of the songs really sound like anything we have done in the past but it still sounds like Conception, but I would say the most important thing that is different is that we know the business.Of course we are the same personalities but we have matured and developed as musicians and songwriters. As far as songwriting goes we have a much better overview over harmonies and have developed a good sense for finding the right melody. And of course my voice is slightly different from what it was back then.

It's hard to pinpoint what is different and how it is different. Every record has changed quite a bit from release to release, especially from Last Sunset to Parallel Minds and again between In Your Multitude and Flow, and what exactly happened between In Your Multitude and Flow…I guess it had to do with that period in our careers, we were maturing real fast. And of course some people stick to a certain formula but that's not the way we think and it's risky but that's what we find the most satisfying as songwriters and artists. 

The Pledgemusic campaign exploded. were you expecting the massive response you got or not? why or why not.

 Of course we were hoping for some kind of response after all these years but it was quite overwhelming the way it took off. Pretty much at this point we know that its going to be enough for us to do things the way we want to do them. We could not ask for more. We didn't really know what to expect to be honest. What we really like with Pledgemusic is we can interact more directly with the fans. We also read all of the messages from the pledgers and a couple of the things we have there are actually suggestions from the fans.

How did you come to the decision to do the camping trip?

All four of us like fishing and hiking in the mountains and this is going to be a super enjoyable way for us to connect with a handful of fans.We were thinking is there a way we can spend time with our fans and also make it a cool happening and that's what we came up with.

How do you feel about everything that's changed with the music industry, especially with subscription streaming services? Does Conception have plans to look into Spotify or Bandcamp?

Absolutely. As you may notice our back catalogue is not on Spotify. That has to do with contractual issues between us and the label that owned the records. Were trying to work that out these days. Generally I think it's a very good thing, especially for a band like us just starting up again. It's a great way to reach a lot of people. Even for bigger artists I think it's a big plus these days. But now streaming and YouTube and different ways of distributing music are actually starting to pay off so I obviously see that as a good thing. The new stuff is definitely gonna go on Spotify. When? I assume its going to happen sometime after the release of the new material.

"For All" was a beautifully composed song and very honest and very you. I had read your interview in Vårt Land some time back where you mentioned being "sårbart" (Sårbart is a Norwegian term meaning vulnerable). At the time it really spoke to me as someone who is just like that. For All had some lyrics reminiscent of the tone of Vårt Land. Your particular form of honesty in your approach to songwriting has a way of making a connection with the listener that many other musicians don't. You once said lyrics are extremely important. Is it safe to say this approach to writing will be noticeable on the new Conception EP 

There have always been songs where I speak my own life, for sure that will still be an element in my writing, and I still love doing lyrics. 

This might be a weird question but ill try anyway. my husband used to have this saying that some types of art are on "his frequency". meaning if you were to describe your personality to someone only in the form of a song/movie/book what would it be? if one was to ask "show me one song/book/movie that would tell me about who you are what would it be?"

I don't really have a better answer to that than referring to my own "For All" that I released on YouTube during Easter. It's hard to pick a song that's more me…

than one you've written yourself.

And that song I like to think says something about my personality.

Have you gone back and looked at the lyrics of old Conception songs and seen them in a different light now?

Some of those lyrics I would maybe not have written today, but it can still be useful to create songs from someone else's point of view and try to see things from their perspective. I don't have to look back on them and figure out what I was saying I know well what I felt and what I thought I knew back then but I definitely see a different me in the old songs. You have a bigger chance of hitting the spot if your life can relate to what you're singing about but it doesn't necessarily mean that what I say in a song is a portrayal of me. 

Do you have any pets? 

No, my wife is allergic. We haven't gone ahead and invested in a fur-free pet yet. The kids asked me the other day if we could have a chameleon. Not sure if we want a chameleon in the house yet.

Would Conception consider doing any videos for the EP? If so do you have any idea for what you'd want one to look like?

We're not sure about that. There will be a video at some point but not necessarily this time around. We're discussing it and we have some ideas on the table but we'll have to wait and see.

What bands have you been listening to lately? Are there any musical influences that might find their way into the new album?

Umm, yeah it's really hard to pinpoint that too because I can't really think of anything that specific that you can find on this release. Lyric-wise I'm reading a book about bees, which is actually the basis of one of the songs lyrically but musically, I'm not sure. 

Bees works!

Yeah, this song that I'm talking about is the newest one and we're not really sure. It's kind of a concept within the song itself; it's a multi part thing and we made two of the parts, but an EP might not be the right format for that song so I guess we're saving it for later.

You and the rest of Conception have been friends for a very long time. Do you have any advice you'd give to younger musicians about maintaining a rapport with your band mates?

When you've made a mistake or said something that's not cool, it's important to admit that you're wrong. It's important to try to see the big picture. Try to look beyond the little issues. Artists are very passionate about what they're doing but at the end of the day it's important to keep focus on the big picture.  

How do you deal with perceived errors in recordings? Do they bother you, or do you view them as part of the individual charm of a recorded song?

Some of them still bother me even today and some of them grow on me and at some point I actually find them kind of cool. Some mistakes you make or something you haven't done properly could bother you for a long time but it's important, as I said in the last question, to try to look at the big picture of things.

Are you synaesthetic?

Not that I know. I mean I feel that I have a really good gut feeling, but I doubt that counts. I'm very colourblind too. I couldn't be a pilot for example and we we've been out sailing at night I can't tell the difference between when the lighthouse goes from green to red. I can't tell the difference between green, red, and white.

It's all in the big umbrella of brainweird stuff. Anyway. It's immensely wonderful to see Conception back, and see you doing well and doing what you love doing. Anything you'd like to say to your many supporters?

I wanna thank everybody that supported during this campaign and we were totally dependent on people backing us up. As I said in the beginning its been really overwhelming. There's two things I really love about doing this and  that's making the music, and also performing it. Conception is something special to see live.
How useful was this post?
Click on a thumb to rate it!
Average rating 3.5 / 5. Vote count: 4
No votes so far! Be the first to rate this post.
Related
About the author
Blair hails from Canada and has been a lifelong, extremely passionate fan of metal, a born headbanger. She resides somewhere between 8-11 on the Mohs Scale of Heaviness and has a propensity for ominous latin and guitar gallops.