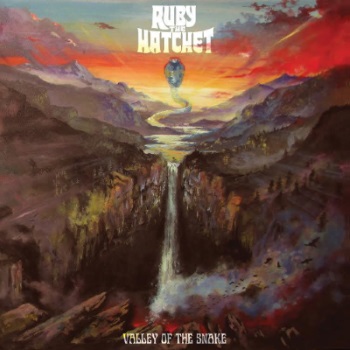 Ruby The Hatchet – Valley Of The Snake
1st March 2015
Ruby The Hatchet deliver vocal hooks big enough to catch a killer whale
Paul Flynn
Already a fan of Ruby the Hatchet since hearing their earlier release Ouroboros, I was keen to grab their latest offering, Valley of the Snake, and put it to the test. The Philadelphia based five piece deliver deep and dirty stoner rock but with vocal hooks big enough to catch a killer whale; courtesy of the superb Jillian Taylor. The band is completed by Mike Parise (Bass), Owen Stewart (Drums and Vocals), Sean Hur (Organ) and Johnny Scarps (Guitar).
The sound produced on the this album, mixing the guitar and organ driven rock with Taylor's slick vocals, plays out like a Deep Purple/Stevie Nicks lovechild. But don't be fooled into thinking that Valley of the Snake is a walk down the middle of a familiar, well travelled road. This album is a bold statement by a band that mean business. I have had the CD for less than a week and already I have slung the guitar over the shoulder and played along to the album opener Heavy Blanket; I just had to, so good are the riffs.
Also don't be put off by the fact that the album only has 6 tracks. After "Heavy Blanket", and first single "Vast Acid", the songs are epic compositions making up the rest of the album's 40 mins. For those of you that have heard and loved Astra's The Black Chord; this is an album for you. I know I will be playing Valley of the Snake for some time to come and in fact I make the prediction that it may well feature in my top albums of 2015; and it is only March.
The album production is fantastic and the CD digipack has some neat artwork by Adam Burke. My only criticism is the lack of inlay booklet which I would have liked to flick through but hey ho, I can look at their website should I feel the need to look at pictures of the band and their artwork.
In summary this is an awesome album!!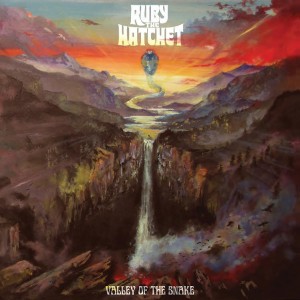 TrackListing
1. Heavy Blanket
2. Vast Acid
3. Tomorrow Never Comes
4. The Unholy Behemoth
5. Demons
6. Valley Of The Snake
Record Label- Tee Pee Records
Release Date- 24 February 2015
Band Info- http://rubythehatchet.com