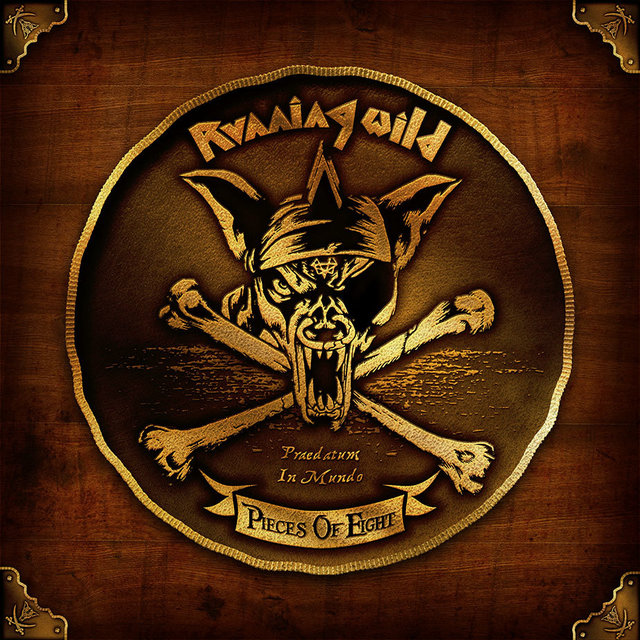 Running Wild 'Pieces Of Eight' unboxing video
26th September 2018
0
By
John Deaux
RUNNING WILD release their spectacular 'Pieces Of Eight' deluxe box set on Friday September 28, 2018
Pieces Of Eight – The Singles, Live And Rare. 1984 – 1994
NOISE Records are proud to announce, Running Wild – Pieces Of Eight : The Singles, Live and Rare. 1984 – 1994. A deluxe, limited edition boxset containing all the bands Noise records singles, the re-record compilation 'The First Years Of Piracy' and an expanded, double gold vinyl version of their debut live album 'Ready For Boarding', which features a whole new show on disc two, from 1989, previously only available before on VHS tape.
All of these titles have been long out of print, since their original release during the bands decade tenure on Noise. The box set also includes a collectable, Running Wild, piece of eight coin and a two sided poster featuring the band's classic line-up and the box set artwork.
German heavy metallers Running Wild were formed in 1976 in Hamburg, but shot to fame during the emergence of the German metal scene in the early to mid-1980s.
Over the course of their career, they have released sixteen studio albums, three live albums, five compilation albums, and six singles/EPs. Although their earlier releases contained Satanic themes and imagery, they later invented the pirate metal subgenre after the band released their third album in 1987, Under Jolly Roger, which was a switch to pirate-based and historical themes, creating and influencing the later named Pirate metal subgenre of heavy metal in the 2000s in the process.
While the historical lyrics were fantasy at first, the lyrics for later albums were intensively researched, by frontman Rolf Kasparek in particular. After this album, from 1988 to 1992 (for the albums Port Royal, Death or Glory, Blazon Stone, Pile of Skulls & Mascquerade), Running Wild mainly wrote historically based lyrics. In addition to lyrics about pirates like Calico Jack, Klaus Störtebeker, or the little-known Henry Jennings, the band also addressed subjects like the Wars of the Roses, the Battle of Waterloo, or the colonization of the New World by the Conquistadors. They have sold over 1.8 million albums globally making them one of Germany's largest exports.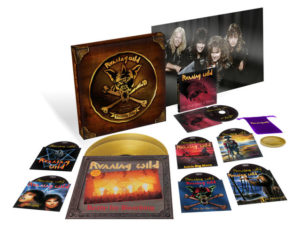 Track listings
Victim Of States Power CD EP (1984)
Victim Of States Power
Walpurgis Night
Satan   
Little Big Horn CD EP (1991)
Little Big Horn
Billy The Kid
Genocide
The First Years Of Piracy CD album (1991)
 
Under Jolly Roger
Branded And Exiled
Soldiers Of Hell
Raise Your Fist
Walpurgis Night
Fight The Oppression
Marching To Die
Raw Ride
Diamonds Of The Black Chest
Prisoner Of Our Time
Wild Animal CD EP (1989)
Wild Animal
Chains & Leather
Tear Down The Walls
Störtebeker  
Lead Or Gold CD EP (1992)
Lead Or Gold
Hanged, Drawn And Quartered
Win Or Be Drowned
Ready For Boarding 2x gold LP (1988)
 
Disc 1 – original concert
Live In Munich, Nov 1987
 
Hymn Of Long John Silver
Under Jolly Roger
Genghis Khan
Raise Your Fist
Purgatory
Mordor
Mordor
Diabolic Force
Raw Ride
Adrian (S.O.S.)
Prisoner Of Our Time
Bad To The Bone CD EP (1989)
 
Bad To The Bone
The Battle Of Waterloo
March On
The Privateer CD EP (1994)
 
The Privateer
Dancing On A Minefield
Poisoned Blood
Disc 2 – bonus concert
Live in Düsseldorf, Oct 1989
 Intro
Riding The Storm
Bad To The Bone
Raw Ride
Raging Fire
Tortuga Bay
Uaschtschun
Bass Solo
Conquistadores
Prisoner Of Our Time
How useful was this post?
Click on a thumb to rate it!
Average rating 0 / 5. Vote count: 0
No votes so far! Be the first to rate this post.
Related
About the author
Some say Yank My Doodle, It's A Dandy! is a biographical movie based on John. Some have even said that his favorite artist is Chesney Hawke! All we really know is he sleeps inside out and his hair tastes like candy floss.