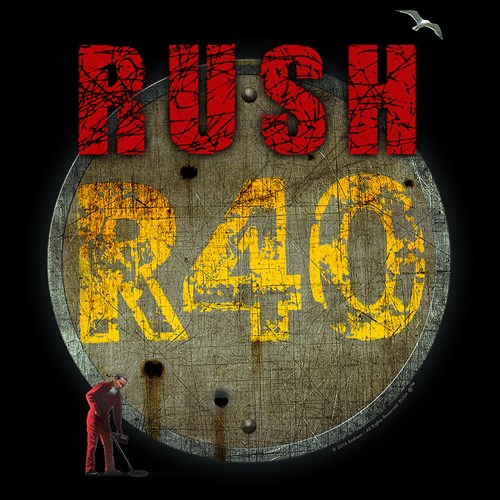 RUSH – R40 CD & DVD Review
3rd December 2015
*This review is based on the CD & DVD version only*

Rush are in a league of their own. Going strong after 40 years,  more than 40 million records sold worldwide, countless sold-out tours, a star on the Hollywood Walk of Fame, inducted into the Rock and Roll Hall of Fame, officers of the order of Canada, really nice guys & still the original 3 members.
This 4 disc set is fairly lavish, a nice glossy gatefold sleeve, booklet that has some nice live photos, the discs are held into place with plastic clips that will become loose after time (depending on how often you take the discs in & out of the packaging) & may end up damaging the discs but this is a small niggle for a really nice set.
The DVD starts with a great little cartoon movie showing all the various stages of Rush through the ages. From the humble beginnings, right the way through all the dodgy outfits, the 80's get up & finally up to present day. There are no extras on the DVD due to size constraints but you do have the option of a stereo or a 5.1 mix both of which do sound really nice.
Neil Peart is a joy, as always, to watch. The concentration & accuracy never fails to amaze especially during his drum solo on Cygnus X-1/The Story So Far.
unfortunately Geddy sounds rough on Tom Sawyer & a couple of their earlier tracks as I think they are a little out of his vocal range now & really should have been transposed slightly to bring it more into his now more natural range. Having said that tho, it's still amazing to hear these tracks live & of course it's the mighty Rush.
The audio section is split on 3 discs. Discs 1 & 2 take up the first 2 sets of the concert with disc 3 being for the encore & some really nice live bonus tracks that aren't on the DVD.
The musicianship is superb, Alex Lifesons backing vocal is way down in the mix to almost non existent at times. It's only when you watch the DVD do you realise when he should be present.
The CDs themselves sound incredible. Especially at high volume (the only way to listen to good music).
But it really is the live footage that makes this an absolute must.  Rush recorded and filmed R40 Live over two sold-out shows in the band's hometown of Toronto at the Air Canada Centre on June 17 & 19, 2015 in the middle of their R40 Live 35-date North American tour. Captured by only 14 cameras it feels like a shed load more were used.
Geddy, Alex & Neil are really on form & have never sounded as good. You can certainly tell that these guys really do love performing live, their friendship is stronger than ever & that they still don't take themselves seriously.
This is no more evident than on the No Country For Old Hens segment. A short movie that shows Rush constantly messing around & ends with them being parodied by South Park.
Like me, you're probably wondering why we need yet another live Rush album. Well the answer is simple, there are tracks on this album that are rarely performed live, let alone captured for posterity.
You really do get your monies worth with this set. For just under 3 hours of top class music & 3 hours for the DVD it's a steal & an absolute no brainer for completest or the occasional listener.
Available now on CD/DVD/Blu-ray from the following sources
Official Store: http://smarturl.it/R40LiveS…
Amazon DVD: http://smarturl.it/R40LIVEDVD
Amazon Blu-ray: http://smarturl.it/R40LIVEB…
Amazon 3CD: http://smarturl.it/R40LIVE3CD
Amazon 3CD/DVD: http://smarturl.it/R40LIVE3…
Amazon 3CD/Blu-ray: http://smarturl.it/R40LIVE3…
iTunes: http://smarturl.it/R40LIVEi…
Best Buy: http://smarturl.it/R40LIVEBB
• 3-CD/1 Blu-ray set
• 3-CD/1 DVD set
• 3-CD set (audio only)
• Single-disc Blu-ray
• Single-disc DVD
Track List:
1. The World is ..The World is … (CD1)
2. The Anarchist (CD1)
3. Headlong Flight (CD1)
4. Far Cry (CD1)
5. The Main Monkey Business (CD1)
6. How It Is (CD1)
7. Animate (CD1)
8. Roll the Bones (CD1)
9. Between the Wheels (CD1) 
10. Losing It (with Ben Mink) (CD1)
11. Subdivisions (CD1)
No Country For Old Hens (DVD ONLY)
12. Tom Sawyer (CD2)
13. YYZ (CD2)
14. The Spirit of Radio (CD2)
15. Natural Science (CD2)
16. Jacob's Ladder (CD2)
17. Hemispheres Prelude (CD2)
18. Cygnus X-1The Story So Far (drum solo) (CD2)
19. Closer to the Heart (CD2)
20. Xanadu (CD2)
21. 2112 (CD2)

22.Mel's Rockpile (with Eugene Levy) (CD3)
23. Lakeside Park / Anthem (CD3)
24. What You're DoingWorking Man (CD3)
25. One Little Victory (CD3)
26. Distant Early Warning (CD3)
27. Red Barchetta (CD3)
28. Clockwork Angels (CD3)
29. The Wreckers (CD3)
30. The Camera Eye (CD3) 
31. Losing It (with Jonathan Dinklage) (CD3)
Score 9.5/10