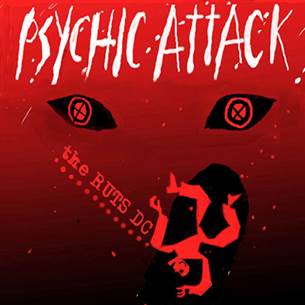 The Ruts DC – Psychic Attack – new single and video – play loud!
18th May 2016
THE RUTS DC ANNOUNCE NEW SINGLE 'PSYCHIC ATTACK' TO BE RELEASED MAY 20TH VIA WESTWORLD RECORDS ON CD AND LIMITED EDITION CLEAR VINYL 7"
ALBUM RELEASE SHOW CONFIRMED FOR SEPTEMBER 16TH AT THE CAMDEN UNDERWORLD, LONDON
With their roots undoubtedly deeply set in the initial mid-to-late seventies punk explosion, The Ruts, and then The Ruts DC, very quickly developed into a musical hybrid that took in so much more than the basic three-chord-1234 that dominated much of what was labelled as punk. Already accomplished musicians, they effortlessly weaved reggae, ska, dub, rock and post-punk influences into a musical catalogue that is as inspiring and powerful now as it was when it was created.
The tragic death of their original frontman Malcolm Owen in 1980, and then their guitarist Paul Fox in 2007 is well documented.  Yet since 2008, surviving members John 'Segs' Jennings (bass and vocals) and Dave Ruffy (drums) kept their unbeatable rhythm section tight and together. Perfectly complimented with the dynamic guitar stylings of Leigh Heggarty, they put The Ruts DC back on the road, thrilling audiences with their unique blend of bona fide rock classics from the original band plus new material from the recently recorded second volume of their 'Rhythm Collision' dub-series.
As the band continued to grow in confidence and strength, thoughts turned to the challenge of writing new rock music under the The Ruts DC banner, the first the band would attempt since the release of their 'Animal Now' album in 1980 and the initial results are finally here for the world to hear.
Titled 'Psychic Attack' and released May 20th through the newly formed Westworld Records, the new single precedes the recently announced release of the new The Ruts DC album 'Music Must Destroy', due September 16th,  and heralds their return to rock in dramatic style, with three-minutes of high-energy, adrenalized fury.
"It's been a long time coming but the time has never been so right," explains Segs. "We've been writing over the last year or so as we've been touring around, inspired by the newly  found interest in what we're doing and the many live shows we've done. Lyrically it's hard hitting and 'Psychic Attack' is about pressure; being persecuted by enemies, so called friends, the state or even yourself. It's important to know that you are not alone in your struggle. Our message is simple…people unite"
TRACKLIST
1.Psychic Attack
2.Psychic Disturbance
3.Vox Teardrop (instrumental)
Order links:
CD (http://bit.ly/1UdIh4o)
7″ (http://bit.ly/1TYYuvs)
iTunes UK (http://apple.co/1SuOtH6)
Google Play (http://bit.ly/1WdK0Id)
The Ruts DC will play a special album release show at The Underworld, London on September 16th. Tickets available from: http://bit.ly/1TEOW49
How useful was this post?
Click on a thumb to rate it!
Average rating / 5. Vote count: