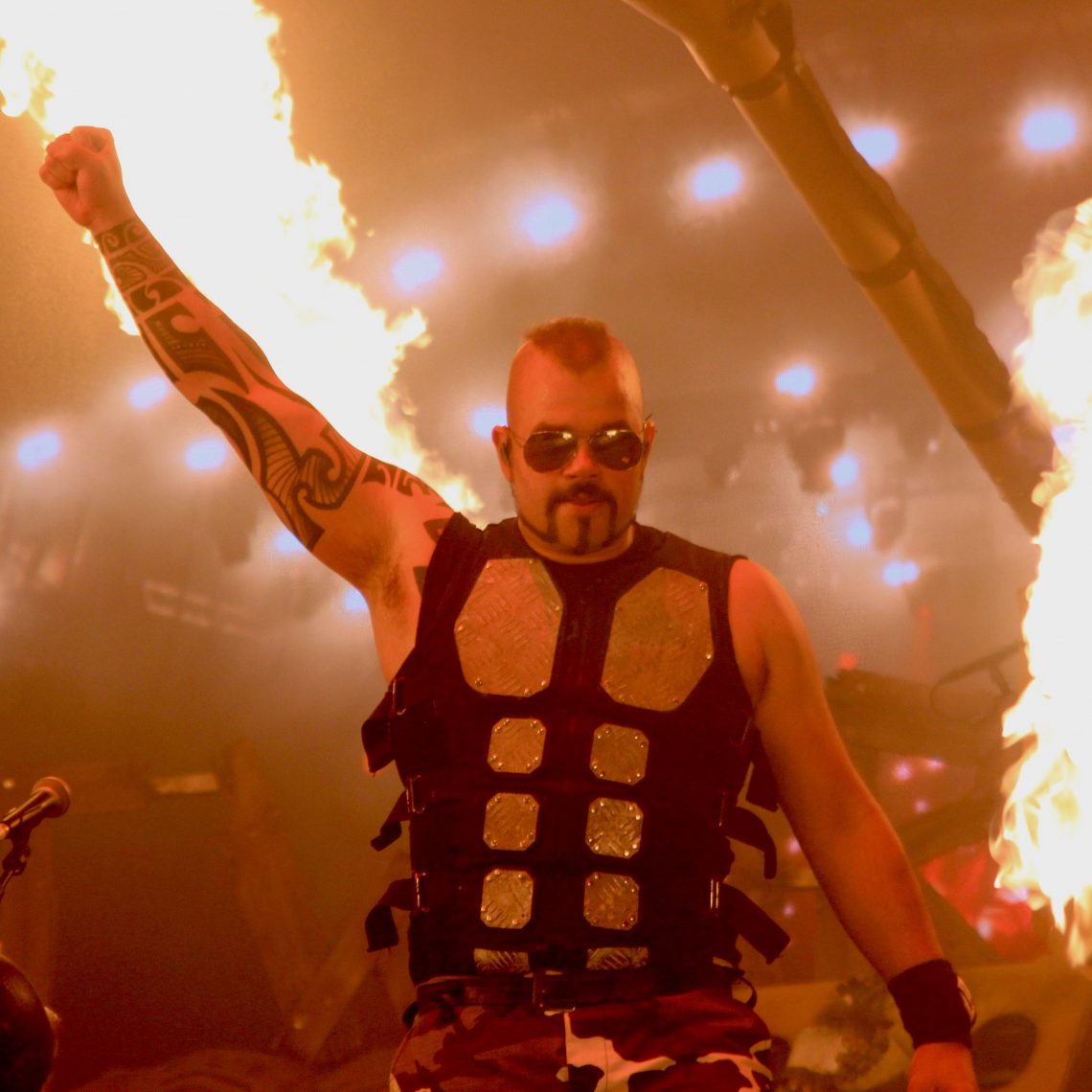 SABATON unleash cinematic new video "Seven Pillars of Wisdom", filmed in the Sahara desert
22nd December 2019
0
By
John Deaux
Sabaton
unleash new cinematic music video for the song
SEVEN PILLARS OF WISDOM
, filmed under difficult circumstances in the Sahara desert.
Watch it here: 
The song deals with the topic of the British archaeologist, diplomat and officer T.E Lawrence and his adventures during the Great War where he convinces local rebels to join him on a sabotage mission against the Ottoman Empire.
A lot of technical equipment, cars and generators broke down in the heat of the sun, not to mention the treacherous sandstorms that constantly haunted the recordings. On top of that, the band was also involved in a serious car accident.
Despite all the difficulties faced, Sabaton were able to produce the video in the way the band visualized and can now proudly reveal it.
Starring in the video as the main character is the Swedish American actor Indy Neidell who is also the host of the Sabaton History Channel. 
The video was directed by the Tunisian filmmaker Mehdi Jouni.
SEVEN PILLARS OF WISDOM is featured on Sabaton's ninth studio album THE GREAT WAR, released in July 2019 and highly praised by fans and critics around the world.
The album is a concept album about the First World War. It reached higher chart positions than all previous Sabaton albums, including #1 in Germany.
"Finally we can share this great music video with you and show you that our trip to the Sahara not only led to the car  accident you have read about but actually to a great adventure and an even greater video.
We initially investigated ways to film this video in other locations, even in studios with greenscreen but in the end we decided to go to a suitable location.
I am very impressed with the band, the cast and the crew who all put in a lot of effort to make this happen,
/Pär Sundström"
Get the album here: http://www.sabaton.net/thegreatwar
SABATON – Live
Tickets are available on https://www.sabaton.net/tour/ 
THE GREAT EU TOUR
Special Guest and special appearance: APOCALYPTICA
Opening band: AMARANTHE
17.01. CH  Zürich – Hallenstadion
18.01. D    Stuttgart – Schleyer-Halle
19.01. D    Munich – Olympiahalle
21.01. A    Vienna – Gasometer *SOLD OUT*
22.01. H    Budapest – Arena
24.01. PL   Warsaw – Arena COS Torwar *SOLD OUT*
25.01. D    Berlin – Max-Schmeling-Halle
26.01. CZ   Prague- O2 Arena
28.01. I     Milan – Alcatraz
30.01. D    Leipzig – Arena Leipzig
31.01. D    Frankfurt – Festhalle
01.02. D    Oberhausen – König-Pilsener-ARENA *SOLD OUT*
02.02. B     Antwerp – Sportpaleis
04.02. E     Barcelona – Palau Sant Jordi
05.02. E     Madrid – Vistalegre
07.02. F     Paris – Zénith
08.02. UK   London – Wembley Arena
09.02. NL    Amsterdam – AFAS Live *SOLD OUT*
11.02. D     Hamburg – Sporthalle
12.02. DK   Copenhagen – Forum Black Box
14.02. S     Gothenburg – Scandinavium
15.02. S     Stockholm – Hovet
16.02. N     Oslo – Spektrum
»The Great Tour« – Russia & Belarus 2020
06.03. RUS       Yuzhno-Sakhalinsk – Stolitsa
07.03. RUS       Vladivostok – Craft
08.03. RUS       Khabarovsk – Velicano Club
10.03. RUS       Irkutsk – Wild Horse
11.03. RUS       Novosibirsk – Dkzh
13.03. RUS       Moscow – Stadium Live
14.03. RUS       St. Petersburg – A2 Green Concert
16.03. RUS       Omsk – Angar
17.03. RUS       Tyumen – Baikonur
19.03. RUS       Yekaterinburg – Tele-Club
21.03. RUS       Ufa – Ogni Ufy
22.03. RUS       Samara – Zvezda
24.03. RUS       Volgograd – VS club
26.03. RUS       Nizhny Novgorod – Milo Concert Hall
28.03. RUS       Voronezh – Palazzo
29.03. RUS       Rostov-on-Don – Arena Don
31.03. RUS       Krasnodar – Arena Hall
02.04. BY          Minsk – Prime Hall
08.08.  S           Falun – Sabaton Open Air
More on "The Great War": 
'Great War' (video): https://youtu.be/HkbG39-T4H0
'82nd All The Way' (lyric video):
'The Red Baron' (lyric video): https://youtu.be/3PXzgXBRM_k
'Fields Of Verdun' (video): https://youtu.be/xP8G-LwWNn0
Get the band's previous albums as well as lots of merch and special editions in the Nuclear Blast shop: http://www.nuclearblast.de/shop/sabaton
More info:
www.sabaton.net
www.facebook.com/sabaton
www.nuclearblast.de/sabaton
How useful was this post?
Click on a thumb to rate it!
Average rating 0 / 5. Vote count: 0
No votes so far! Be the first to rate this post.
Related
About the author
Some say Yank My Doodle, It's A Dandy! is a biographical movie based on John. Some have even said that his favorite artist is Chesney Hawke! All we really know is he sleeps inside out and his hair tastes like candy floss.