Sacred Reich announces European tour in support of Sepultura for November next year
17th December 2020
0
By
John Deaux
Sacred Reich have just been confirmed as support to Sepultura on their Quadra Tour Europe 2021. Crowbar is joining the trek for a fantastic metal experience for everyone attending!
Sepultura
+ Sacred Reich
+ Crowbar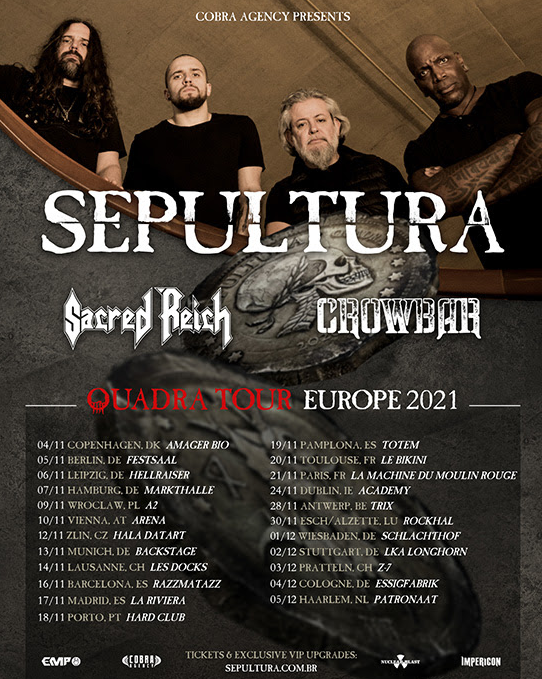 04-Nov-21 – Denmark – Copenhagen – Amager Bio
05-Nov-21 – Germany – Berlin – Festsaal
06-Nov-21 – Germany – Leipzig – Hellraiser
07-Nov-21 – Germany – Hamburg – Markthalle
09-Nov-21 – Poland – Wroclaw – A2
10-Nov-21 – Austria – Vienna – Arena
12-Nov-21 – Czech Republic – Zlin – Hala Datart
13-Nov-21 – Germany – Munich – Backstage
14-Nov-21 – Switzerland – Lausanne – Les Docks
16-Nov-21 – Spain – Barcelona – Razzmatazz 2
17-Nov-21 – Spain – Madrid – La Riviera
18-Nov-21 – Portugal – Porto – Hard Club
19-Nov-21 – Spain – Pamplona – Totem
20-Nov-21 – France – Toulouse – Le Bikini
21-Nov-21 – France – Paris – La Machine du Moulin Rouge
24-Nov-21 – Ireland – Dublin – Academy
28-Nov-21 – Belgium – Antwerp – Trix
30-Nov-21 – Luxembourg – Esch/Alzette – Rockhal
01-Dec-21 – Germany – Wiesbaden – Schlachthof
02-Dec-21 – Germany – Stuttgart – LKA Longhorn
03-Dec-21 – Switzerland – Pratteln – Z-7
04-Dec-21 – Germany – Cologne – Essigfabrik
05-Dec-21 – Netherlands – Haarlem – Patronaat
Sacred Reich are still supporting their comeback album Awakening. Awakening showcases everything a fan would expect and hope for from the Phoenix, Arizona unit: a timeless collection comprised of blistering thrash, crushing grooves, meticulous solos, and socially conscious lyrics. The return of Dave McClain, who manned the drum throne from 1991 to 1997, and the addition of twenty-two-year old guitarist Joey Radziwill, alongside original members guitarist Wiley Arnett and vocalist/bassist Phil Rind, are integral facets of the record. Awakening was produced by Arthur Rizk (Power Trip, Cavalera Conspiracy), engineered by John Aquilino, and mastered by Maor Appelbaum (Faith No More, Halford, Armored Saint).
"a steady campaign of mouth-watering riffs and shout-out choruses" – Metal Hammer
"prove they're just as heavy and furious as ever…a gritty, sludgy take that pushes the confines of thrash itself for a highly unique and fist-pounding experience." – Revolver
"while some contemporary maniacs might roll their eyes at the concept of Buddhist thrash, one listen to 'Awakening's burly, old-school sound will have them along for the ride" – Kerrang!
"If there ever was a band that needed to return, it's them. As an album, 'Awakening' lives up to its title in every conceivable way. In both content and form. There will always darkness before the dawn, and Sacred Reich provides the soundtrack to a hopeful future." – Metal Injection
"Sacred Reich have released one of the best albums in their career in freaking 2019" – MetalStorm.net
Sacred Reich online:
https://www.facebook.com/sacredreichofficial
https://twitter.com/sacredreich
https://www.instagram.com/sacredreichofficial
How useful was this post?
Click on a thumb to rate it!
Average rating 0 / 5. Vote count: 0
No votes so far! Be the first to rate this post.
Related
About the author
Some say Yank My Doodle, It's A Dandy! is a biographical movie based on John. Some have even said that his favorite artist is Chesney Hawke! All we really know is he sleeps inside out and his hair tastes like candy floss.