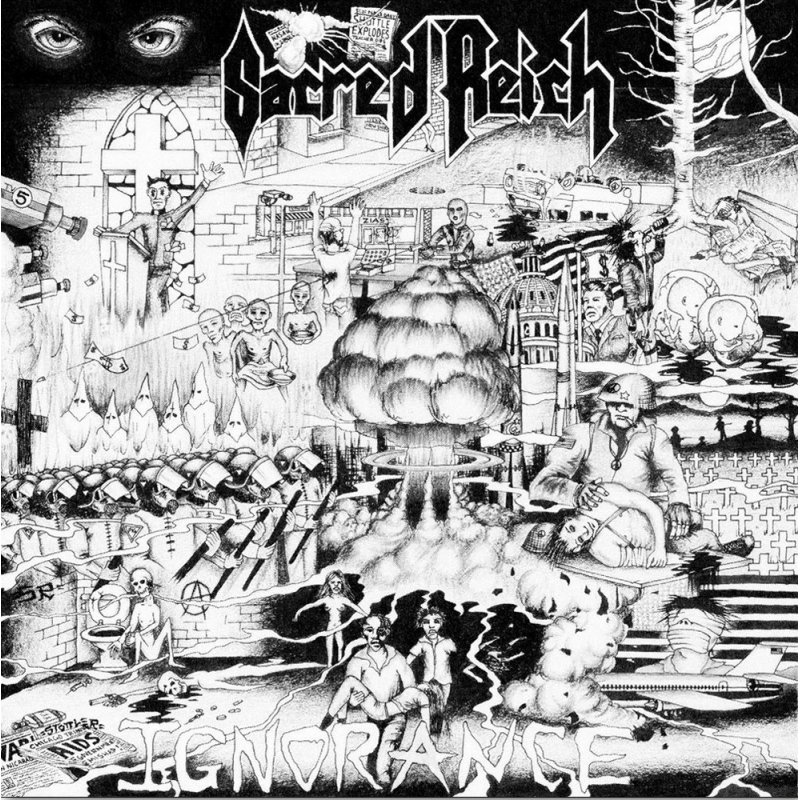 Sacred Reich – The Cathouse, Glasgow 28th July 2017
2nd August 2017
0
By
John Deaux
It's 6:30pm & time for the doors to the Cathouse to open.  Walking up the stairs with ticket in hand and the feeling of anticipation of seeing a band that I last saw at the now deceased London Astoria, back in 1990 (yes, I am that old).
As soon as I'm in the main hall I make a bee line dash for the merch stall and that's where I see the lads selling their wares with massive grins. It's so good to see Sacred Reich in high spirits (Phil Rind himself sold me a souvenir T-Shirt, which put a huge grin on both of our faces as we exchanged small talk!). The band was there for more than an hour meeting fans, swapping stories and of course signing as much as they could before heading back to the dressing room to prepare themselves to rain down fire and brimstone upon this Glaswegian crowd.
It's been 30 years since The Reich released their debut album Ignorance and today was the icing on the cake, as the 30th Anniversary version of said album was released this very day too. The band hit the stage and exploded into Ignorance. This was a band who still get their kicks out of playing music from their entire back catalog. After a slow start from the punters, Phil and his cronies whipped up amazing atmosphere in the room. Yes, Gregg did play 'Reign in Blood' in its entirety with Slayer after Dave left the first time, just in case you might not have heard.
Sacred Reich were having a blast, the crowd surfing each other while the pit monsters slammed with glee for as long as their bulky bodies could propel them into each other (short bursts good, stamina bad!). The sound was incredible down at the front. I think my ear drums are still vibrating. The energy levels all round were high and expectations totally met, with my voice being totally ragged by the end of the show.
One of the best shows I've seen at the Cathouse. To hear tracks from Independent live for the 1st time in my life was immense, as it's an overlooked album by many. Their version of Sabbath's War Pigs never fails to impress or get the crowd motivated into singing with, and louder than the band. To have The American Way and Surf Nicaragua as set enders meant I could go home, tired, broken and extremely happy. That was flawless, unlike my Burrito, which was more Dads Army than Sacred Reich.

The Reich were amazing from start to finish & the set list was almost perfect. But as with all good things it had to come to an end but we all wanted more.We thought we were going to get more until we realized it was gone curfew and we had to get out before the club kids were allowed in.
I think we would've all been a very happy bunch if Sacred Reich were the only band on the bill. (Maybe an evening with next time round fellas) Maybe Gregg could play some Slayer tunes for us?
Set List
Ignorance
Administrative Decisions
One Nation
Love…Hate
Victim of Demise
Violent Solutions
State of Emergency
Crimes Against Humanity
Who's to Blame
I Don't Know
Free
Independent
War Pigs (Black Sabbath cover)
The American Way
Surf Nicaragua

Checkout Sacred Reich HERE & Purchase the 30th anniversary edition of Ignorance HERE
How useful was this post?
Click on a thumb to rate it!
Average rating 0 / 5. Vote count: 0
No votes so far! Be the first to rate this post.
Related
About the author
Some say Yank My Doodle, It's A Dandy! is a biographical movie based on John. Some have even said that his favorite artist is Chesney Hawke! All we really know is he sleeps inside out and his hair tastes like candy floss.