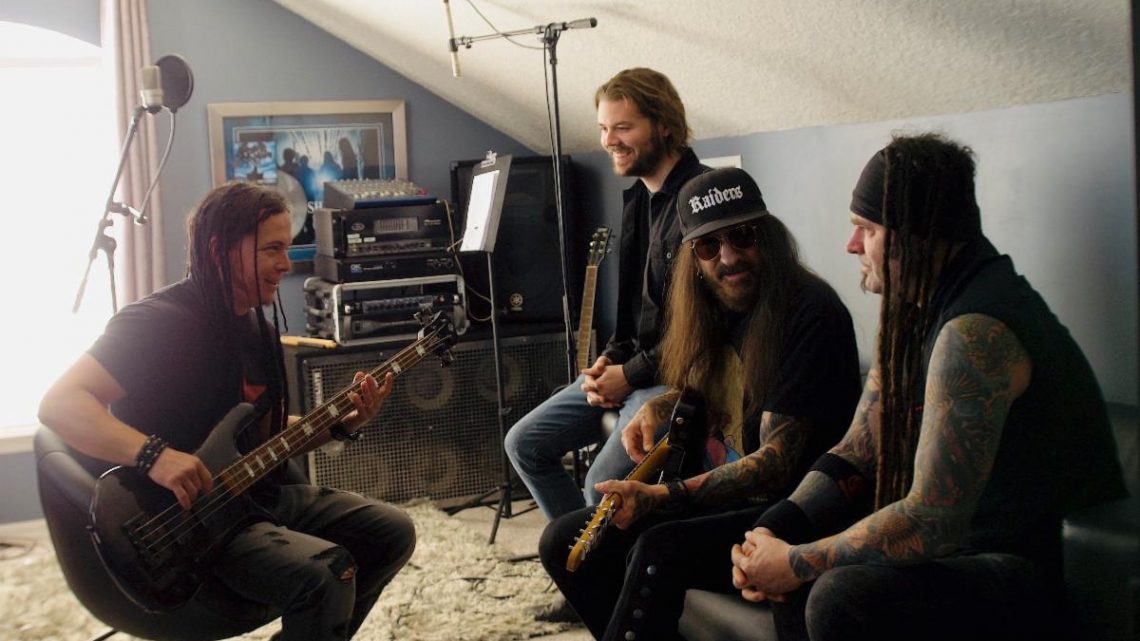 SALIVA EVERY 20 YEARS TOUR WITH SUPPORT FROM PSYCHO VILLAGE & DEVILSBRIDGE
19th November 2021
SALIVA are excited to bring their 20 year anniversary tour for their hit album "Every Six Seconds' ' to the UK and Europe in 2022. Platinum selling songs like CLICK CLICK BOOM & ALWAYS did not only shape the 2000s rock scene but are hits to this day. Psycho Village from Vienna, Austria will join Saliva as special guest after touring the UK and Europe multiple times with THE CALLING, PUDDLE OF MUDD & many more, & are happy to present their upcoming album FRAGILE featuring songs with Skindred, The Bunny the bear & many more. Devilsbridge from Switzerland will also join the tour as support and there will be local support on selected dates.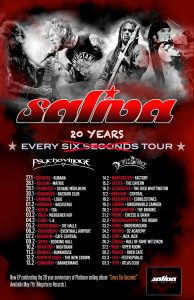 JANUARY TOUR DATES:
27th – Kubana – Siegburg
28th – Matrix – Bochum
29th – Schanz Muhlheim – Frankfurt
30th – Bastard Club – Osnabrück
31st – Logo – Hamburg
FEBRUARY TOUR DATES:
1st – Backstage – Munchen
 2nd – TBA – Berlin
3rd – Mergener Hof – Trier
4th – L.A – Cham
5th – Die Halle – Reichenbach
6th – Eventhall Airport – Regensburg
7th – Cafe Central – Weinheim
9th – Booking Hall – Dover
10th – Nightrain – Bradford
11th – Bunkhouse – Swansea
12th – The New Crown – Merthyr Tydfil
13th – Bannermans – Edinburgh
14th – Factory – Manchester
15th – The Cavern – Exeter
16th – The Dick Whittington – Gloucester
17th – Central – Wrexham
18th – Cobblestones – Bridgwater
19th – Underworld – Camden London
20th – The Brooks – Southampton
21st – Cheese & Grain – Frome
22nd – The Robin – Wolverhampton
23rd – Underground – Stoke
24th – O2 Academy – Stoke
25th – Jack Jack – Lyon
26th – Hall Of Fame Wetzikon – Zurich
27th – Viper Room – Wein
28th – Rock Cafe – Prague
MARCH TOUR DATES 
1st – Festrepublic – Lviv
2nd – Atlas Club – Kyiv
After acquiring front man Bobby Amaru in 2011, Saliva became infused with new blood, energy, and spirit. The same energy launched Saliva's career in 2001 with the release, Every Six Seconds – a certified Double Platinum-selling album, containing the hits, "Click Click Boom" and 2002 Grammy nominated, "Your Disease." Saliva in-your-face, anthemic writing style continued with a certified Gold-selling album Back in to Your System with hits: "Always," "Raise Up," and the Nikki Sixx co-written, "Rest In Pieces."
Saliva has toured the USA and world with bands including (but not limited to), Sevendust, Aerosmith, and KISS. They've also appeared on the main stage at countless fairs, festivals and bike rallies – Sturgis, Rockin The Rivers, Daytona Bike Week, Rock on the Range, Welcome to Rockville to name a few.
Saliva has become a unified team that will not be rushed or pushed into deals that are not advantageous toward the growth and expansion of Saliva as a whole. Upon adding former Shinedown and Fuel bassist, Brad Stewart, as a permanent member, Saliva solidified their new lineup consisting of: Wayne Swinny, Paul Crosby, and Amaru. The group are currently writing for their latest record and optimistic a new track to be released Spring 2018.
https://www.facebook.com/Saliva/
https://www.instagram.com/saliva/
https://www.youtube.com/user/SalivaVEVO
https://open.spotify.com/artist/5S6hjAxgxjsLylsTtMIimO