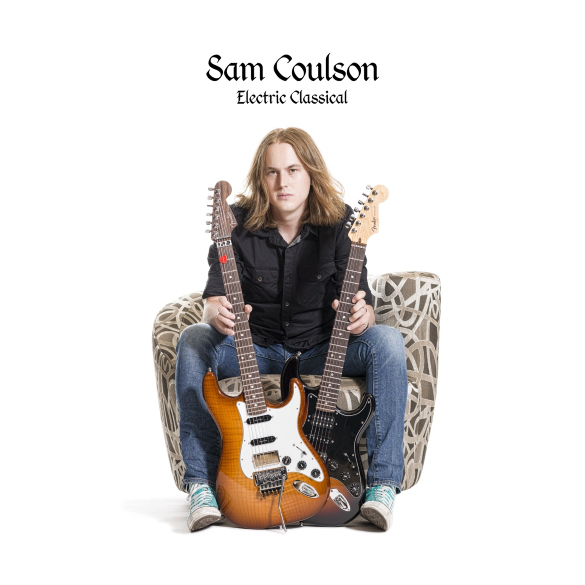 Sam Coulson – Electric Classical – CD REVIEW
22nd November 2015
When a guitarist decides they're going to do a neo-classical solo album, one would expect a Yngwie J Malmsteen III over the top, 40,000 notes a second, disappear up their own bottom instrumental album. Or even worse The Great Kat (Beethoven on Speed)
This is not the case with Asia guitarist Sam Coulson.
This is 10 tracks of pure classical music.
There is nothing flash about the playing or the CD packaging, the only thing that's flash is the run time of 25 minutes.
Sam has this to say about his album "I'm very proud of my first solo Album 'Electric Classical'. It's 10 of my favourite classical pieces played on a couple of Fender Stratocasters. I really enjoyed recording these tracks. I hope you enjoy listening to them!"
This album is not what you would expect if you've seen him on Youtube & you know his mentor is Paul Gilbert.
Sam can quite obviously shred, it's what he's good at & why he was picked for the band Asia when Steve Howe left.
Don't get me wrong, every track is executed perfectly right down to the violin effect on 'Recuerdos De La Alhambra' but they're all standards.
Does the world really require another version of Ave Maria?
There is nothing new here. A little more of his own stamp would've been ideal. Nothing too over the top just enough of a flair.
This just feels cold & emotionless & the sort of thing I can imagine being handed in for a high school music project just to get a credit.
I can see this being an essential fan purchase for completest. It's not going to be everyone's taste.
It's a very brave & an incredibly retro release. It's just it's been done before by the likes of Jan Ackerman & John Williams with a bit more of a flourish.
Sam has a great deal of talent & it'll be interesting to see what solo album 2 brings.
Track Listing:
1. AVE MARIA
2. BWV 1007 PRELUDE
3. OP. 35 NO. 22
4. RECUERDOS DE LA ALHAMBRA
5. VALS VENEZOLANO NO. 2
6. OP. 6 NO. 11
7. MOONLIGHT SONATA BLUES
8. BWV ANH 114
9. OP. 35 NO. 17
10. ROMANCE
Score:- 3/10

To purchase:
Amazon CD: http://geni.us/2EAb
Amazon Digital: http://geni.us/Gcf
iTunes: http://geni.us/1KHt