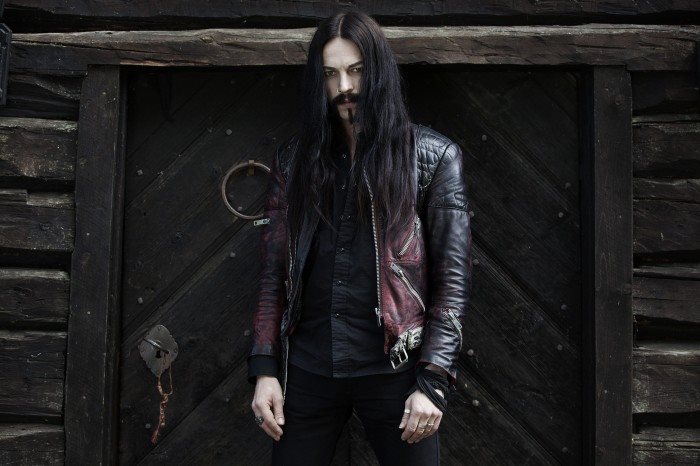 Satyricon: Frost Interview
27th July 2016
I was able to grab a chat with legendary black metal drummer, Frost, from Satyricon and 1349 a wee while ago – have a read of our conversation below.
All About The Rock: First of all thanks for taking the time to chat to me! I hope everyone in the Satyricon camp is well?
Frost: We are doing well, despite certain challenges…It's rewarding to be able to celebrate an album that has contributed in such a way to Satyricon's legacy, and at the same time see that a new and fantastic album is about to take shape.
AATR: You recently released a re-issue of Nemisis Devina – what sparked the decision to re-issue it for its 20th anniversary?
Frost: First and foremost it felt like the right and proper way of putting the album itself back into focus. It's quite atypical for us to be retrospective, but to honor what Nemesis Divina represents and what it has meant for Satyricon and our fans now on its 20th anniversary is called for.
AATR: And how was the anniversary show in February?
Frost: It was a fine and intense experience. I believe that both the band and the crowd were filled with excitement and anticipation and that we got to share something important and special. Satyricon did its very first live show on that very stage at Rockefeller in Oslo with Nemesis Divina 20 years ago, and it felt like we didn't just celebrate an album but also the band itself.
AATR: It's been just over a year since the release of Live At The Opera – can you talk us through the thought process behind the idea, and what the experience was like? How was the response to it when it was released?
Frost: Satyricon were asked to do a special one song performance with the Opera chorus at the Opera house in Norway in early 2012, and decided to accept the invitation as we saw it as a fine opportunity. We decided to do the song To the Mountains, and had choral arrangements composed for the song. It turned out to sound magnificent, and that really sparked the idea of putting up a full show with the choir at the Opera. The choir was into the idea, as the singers themselves enjoyed the experience a lot; the composer and the conductor were equally enthusiastic about it. Unnecessary to point out, it was a seriously bold and demanding project to carry out, but the result speaks for itself. The show at the Opera was no doubt a great moment in Satyricon's history, and the album (and DVD) recorded that night is simply a great piece of work. The response to the release has been nothing but fabulous.
AATR: I believe originally you had planned to release a follow-up to the self-titled release this year. Are those plans still on track? What can we expect from new material?
Frost: We will enter the studio this fall, and release the album next year. It's impossible to describe the music in a few words, as it is very, very diverse and furthermore the album is still not finished yet. What is certain is that the album will display a highly creative, loaded and inspired Satyricon. Like every new Satyricon album, it will go beyond anything we've done prior to it.
AATR: I also heard that you were planning on releasing a covers album? Is that still on the cards?
Frost: That is going to happen, but our new studio album is of course first priority now.
AATR: You are considered to be quite the legend in black metal, having worked with not only Satyricon and 1349, but Ov Hell, Keep of Kalessin and Gorgoroth as well. How did the experience differ from all these different bands?
Frost: Every band or project has it's own vibe, type of energy and induces a certain state of mind. It's rather difficult to describe the experiences of what was basically session work many, many years ago, as my approach to playing has changed significantly since then.
AATR: Ov Hell's debut, The Underworld Regime, was released in 2010 and I believe you were listed as a session musician? If they decided to do a new album, would you be eager to work with them again?
Frost: I recorded the drums for the album when it was still planned to be a Gorgoroth album, and did not know anything about what it would eventually become. The very aggressive and militant style of my playing was meant to suit Gaahl's vocals, and ended up sounding somewhat weird to the more theatrical and dramatic style of Shagrath. Today I don't do session work anymore.
AATR: What's your plan for the rest of 2016 in regards to touring and writing/recording new material – both with 1349 and Satyricon?
Frost: Satyricon will do several more Nemesis Divina anniversary shows; 1349 will also be doing some shows, but for Satyricon's part the finishing and recording of the new album is truly the important task now in 2016.
AATR: Black metal has always been a very underground phenomenon – what was it about it that grabbed your attention when you first got into the genre?
Frost: That there was a kind of music that wasn't only fast, raw and hard, but that had a dark dimension as well. It somehow resonated with me, and it was a fact that I couldn't question.
AATR: And what's your opinion on the black metal scene at present – it is of course very different from what it was like in the `90s, but has it changed for the better or worse?
Frost: Some bands have contributed to keeping the genre alive and interesting, others have done little to bring vitality to it or do even seek to do the opposite. So I guess it's both better and worse. I see black metal as a living organism, which must be allowed to change and evolve. It's frutless to have strong opinions on an evolution that is anyway bound to take place – it's like being a grumpy and sad old man who's wondering what the world is coming to.
AATR: Are there any up and coming bands in the underground you are really enjoying at the moment – be it in black metal or any other genre?
Frost: I find myself to go more and more backwards in time when I listen to music these days…it might be a passing phase, or perhaps a sign that I'm becoming a grumpy and sad old man.
AATR: Thanks for taking the time to chat today!