SAVAGE GARDEN FRONTMAN SAYS "FUCKING GREAT" TO AUSSIE METALLERS LORD AND THEIR COVER OF "TO THE MOON AND BACK"
19th March 2021
0
By
John Deaux
Pop Royalty, Darren Hayes of multi-hit act Savage Garden recently praised Australian metal band LORD and their latest cover of "To the Moon and Back", from their forthcoming covers release "Undercovers Vol.1" due out 2 April 2021.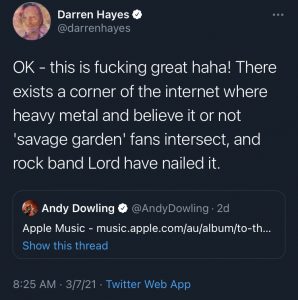 "OK – this is fucking great haha!" pipes the Savage Garden frontman who's sold 23 million albums alone with Savage Garden, before embarking on a successful solo career. "There exists a corner of the internet where heavy metal and believe it or not 'savage garden' fans intersect, and rock band Lord have nailed it."
Long-running Australian metallers LORD recently announced their new covers album, "Undercovers Vol. 1" due out 2 April 2021 on Dominus Records. "To the Moon and Back" is the first of 23 tracks which will be exclusively available via the bands Bandcamp page along with 2+ hours of podcasting from LT and Andy Dowling talking about the stories from each song. Limited track listings are being released via streaming platforms and on a limited edition hand numbered CD, which is already projected to sell out prior to release date.
To hear a 1 hour abridged version of the 2+ hour podcast between LORD band members LT and Andy Dowling, check out Episode 275 of Andy Dowling's The Andy Social Podcast available on Apple Podcasts, Spotify, YouTube and other popular podcast platforms.
Pre-order/Listen to "To The Moon and Back" here: https://lordofficial.bandcamp.com/album/undercovers-vol-1
Artwork for both single and album by Tristan Tait Illustrations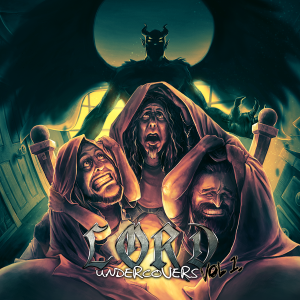 Complete Bandcamp release track list:
 
1. To the Moon and Back (Savage Garden cover)
2. Judas be my Guide (Iron Maiden cover)
3. Send Me an Angel (Real Life cover)
4. Of Sins and Shadows (Symphony X cover)
5. Message in a Bottle (The Police cover)
6. Shattered (Pantera cover)
7. Playing to Win (Little River Band, John Farnham cover)
8. Someone's Crying (Helloween cover)
9. Hard to Live (Harem Scarem cover)
10. Creeping Death (LIVE) (Metallica cover)
11. (I Just) Died in Your Arms (Cutting Crew cover)
12. Reckless (Judas Priest cover)
13. Silent Jealousy (X Japan cover)
14. I Want Out (LIVE) (Helloween cover)
15. The Sun Always Shines on TV (A-ha cover)
16. The Whisper (Queensryche cover)
17. Touch the Fire (Icehouse cover)
18. Wild Child (LIVE) (W.A.S.P. cover)
19. Break the Ice (John Farnham cover)
20. Runaway (Bon Jovi cover)
21. On a Night Like This (Kylie Minogue cover)
22. Madhouse by Blackened Angel (Anthrax cover)
23. Night People by Blackened Angel (Dio cover)
 
LORD is essentially a continuation of DUNGEON, one of Australia's longest-running heavy metal bands, with over a dozen releases so far. Their last full length 2019 album "Fallen Idols" was LORD's best selling and best reviewed album to date, reaching #20 in the Australian ARIA charts and #2 on the Australian Independent Labels chart.
WWW: www.lord.net.au
Facebook: www.facebook.com/lordofficial
Instagram: www.instagram.com/lordofficial
Twitter: www.twitter.com/lordofficial
YouTube: www.youtube.com/lordofficial
Spotify: www.bit.ly/lordofficial
Store: www.dominusrecords.com
How useful was this post?
Click on a thumb to rate it!
Average rating 0 / 5. Vote count: 0
No votes so far! Be the first to rate this post.
Related