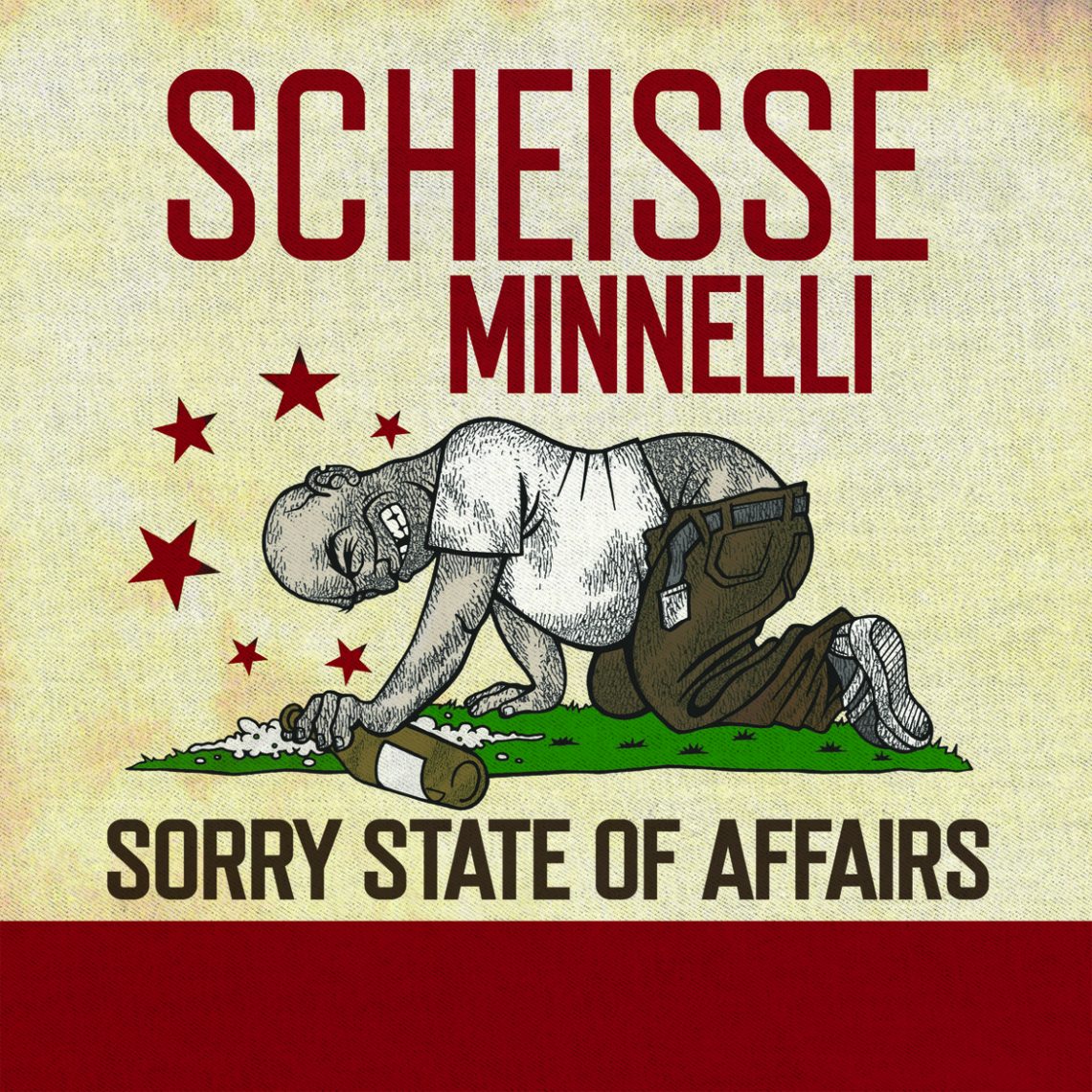 Scheisse Minnelli – Sorry State Of Affairs
17th May 2014
I owe Dale Henderson from Beowülf a lot of thanks.  Through his online radio show not only did I learn a lot about the old school Venice crossover scene, but I also discovered an awesome group called Scheisse Minnelli.
The band was started in Bavaria in late 2003 by two native Californians and two Germans (and though the line up has changed over the years, it still retains that 50/50 mix).  They play a blistering skatecore / thrashpunk style of music that is fast and furious, and catchy as hell.
I loved their 3 previous albums (2006's Exist To Get Piss't, 2008's The Crime Has Come, and 2011's The Fight Against Reality) so was delighted when all round cool guy Jacho from Destiny Records sent me a copy of their latest album, Sorry State Of Affairs, for review !
This is a 12 track album of full speed ahead punk rock, with awesome riffs, pounding drums, and raw vocals that compliment the music perfectly.  There are no fillers on this album, and it's impossible to pick a favourite track because they're all so damn good – these short fast songs are so cool that you can't help but jump around the room as you listen to them!!
The album is split into two halves – "Hessian Nightmares", which is all about ex-Californian Sam being a crazy alien in Germany, and "California Dreams", which is all about his memories of life back in the USA.  The lyrics are cynical, tongue in cheek, or laugh out loud hilarious, and it's a nice touch that all the lyrics are included in the beautiful digipak.
According to the press release, Sorry State Of Affairs was recorded live, with no headphones or overdubs.  So, although the album does have a polished studio sound to it, it also manages to really capture the amazing energy of the guys playing live.
If you like your music fast and aggressive, then Sorry State Of Affairs is definitely worth picking up – these guys have created an incredible album.
Hardcore as fuck !!
Score: 9 out of 10
ALBUM INFO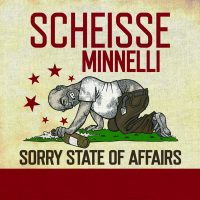 Tracklist
– Part 1.  Hessian Nightmares
01.  Lost in Translation
02.  Looking Glass
03.  Bad Luck
04.  Cafe Fix
05.  Room of Doom
06.  In the Ghetto
– Part 2.  California Dreams
07.  Bags of Danger
08.  The Voices (formerly self medicated)
09.  Wasted Talent
10.  Memory Lane
11.  Mal Pais
12.  Cycle of Abuse
Release Date
May 23rd 2014
Record Label
Destiny Records
Links
http://www.scheisseminnelli.com/
http://www.facebook.com/scheisseminnelli
Band members
Samuel el Action- Vocals
Mikey Porter – Guitar
Dash – Bass
Dudel – Drums