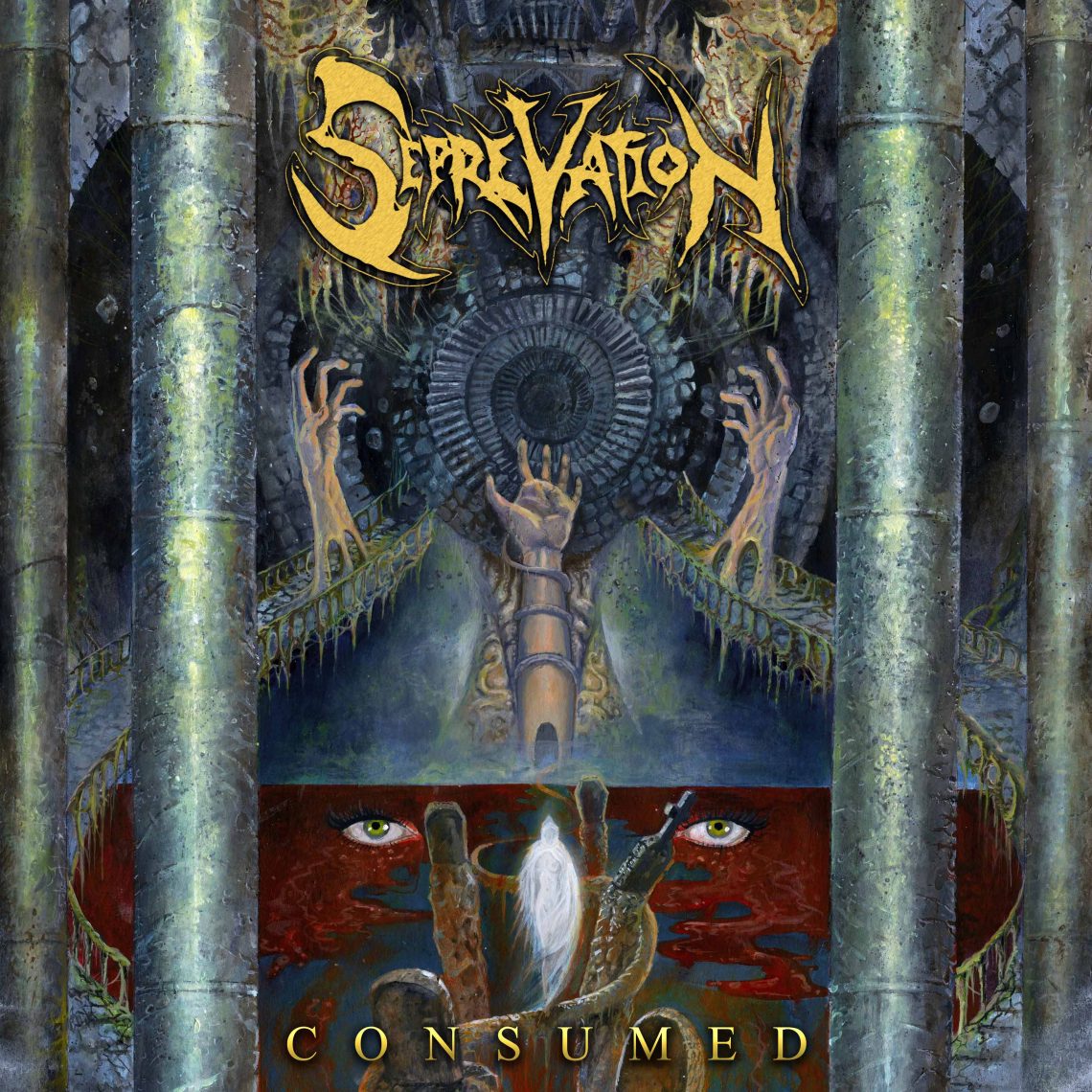 Seprevation – Consumed
9th May 2014
Seprevation is next under the all-seeing eyes of the auld one "Cletus".  Hailing from scrumpy drinking county Bristol they release their debut album 'Consumed' onto the masses soon.  Seprevation are a relative new band and have been gathering quite a following and causing quite a stir since 2011. There has (supposedly) been a lot of anticipation for this release from these Bristolians… does it live up to the anticipation????
Yes…
This is some brutal and heavy thrashy death metal played like the bands of the 80/90s. Come on look at the cover how early 90s death metal is it? 'Divine Devastation' starts off with a slow sombre melodic guitar riff before launching into a crushing brutal assault. 'Consumed' is an album full of thrashy guitar riffs, blast beats, death vocals and bowel moving bass riffs. Some of the more bass heavy songs such as 'In Torment They Burn' and 'Servants of Suffering' are extremely brutal and add an 80's vibe to the music, also the bass solo in 'Ascension of Agony' is epic!
We will do a quick checklist to see if you like this album! Do you like any of these bands during the era's mentioned?
Deicide (up to 'Once Upon The Cross')
Slayer (up to 'Reign In Blood', but mainly 'Hell Awaits' era)
Morbid Angel (up to 'Domination')
Sepultura (up to 'Beneath The Remains'/'Arise')
Cannibal Corpse (up to 'Tomb of The Mutilated')
Pestilence (up to 'Testimony of the Ancients')
If you like any of the above or even a few then go out and pick up 'Consumed' and you won't be disappointed. Yes Seprevation don't play anything new or bring anything different to the table, however this is an extremely solid and brutal album. My only criticism is unlike the bands mentioned earlier, Seprevation haven't got any memorable songs on the album 'Consumed'. That's not to say it's a bad album but you won't be sitting there unwittingly humming the music and singing the songs off 'Consumed' as there is no 'Angel of Death', 'Troops of Doom', 'Dead By Dawn', 'Deicide', etc. However for a debut album this is a solid effort and I await more from these Bristolians and glad they are showing that the British death metal scene hasn't breathed its last breath just yet.
Songs to download:  "Servants of Suffering", "Sacrophagal Chamber", "Slave to the Grave" & "In Torment They Burn"
Score:  7.5 out of 10
ALBUM INFO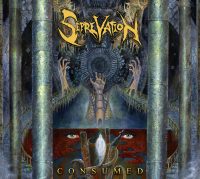 Tracklist
01.  Divine Devastation
02.  Servants of Suffering
03.  Ascension of Agony
04.  Sacrophagal Chamber
05.  Dreams
06.  Slave to the Grave
07.  In Torment They Burn
08.  Sea of Thoughts
09.  Postmortem Lividity
10.  Between The Worlds
Release Date
May 10th, 2014
Record Label
independent release
Links
http://www.seprevation.bigcartel.com/
http://www.seprevation.bandcamp.com/
http://www.facebook.com/seprevation