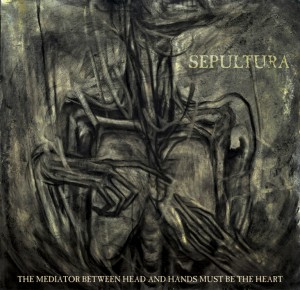 SEPULTURA: New Album Cover Artwork, Track Listing Revealed
26th August 2013
According to the web site of the Brazilian newspaper Diario de Pernambuco, Brazilian/American metallers  SEPULTURA have revealed the cover artwork and track listing of their new  album, "The Mediator Between Head And Hands Must Be The Heart", which  which will be released on October 25 via Nuclear Blast Records. The  artwork was created by Brazilian artist Alexandre Wagner, who specializes  in charcoal drawing techniques.
Guitarist Andreas Kisser commented on how he discovered the work of  Alexandre Wagner. "It was through Silvio Bibika, who was my roadie  for a long time," he said. "He always shows me things in general that  SEPULTURA might need. Alexandre, who is from Belo Horizonte,  Silvio showed me a year ago. So before we went to the United States, to  record the album, I was at his house to talk about the cover, tell him the album  title, talk about the concept of the film 'Metropolis', so he could do  something original. But when I saw the picture with the drawing, I thought it  was all about what we wanted and we did not need something new. I asked him to  do a tribal S in the style of the cover. The S made by Alexandre will be  on the back cover."
Said Alexandre: "I did this series of charcoal drawing work when I  still lived in Belo Horizonte. They were all made there. They were quick  drawings without much reference, almost an experimentation that may have came  from a desire to use the most basic of basic materials — coal, paper and wood.  The cover design was already done, Andreas saw it and liked it. We talked a  little more and I also sent some other pictures for the booklet. I was pleased  with the choice of the theme of the album, I like Fritz Lang very much,  and not only 'Metropolis'. 'Dr. Mabuse der Spieler' is a fucking  great movie."
As a Mineiro, from Belo Horizonte like SEPULTURA, Alexandre was  glad to be part of the band's history. "It's impossible to be from Belo  Horizonte and not know the band," he said. "Some of their albums followed me for  a long time, especially 'Chaos A.D.' I remember seeing  'Refuse/Resist' on TV and thinking it was wonderful. It's really cool to  work with the guys, being part of something together. It is somehow a shared  history."
"The Mediator Between Head And Hands Must Be The Heart" track  listing:
01. Trauma Of War 02. The Vatican 03. Impending  Doom 04. Manipulation Of Tragedy 05. Tsunami 06.  The Bliss of Ignorants 07. Grief 08. The Age Of The  Atheist 09. Obsessed 10. Da Lama ao Caos (CHICO SCIENCE & NAÇÃO ZUMBI cover)
Although it was inspired by Fritz Lang's classic 1927 movie  "Metropolis", the CD, "The Mediator Between Head And Hands Must Be The  Heart" is not a concept album or a soundtrack like its precedessors  "Dante XXI" (based on "The Divine Comedy") and "A-Lex" (based on "A Clockwork Orange").
"The Mediator Between The Head And Hands Must Be The Heart" was  tracked over a 40-day period at producer Ross Robinson's (KORN,  LIMP BIZKIT, SLIPKNOT) studio in Venice, California and is being  mixed and mastered by co-producer Steve Evetts, who previously worked  with SEPULTURA on the "Nation" (2001), "Revolusongs" (2002)  and "Roorback" (2003) albums, in addition to having collaborated with  Ross on a number of other projects in the past.


SEPULTURA recorded a total of 14 songs for the follow-up to 2011's  "Kairos", including a cover version of DEATH's "Zombie  Ritual". The CD will also feature a guest appearance by former SLAYER drummer Dave Lombardo.
In a recent interview with  JacksonGuitars.com, Kisser stated about the direction of the new  SEPULTURA album: "I write stuff all the time — riffs or ideas on an  acoustic guitar. But we really started working on this album in February of this  year, so it was pretty quick. We have Eloy Casagrande as our drummer, and  he's 22 years old. The guy's a beast. One of the best drummers I've seen on the  planet Earth. He has this metal blood that has so much energy and brings so many  possibilities for riffs and stuff like that. It is a SEPULTURA album, but  like every SEPULTURA album, there is something different. I think the  main difference now is the drummer. It's the first time we've worked in the  studio with him. It's been almost two years [since the last album], and it's  very exciting."
Asked about SEPULTURA's decision to include a bonus track covering  DEATH's "Zombie Ritual", Kisser said: "Without  DEATH, there wouldn't be a SEPULTURA — especially in the  beginning. The very early albums — like 'Morbid Visions' and  'Schizophrenia' — there's a lot of influence from Chuck Schuldiner and his riffs. You can hear that very clearly in our early music. And we never  really had the opportunity or idea to play that. We really play our idols, like  BLACK SABBATH or MOTÖRHEAD and some Brazilian stuff, but because  we covered so many different bands, I think it was time for this tribute to this  great band."
SEPULTURA's upcoming CD will mark the first time the band will have  recorded an album outside Brazil since "Against".
The reunion between SEPULTURA and Robinson was first suggested  by Monte Conner, the former Roadrunner Records A&R chief who  is now the head of Nuclear Blast Entertainment, a U.S. partnership with  Nuclear Blast owner Markus Staiger.
Robinson produced SEPULTURA's classic "Roots" album in  1995. Released in February 1996 by Roadrunner, it was the band's last  studio album to feature founding member and vocalist Max Cavalera.
From Blabbermouth