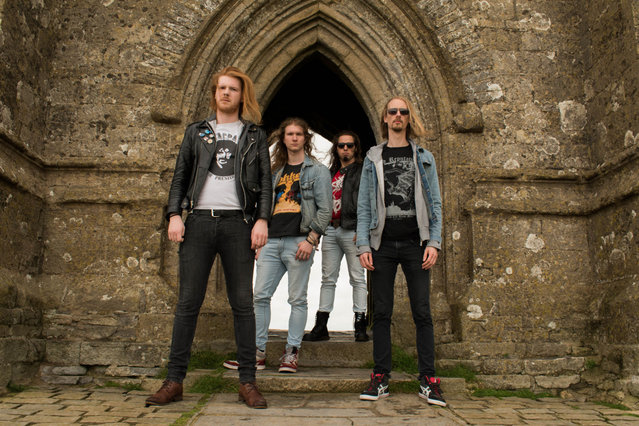 SEVEN SISTERS vinyl release party at Crypt Of The Wizard
13th July 2018
SEVEN SISTERS are having a party to celebrate the release of vinyl edition of their highly praised 'The Cauldron And The Cross' album on Dissonance Recordings / Back On Black Records.
It takes place at CRYPT OF THE WIZARD, 324c Hackney road, London, E2 7AX on Friday July 27, 2018 between 6:00pm and 9:00pm. And did we say there's FREE BEER!!!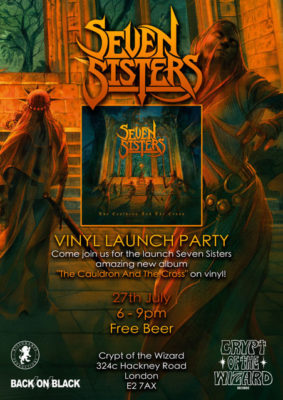 SEVEN SISTERS also join Tokyo Blade at The Black Heart in London the Friday before this.
Tokyo Blade + SEVEN SISTERS
July 2018
20th LONDON – Black Heart
SEVEN SISTERS recently released their long awaited and highly anticipated second album via Dissonance Recordings. Recorded in rainy London over the dark winter 'The Cauldron And The Cross'. Artwork painfully and beautifully painted by Simon Pye Parr of 2000AD / Realm of The Damned fame.
"Seven Sisters are one of British Metals shining new lights"
Brian Tatler – Diamond Head
"An album, full of brilliant Metal from start to finished!"
Steve Grimmett – Grim Reaper
"Destined to be a British Metal Classic!"
Paul McNamara – Salem
"The future of British Metal-killer!"
Ian Nash – Grim Reaper
More info on Seven Sisters
Born in the depths of West London, Seven Sisters are a four-piece band forged from the same steel as the NWOBHM acts of yesteryear. Over the past three years they've gathered a reputation as a stellar act in the heavy metal scene, earning their stripes playing shows all over the UK and Europe off the back of two independent releases The Warden Demo (2014), and the Lost In Time 7" (2015). Their self-titled debut album (2016) was met with rave reviews, and sold out of the first pressing of physical copies in just three weeks. With the all important second album to be released on 13th April 2018, Seven Sisters promise not to just copy the template laid down by the fathers of heavy metal, but to mould their own and usher in a new era.