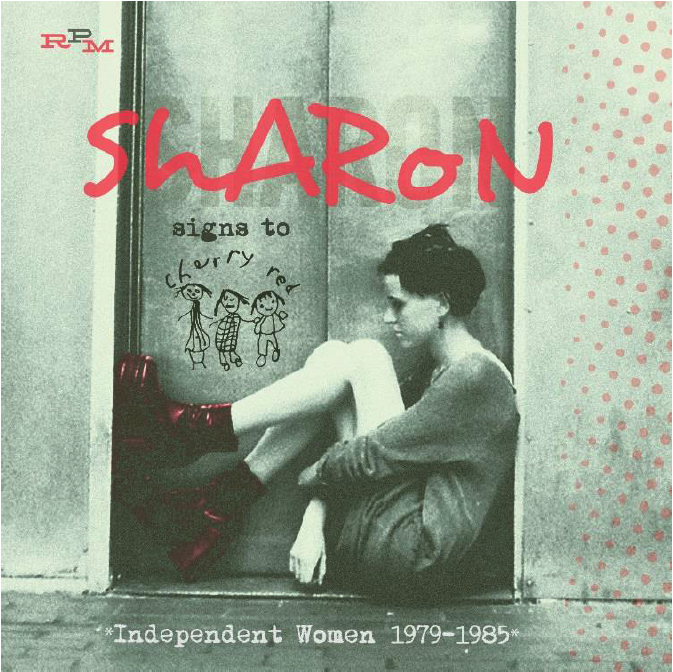 SHARON SIGNS TO CHERRY RED
22nd March 2016
SHARON SIGNS TO CHERRY RED / Various Artists / 20 May 2016
The Cartel had a chain with no name, RPM has a compilation with no genre. 'Sharon Signs To Cherry Red' is a compendium of the demo cassette generation from the early 1980's, filtered through (principally British) independent women of the Sharon post punk era.
'Sharon Signs To Cherry Red' began life in 1985 as the archetypal independent single released on the obscure Lowther International label by archetypal independent act, The Kamikaze Pilots, the review of whom by Danny Kelly, NME gives us the starting point:
"Disturbingly, also from Norwich…comes this plaintive tribute to/assassination of all the earnest misery gobs ever signed to Cherry Red's roster, with particular reference to the Tracey Thorn pantheon".
What was a gentle mocking of The Marine Girls et al is now being hailed by RPM as a noteworthy offering in its own right, suggesting it represents a defining group of female voices from the period who performed and recorded in all manner of genre and styles. As the parent group of RPM Records is Cherry Red Records, the once mocked is now able to celebrate one and all.
Many of these artists were night-time John Peel session regulars, fighting for daytime coverage in the press, walking the fine line of questioning from the NME (hip young gunslingers asking sexual politics) and Smash Hits (Milton Keynes readers asking which hairspray they used).
This compilation ranges from pop artists with an eye on the charts to complete DIY advocates; The Slits, The Raincoats, The Au Pairs importance already established, 'Sharon…' goes under them to find lo-fi label stalwarts Trixie's Big Red Motorbike (Melanie Litten with brother Mark), The Avocados (Etta Saunders), The Petticoats (one woman girl band Stef Petticoat), Rexy (Blitz Kid Rex Nayman) and over them to find more familiar contenders Marine Girls, Strawberry Switchblade, Dolly Mixture, Sunset Gun – the latters all bubbling under the pop charts and potential commercial success.
Some even achieved both such as Dolly Mixture with Captain Sensible, The B-Girls with Debbie Harry/Blondie, Ingrid with Freeez, solo artists Tracey Thorn and Helen McCallum and even actress Margi Clarke and DJ Liz Kershaw emerging from Margox and Dawn Chorus And The Blue Tits respectively.
'Sharon…' is an eclectic soundtrack for the early '80s covering post punk, mod revival, '60s revival, independent scene, rockabilly/cowpunk, garage, London soul/funk, reggae dub and commercial pop, pre C86 with its looking back and looking forward, and what it isn't, the extremes of the SAW production line of the late '80s and another era entirely.
The DIY culture described in our title song is illustrated on the compilation through several unreleased demos, of the sort which would indeed have found their way via jiffy bags to the in tray of Cherry Red Records A&R department…if they'd had one as such. 30 years on from 'Sharon Signs To Cherry Red', Sharon finally signs to Cherry Red with this extensive 2CD digipak compilation.
SHARON SIGNS TO CHERRY RED Independent Women 1979-1985 – RPMD 532
DISC 1-
1-THE KAMIKAZE PILOTS: SHARON SIGNS TO CHERRY RED
2-DOROTHY: I CONFESS
3-MARINE GIRLS: HATE THE GIRL
4-GRAB GRAB THE HADDOCK: NOTHING YOU SAY…
5-THE AVOCADOS: I NEVER KNEW
6-SCREAM AND DANCE: IN RHYTHM
7-INGRID: THE JAM JAR SONG (FORMERLY SISTER SLOW)
8-THE GTS: BOYS HAVE FEELINGS TOO
9-MARGOX: JIMMY'S GRIN
10-JAQUI AND JEANETTE: 194 RADIO CITY
11-TWA TOOTS: PLEASE DON'T PLAY A RAINY NIGHT IN GEORGIA *
12-STRAWBERRY SWITCHBLADE: SEASIDE (GO AWAY) **
13-THE TWINSETS: HEARTBEAT **
14-MARI WILSON WITH THE IMAGINATIONS: IF THAT'S WHAT YOU WANT
15-THE CANDEES: LITTLE MISS RAINBOW
16-APRIL AND THE FOOLS: YOU DO
17-THE FLATBACKERS: BUZZZ GOING ROUND
18-HELEN AND THE HORNS: PIONEER TOWN
19-THE SHILLELAGH SISTERS: TEASIN' CHEATIN' MAN
20-THE GYMSLIPS: BIG SISTER (IT'S PROBABLY BETTER)
21-DOLLY MIXTURE: HOW COME YOU'RE SUCH A HIT WITH THE BOYS JANE?
22-COMING UP ROSES: I COULD HAVE BEEN YOUR GIRLFRIEND
23-THE B GIRLS: JEALOUSY *
DISC 2-
1-DAWN CHORUS AND THE BLUE TITS: TEENAGE KICKS
2-FAMILY FODDER: DEBBIE HARRY
3-TRACIE: THE BOY HAIRDRESSER
4-A CRAZE: WEARING YOUR JUMPER
5-VIVIEN GOLDMAN: LAUNDERETTE
6-RED ROLL ON: WET BLANKET
7-THE MO-DETTES: MASOCHISTIC OPPOSITE
8-THE PETTICOATS: NORMAL
9-JANET ARMSTRONG: EXPLOITATION
10-TRIXIE'S BIG RED MOTORBIKE: A SPLASH OF RED
11-SARAH GOES SHOPPING: SUMMER BLUES **
12-SUNSET GUN: BE THANKFUL FOR WHAT YOU'VE GOT
13-DEE WALKER: JUMP BACK
14-ELEANOR RIGBY: I WANT TO SLEEP WITH YOU
15-THE MOCKINGBIRDS: MONEY
16-JANE KENNAWAY & STRANGE BEHAVIOUR: I.O.U.
17-REXY: (DON'T) TURN ME AWAY
18-AMY AND THE ANGELS: I HATE BEING IN LOVE
19-PRIDE OF THE CROSS: TOMMY'S BLUE VALENTINE
20-THE DELMONAS: WOA NOW
21-JANE (& BARTON): I WANT TO BE WITH YOU
22-KAMIKAZE SEX PILOTS: SHARON'S BEEN DEFLOWERED AND DEFOLIATED
* Unreleased at the time
* Previously unreleased