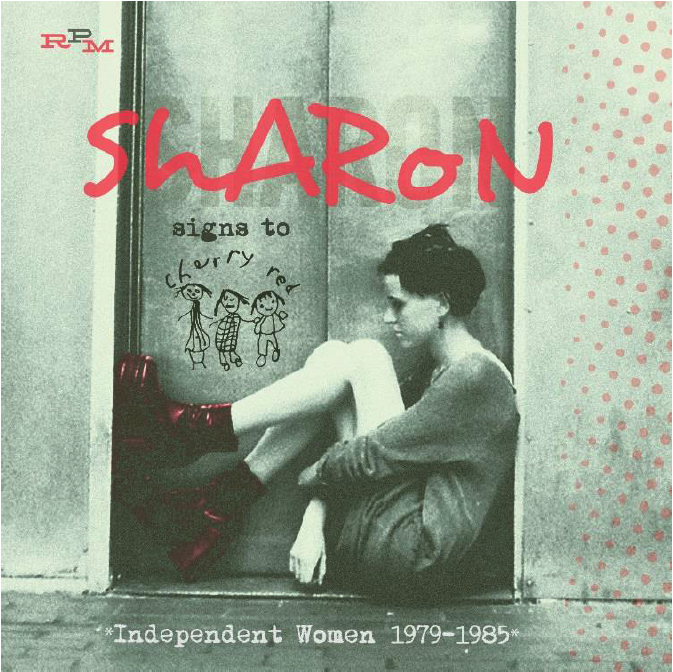 Sharon Signs to Cherry Red – Various artists – CD review
10th May 2016
Sharon Signs to Cherry Red is quite an important release as it's a compilation of the demo tape generation. Those of us old enough to remember cassettes & tape trading, this is a step back into the annuals of time. For those of you just discovering that there was music before the digital age, this is well worth picking up.
This double album is not nostalgic for the sake of it, this has been loving collected so these tracks are preserved for all time.  It's saving all those gems from 1979 – 1985 for decades to come.
Featuring such artists as The Petticoats, Strawberry Switchblade, Mari Wilson with the Imaginations & The Kamikaze Pilots the double album covers the post punk generation of original DIY music.
The girls often get overlooked but they produced some important music back in the late 70's & early 80's to rival the boys so this another reason why this compilation is important

There is over 2hours of great music which will give you plenty of time to read the 24 page liner notes that give you a run down on each band. The hole package is  a 3 panel fold out case & as is usual with Cherry Red, is of high quality.
A great set & a worthy purchase for audiophiles, young, old & those who want to relive their youth
.

Released 20th May via Cherry Red

Track List:

DISC 1-
1-THE KAMIKAZE PILOTS: SHARON SIGNS TO CHERRY RED
2-DOROTHY: I CONFESS
3-MARINE GIRLS: HATE THE GIRL
4-GRAB GRAB THE HADDOCK: NOTHING YOU SAY…
5-THE AVOCADOS: I NEVER KNEW
6-SCREAM AND DANCE: IN RHYTHM
7-INGRID: THE JAM JAR SONG (FORMERLY SISTER SLOW)
8-THE GTS: BOYS HAVE FEELINGS TOO
9-MARGOX: JIMMY'S GRIN
10-JAQUI AND JEANETTE: 194 RADIO CITY
11-TWA TOOTS: PLEASE DON'T PLAY A RAINY NIGHT IN GEORGIA *
12-STRAWBERRY SWITCHBLADE: SEASIDE (GO AWAY) **
13-THE TWINSETS: HEARTBEAT **
14-MARI WILSON WITH THE IMAGINATIONS: IF THAT'S WHAT YOU WANT
15-THE CANDEES: LITTLE MISS RAINBOW
16-APRIL AND THE FOOLS: YOU DO
17-THE FLATBACKERS: BUZZZ GOING ROUND
18-HELEN AND THE HORNS: PIONEER TOWN
19-THE SHILLELAGH SISTERS: TEASIN' CHEATIN' MAN
20-THE GYMSLIPS: BIG SISTER (IT'S PROBABLY BETTER)
21-DOLLY MIXTURE: HOW COME YOU'RE SUCH A HIT WITH THE BOYS JANE?
22-COMING UP ROSES: I COULD HAVE BEEN YOUR GIRLFRIEND
23-THE B GIRLS: JEALOUSY *
DISC 2-
1-DAWN CHORUS AND THE BLUE TITS: TEENAGE KICKS
2-FAMILY FODDER: DEBBIE HARRY
3-TRACIE: THE BOY HAIRDRESSER
4-A CRAZE: WEARING YOUR JUMPER
5-VIVIEN GOLDMAN: LAUNDERETTE
6-RED ROLL ON: WET BLANKET
7-THE MO-DETTES: MASOCHISTIC OPPOSITE
8-THE PETTICOATS: NORMAL
9-JANET ARMSTRONG: EXPLOITATION
10-TRIXIE'S BIG RED MOTORBIKE: A SPLASH OF RED
11-SARAH GOES SHOPPING: SUMMER BLUES **
12-SUNSET GUN: BE THANKFUL FOR WHAT YOU'VE GOT
13-DEE WALKER: JUMP BACK
14-ELEANOR RIGBY: I WANT TO SLEEP WITH YOU
15-THE MOCKINGBIRDS: MONEY
16-JANE KENNAWAY & STRANGE BEHAVIOUR: I.O.U.
17-REXY: (DON'T) TURN ME AWAY
18-AMY AND THE ANGELS: I HATE BEING IN LOVE
19-PRIDE OF THE CROSS: TOMMY'S BLUE VALENTINE
20-THE DELMONAS: WOA NOW
21-JANE (& BARTON): I WANT TO BE WITH YOU
22-KAMIKAZE SEX PILOTS: SHARON'S BEEN DEFLOWERED AND DEFOLIATED
* Unreleased at the time
** Previously unreleased
Score 8.5/10