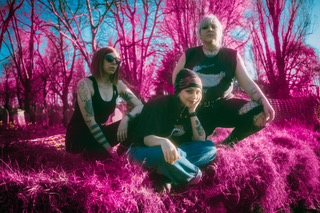 Shooting Daggers share video for 'Liar' taken from new 'Athames' EP
14th April 2022
0
By
John Deaux
You could say that feminist/queercore punk trio Shooting Daggers have been 'nailing it' since the release of their first single 'Manic Pixie Dream Girl' last year.
Amongst a clutch of rave reviews of the single, they have become a 'must see' on the grass roots punk circuit, on top of that the band were invited to support Amyl and the Sniffers at their recent London shows and also asked to play Desertfest 2022. Their upward trajectory seems inevitable.
Perhaps it's because they are 'the real deal'.  Shit kicking UKHC full of youthful fury and shorn of vacuous posturing. Fierce and committed in what they believe in, as how they play. Case in point being their latest track 'Liar'. The band says …
'Liar is a song about breaking the silence over abusers, a song that calls them out for who they really are with no more excuses. This is a really important song to us and we would like to spread this message, to not only the victims of rape and abuse, but also to the entire community, encouraging people to not engage with abusers and to stop trying to justify their rapist friends'
The video that goes with it (created by guerrilla filmmakers Punkvert TV) echoes that sentiment. 
A furious cut up of images, by turns visceral and edgy, and definitely not for the faint hearted.
'Liar' is taken from 'Athames' the band's debut EP set to be released on 20th May by New Heavy Sounds. Landing on 7" eco mix coloured vinyl with an 8 page lyric booklet and full download included. Limited to 500 copies. The ep will also get a limited edition CD and audio cassette release as well as being available on digital platforms.
Pre-order now: https://cargorecordsdirect.co.uk/products/shooting-daggers-athames
Shooting Daggers are set to play London's Desertfest with an EP launch gig to follow. 
Shooting Daggers  are
Salomé Salgado Pellegrin Vocals/Guitar
Beatrice Simion Bass/Vocals
Raquel J Alves Drums
https://www.facebook.com/shootingdaggersxhc
https://shootingdaggers.bandcamp.com/releases
How useful was this post?
Click on a thumb to rate it!
Average rating 0 / 5. Vote count: 0
No votes so far! Be the first to rate this post.
Related