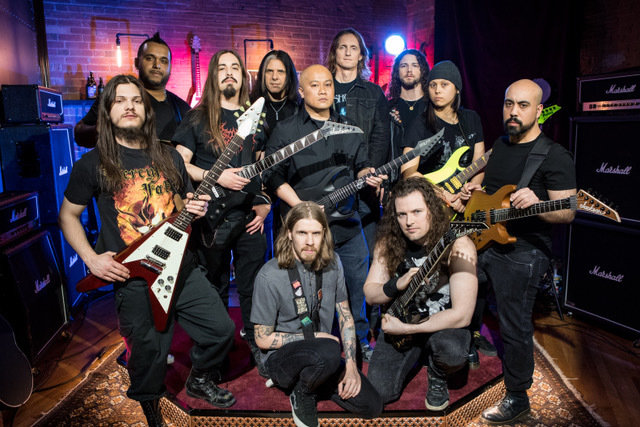 SHREDDERS OF METAL OFFICIAL TRAILER RELEASED VIA GEAR GODS
16th July 2018
0
By
John Deaux
BANGER FILMS joins forces with GEAR GODS for the exclusive premiere today of the official trailer for SHREDDERS OF METAL! It's the first look at the new talent competition show dedicated to heavy metal guitar. Go HERE  to take an inside view of the show before it launches on July 23.
Gear Gods is a one-stop shop for the serious musician. Founded in 2013 by the creators of Metal Injection and MetalSucks, Gear Gods is the only website for musicians in the hard rock, heavy metal, progressive rock, and punk communities.
The SHREDDERS OF METAL trailer reveals some of the series guitar challenges, including "Speed Kills", which will test playing precision at different speeds, and "Metalize This", in which contestants must transform a children's song into a metal shred. As previously announced, seven guitarists will showcase their shredding skills for a panel of three judges: Alex Skolnick (Testament), Daniel Dekay (Diemonds, BangerTV) and Sam Dunn (Banger Films Co-Founder). The six-episode series is hosted by Blayne Smith and premieres Monday, July 23rd, with new episodes daily during "Shredders Week" – July 23 to 28.
"No one's ever really done a show like this before," says Sam Dunn in the video. At the end of each episode, one contestant will be eliminated, until the finale episode featuring a guitar duel to determine one champ.
The SHREDDERS OF METAL digital series is produced by Banger Films with the support of the Bell Fund. 
The Shredders Of Metal Website  // BangerTV Website  // BangerTV Youtube 

About Banger Films:
Banger Films is a fully-integrated production company creating feature documentaries, TV series, live concerts, kids programming and digital. Founded by Scot McFadyen and Sam Dunn in 2004 with the groundbreaking documentary Metal: A Headbanger's Journey, its signature productions include the Peabody Award and International Emmy Award-winning series Hip-Hop Evolution, the Grammy-nominated doc Rush: Beyond the Lighted Stage and Metal Evolution, the biggest television series ever made about the history of heavy metal.  About Banger TV: BangerTV is the world's fastest-growing digital channel for heavy metal music and culture. Since launching in September 2015 as a YouTube channel it has reached more than 130,000 subscribers and become the go-to destination for the international metal community.
How useful was this post?
Click on a thumb to rate it!
Average rating / 5. Vote count:
Related
About the author
Some say Yank My Doodle, It's A Dandy! is a biographical movie based on John. Some have even said that his favorite artist is Chesney Hawke! All we really know is he sleeps inside out and his hair tastes like candy floss.