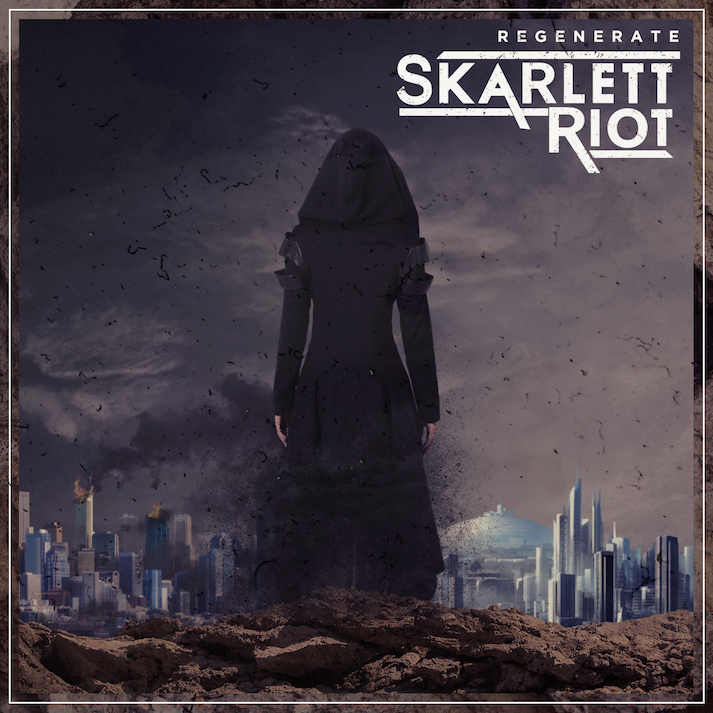 Skarlett Riot announce UK tour as special guests of Sumo Cyco
17th January 2018
Canadian punk-metallers SUMO CYCO have announced a UK tour for March 2018!
The tour will include an appearance at Hammerfest in Wales.
The hard rockin' four-piece released their latest album 'Opus Mar' in March last year. Produced by Matt Drake (illScarlett) and James 'LeRock' Loughrey (Skindred, Joss Stone), 'Opus Mar' fuses hard rock guitar riffs, in-your-face blast beats and dancehall rhythms, all topped off by frontwoman Skye 'Sever' Sweetnam's electric vocals. The band independently crowdfunded the new album, reaching 249% of their PledgeMusic goal after the buzz of lead single 'Anti-Anthem'.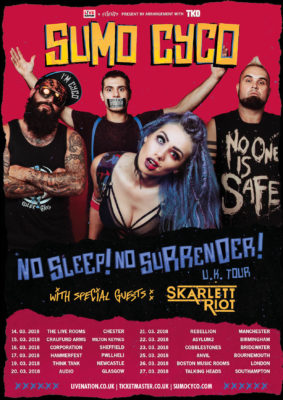 Catch Sumo Cyco at the following shows:
Support: Skarlett Riot
14.03 – Chester, Live Rooms
15.03 – Milton Keynes, Craufurd Arms
16.03 – Sheffield, Corporation
17.03 – HAMMERFEST Wales, Pwllheli 
19.03 – Newcastle, Think Tank
20.03 – Glasgow, Audio
21.03 – Manchester, Rebellion
22.03 – Birmingham, Asylum 2
23.03 – Bridgwater, Cobblestones
25.03 – Bournemouth, Anvil
26.03 – London, Boston Music Room
27.03 – Southampton, Talking Heads
Tickets are on sale on Friday 19th Jan at the following link: https://www.livenation.co.uk/artist/sumo-cyco-tickets
Check out the videos from 'Opus Mar' below:
'Sleep Tight' https://www.youtube.com/watch?v=RR6B81BV58k
'Move Mountains' (Ft. Benji Webbe of Skindred) https://www.youtube.com/watch?v=ULCUEWDd9_0&feature=youtu.be
'Anti-Anthem' https://www.youtube.com/watch?v=y4rQh52q04w 
www.sumocyco.com
www.youtube.com/sumocyco
www.twitter.com/sumocyco
www.facebook.com/sumocyco
More on Skarlett Riot
After the success of their 'Sentience' EP, hard-hitting UK quartet Skarlett Riot soon began to attract interest from far and wide. Signing deals with TKO Agency and The Artery Foundation management were just the beginning for this highly rated act – soon they had signed a world-wide record deal with the pro-active and forward thinking Swedish label Despotz Records.
With the ink still drying on their contracts the four-piece, led by the unique and passionate vocals of Skarlett, headed back in to the studio to begin work on their hugely anticipated second album.
The new material is harder, heavier, faster but still driven by the anthemic hooks that have kept this band at the forefront of the UK modern metal scene.
The band have constantly developed and honed their craft; and the band are in comfortable in their darker and heavier guise, with elements of Asking Alexandria, In This Moment and Bullet for My Valentine shining through; opening up all new possibilities for the band.
The result is the amazing new album – 'Regenerate'.
Whereas their peers are all seemingly heading towards a lighter direction, Skarlett Riot are embracing the anger and aggression of the modern world and challenging it into some of their most challenging material to date.
The commanding voice of Skarlett has taken on a bolder and more forceful presence, whilst the guitars of Danny are razor sharp and incisive, giving the rhythm section of Luke and Martin the room to progress and expand into a taut, almost hostile driving force, as the first single 'Break' ably demonstrates!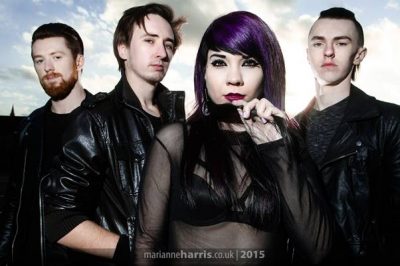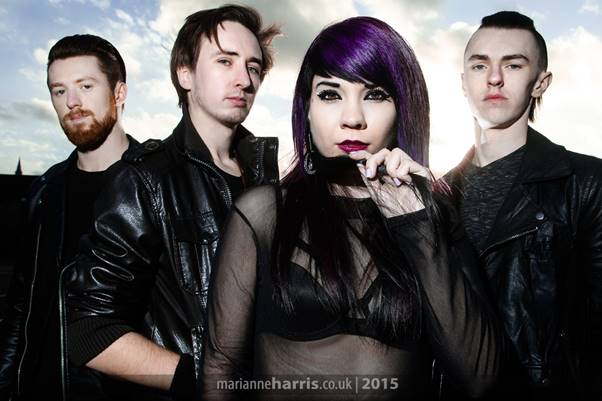 Skarlett – Lead Vocals/Guitars * Danny – Guitars/Backing Vocals  
Martin Shepherd – Bass/Backing Vocals * Luke – Drums