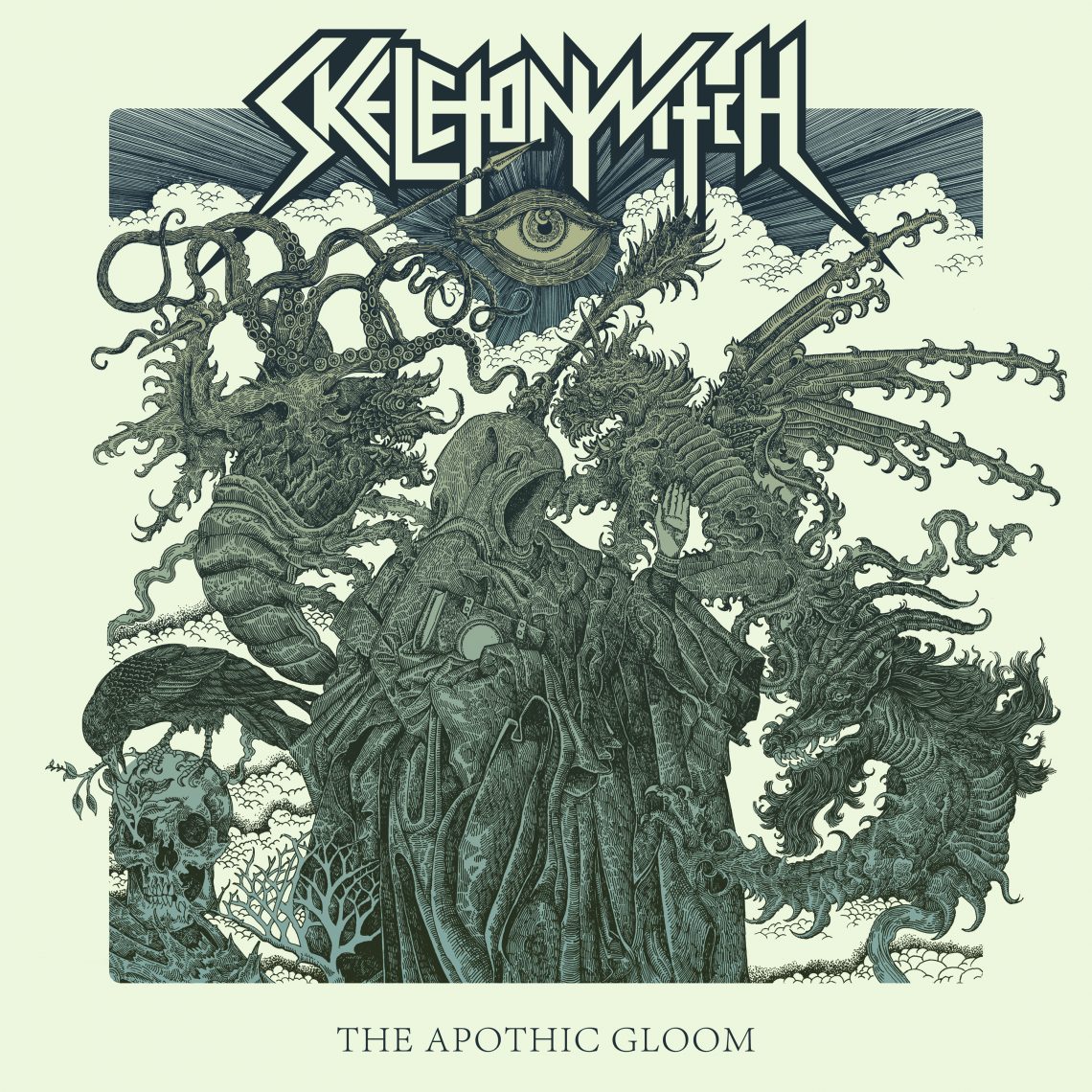 Skeletonwitch – The Apothic Gloom CD Review
12th August 2016
Skeletonwitch had a rough 2015, to say the least. With the departure of iconic original vocalist Chance Garnette, the future of the band was the cause of much speculation in the metal press. However, Skeletonwitch have taken the loss in their stride, recruiting ex-Veil of Maya frontman Adam Clemans into the fold. August will see the release of their highly anticipated EP, Clemans debut with Skeletonwitch, The Apothic Gloom. But as we all know, a vocalist change can break a band – so how does The Apothic Gloom hold up?
The simple answer, is fucking brilliantly. A noteworthy aspect of The Apothic Gloom is the simply outstanding production. Despite Skeletonwitch's black metal influences, the sound here is perfect – polished enough to be really enjoyed, but still gritty enough to not sound clinical. Opening with its title track, The Apothic Gloom eases us in gently with beautiful, soothing acoustic guitars, before a massive melodeath riff carries us into the body of the song. This is melodic death metal done right. Well of Despair, the first track to be released with Clemans on vocals, follows. The blackened influences are a bit stronger here, and the chorus is absolutely massive.
Black Waters has a more tradition metal feel with its galloping opening riff. However, it dives straight back into the blackened melo-death for the chorus. An absolutely stunning, shred-filled solo which stands as some of the best guitar work on the whole EP. The closing track is another single, Red Death, White Light. Coming in at just over seven minutes, Red Death, White Light carries you through an epic, blackened, sonic journey.
In recent years, Skeletonwitch have refined their sound from a dirty, blackened thrash to a blackened melodeath – but they retained a hint of their thrashy origins. The Apothic Gloom sees this transformation complete, and heralds a new age of Skeletonwitch. The blackened influences are just enough to give the music a sinister edge, while the thrashy, melodic death metal is just so fun to listen to. I have nothing but respect for Chance Garnette, but The Apothic Gloom is the most enjoyable Skeletonwitch release to date, and Clemans will help propel the band to new heights.
Score: 9.5 out of 10

Apothic Gloom Information
Track List:
1. Apothic Gloom
2. Well of Despair
3. Black Waters
4. Red Death, White Light
Record Label:
Prosthetic Records
Release Date:
19th August 2016
For fans of…
Revocation, Goatwhore, The Black Dahlia Murder
Check out Skeletonwitch on Facebook, and pre-order The Apothic Gloom here!