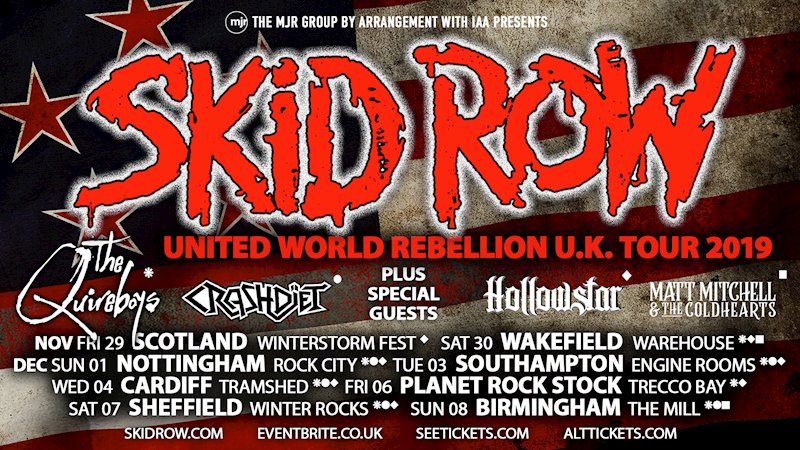 SKID ROW UK tour dates announced.
17th June 2019
0
By
John Deaux

Multi-platinum selling band SKID ROW will embark on a full UK tour this year, which will see the New Jersey rockers playing shows across the UK, starting in WINTERSTORM FEST, Scotland on 29th November and ending at The Mill, Birmingham on 8th December. Tickets are on sale on 19th June at 9am on Eventbrite.co.uk.
Skid Row started in 1986 when a group of New Jersey kids, armed with their punk and metal
attitude, and a collection of riff-heavy, high-octane songs, set out to conquer the world, one
concert at a time. This determined and focused approach proved to be an unquestionable
success, as the group went on to clock up numerous Top Ten singles, Gold and multi-Platinum selling albums and a Number 1 on the Billboard albums chart. In other words, the world was theirs.
They might have conquered the world several times over, but guitarist Snake Sabo admits the success hasn't changed him or the band, and Skid Row are focused on making more earth shattering music. He says: "I will always be that 16-year-old kid in front of the mirror, pretending to be Ace Frehley or Michael Schenker. It's still about writing a great song with your friends, praying it connects with someone. That has never left me. That willfulness will always exist, and there's so much left to say!"
Joining Skid Row for a special co-headline show at Winterstorm Fest, Scotland is Hollowstar.
Surging into the top five in the 'Best New Band' category at Planet Rock's 2019 awards,
HOLLOWSTAR are carving their own route to the top, paved with hard-hitting riffs and cemented by melodic yet inherently impactful lyrics.
Hollowstar will also be supporting Skid Row on every date of their UK tour apart from
Birmingham, along with quintessential British rock'n'roll band THE QUIREBOYS. Following the band's inception in 1984, The Quireboys are certainly enjoying a revival – selling out venues around the world. 2019 saw the release of their new studio album 'Amazing Disgrace' – their 12th – on April 5th.
Ultimate sleaze hard rock band CRASHDIET will be joining Skid Row on five out of the eight dates of their UK tour. "Go big or go home" has been their motivational "catchphrase" for the Swedish group ever since they started out in 2000. Their undeniable flirt with the 80s big arena rock bands like Guns N' Rose, Kiss and Skid Row themselves, combined with a notable element of punk, has made them a significant name in the revival of the sleaze and glam genre. In September 2019, they will release their fifth studio album.
MATT MITCHELL & THE COLD HEARTS will be joining Skid Row at both Winterstorm Fest, Scotland and The Mill, Birmingham. Matt started out singing and writing songs in his late teens, leaning his craft in several bands early on and Matt Mitchell & The Cold Hearts is Matt's solo project with an array of extremely talented guests players. The project got off to a great start, with the first single 'Black Diamonds' released on January 25th 2019, being championed across the UK and the rest of the globe.

Full Skid Row Tour Dates:
Winterstorm Fest, Scotland – 29th November – Skid Row + Hollowstar
Warehouse, Wakefield – 30th November – Skid Row + Quireboys + Hollowstar + Matt
Mitchell & The Cold Hearts
Rock City, Nottingham – 1st December – Skid Row + Quireboys + Crashdiet + Hollowstar
Engine Rooms, Southampton – 3rd December – Skid Row + Quireboys + Crashdiet +
Hollowstar
Tramshed, Cardiff – 4th December – Skid Row + Quireboys + Crashdiet + Hollowstar
Planet Rock Stock, Trecco Bay – 6th December – Skid Row + Quireboys + Hollowstar
Corp,
Winter Rocks, Sheffield – 7th December – Skid Row + Quireboys + Crashdiet +
Hollowstar
The Mill, Birmingham – 8th December – Skid Row + Quireboys + Crashdiet + Matt Mitchell
& The Cold Hearts
*Tickets on sale from Eventbrite.co.uk, 19th June at 9am
https://www.skidrow.com/ 
How useful was this post?
Click on a thumb to rate it!
Average rating 0 / 5. Vote count: 0
No votes so far! Be the first to rate this post.
Related
About the author
Some say Yank My Doodle, It's A Dandy! is a biographical movie based on John. Some have even said that his favorite artist is Chesney Hawke! All we really know is he sleeps inside out and his hair tastes like candy floss.