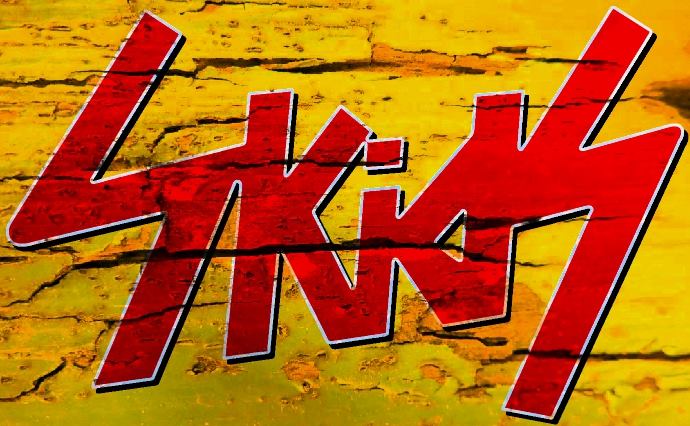 Skids: The Saints Are Coming: Live And Acoustic 2007-2021, 6CD Box Set Review
17th June 2022
To me, the best thing about the punk explosion of the mid 70s, was what came after it, rather than punk itself. Indeed, The Skids were, and are, one of my favourite bands to appear in the latter part of that decade. Taking inspiration from,  but not copying what had gone before them. They had the raw guitars of punk, with additional melody, and a vocalist who could actually sing unlike a lot of their contemporaries.
In a few short years they produced a series of cracking albums, before splitting up seemingly for good. Consequently, singer Richard Jobson went into TV and film work,  guitarist Stuart Adamson going on to arguably even greater things as the driving force behind hugely underrated Scottish rockers Big Country.  Adamson's untimely passing in 2001 seemed to put to bed any hope of a reunion. That was until they surprised us on their 30th Anniversary in 2007 when they got together again for a Radio Clyde live session. 
It was perhaps apt that Big Country stalwart Bruce Watson was at Jobson's side, filling the huge void created by Adamson's absence. Like in the reformed Big Country, he was joined by his son Jamie, to create a twin guitar sound. This left Jobson to concentrate purely on vocals, rather than doubling on guitar, a task he always hated on stage. This six disc collection brings together various live shows, sessions and acoustic material recorded in the last 14 years since that initial reunion.
With there being six different recordings, there is a lot of repetition on display here. For example, the likes of Into The Valley and The Saints Are Coming crop up on every disc, albeit in different forms. As such, it's definitely a collection aimed at the hard core collector, though it's still a very enjoyable listen for any casual fan too. Any of these discs in isolation showcases the sound of a rejuvenated band clearly enjoying themselves again.
The initial Radio Clyde session that began the comeback is included here. The 2006 collaboration between U2 and Green Day on The Saints Are Coming revived huge interest in the bands, and lead to them recording this as a 30th Anniversary special. Although only nine songs, and 30 minutes long, its a raw run through their finest moments that belies the fact that this was their first performance in 25 years. It highlights what a great back catalogue they left behind all those years ago. To me, it's the best of the six discs included here. Great stuff. 
There are two full live gigs included here also, from the London Roundhouse in 2017, the other on home turf in Dunfermline in 2010. The band are clearly on fire on both. The show from the Roundhouse includes new material from 2018's Burning Cities album in the shape of the storming A World On Fire,  showing that this reunion is about more than just a nostalgia trip. In addition, the gloriously bonkers TV Stars features a more topical lyrical role call, though still has the audience joyously bellowing Albert Tatlock on cue.
Not only do they stick to the tried and tested electric plugged in material, they also grabbed the acoustic guitars for a couple of the discs here. The 2019 Peaceful Times album includes reworkings of ten of their back catalogue, with varying results. Its hard to listen to the likes of Into The Valley stripped of their signatures riffs. As a result it's more of a curiosity piece, but is a nice laid back listen to chill out with on a warm summers day, as I have been doing with it today. In particular Animation works very well in its new incarnation, when it becomes a dreamy Byrds like track that almost makes you forget the original. Almost. The accompanying live acoustic disc is pretty much the same but with an audience ruining the ambiance this time. 
A final disc of their 2021 Lockdown Live stream shows that the pandemic and acoustic detour didn't put out the fire in their collective bellies. It's a fiery 10 song, 50 minute blast through their finest moments, with not a duff track to be had throughout it. Richard Jobson provides humorous between song banter to give it a performance feel. Such as with the original Radio Clyde broadcast, it's great to hear them just letting rip for the fun of it in a studio, and provides a nice symmetry to end the collection and 14 year music journey.
Some times when a band gets back together after a long period of inactivity, it's as a shadow of their former selves. However, in this case I'm so pleased that this isn't the case here. Obviously it's a bittersweet reunion without Stuart Adamson, but unlike a lot of bands they've managed to move forward and show that they have a valid future ahead of them again. This is a really pleasing box set to listen to indeed. 
Score: 8.5/10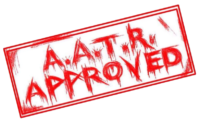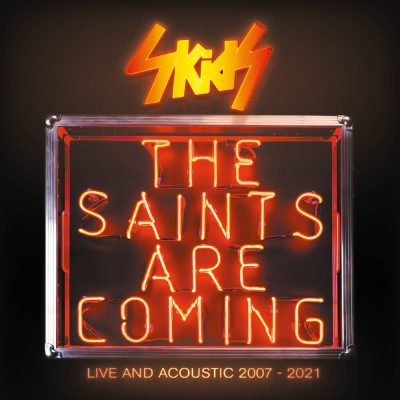 Tracklisting:
DISC ONE: ALHAMBRA, DUNFERMLINE, 6/3/2010
1. ANIMATION
2. OF ONE SKIN
3. MELANCHOLY SOLDIERS
4. THANATOS
5. THE SAINTS ARE COMING
6. SCARED TO DANCE
7. HURRY ON BOYS
8. WORKING FOR THE YANKEE DOLLAR
9. OUT OF TOWN
10. A WOMAN IN WINTER
11. CHARADE
12. CHARLES
13. THE OLYMPIAN
14. MASQUERADE
15. INTO THE VALLEY
DISC TWO: THE ROUNDHOUSE, LONDON, 16/6/2017
1. ANIMATION
2. OF ONE SKIN
3. MELANCHOLY SOLDIERS
4. THANATOS
5. DULCE ET DECORUM EST (PRO PATRIA MORI)
6. WORKING FOR THE YANKEE DOLLAR
7. THE SAINTS ARE COMING
8. SCARED TO DANCE
9. CHARLES
10. THE OLYMPIAN
11. OUT OF TOWN
12. HURRY ON BOYS
13. A WOMAN IN WINTER
14. CIRCUS GAMES
15. MASQUERADE
16. INTO THE VALLEY
17. CHARADE
18. T.V. STARS
19. A WORLD ON FIRE
20. OF ONE SKIN (REPRISE)
DISC THREE: PEACEFUL TIMES (STUDIO RECORDINGS) 2019
1. INTO THE VALLEY
2. A WORLD ON FIRE
3. KINGS OF THE NEW WORLD ORDER
4. THE SAINTS ARE COMING
5. ANIMATION
6. HURRY ON BOYS
7. BLOOD AND SOIL
8. FIELDS
9. KREUZBERG '79
10. DESERT DUST
DISC FOUR: (ACOUSTIC TOUR): THE SAGE 2, GATESHEAD, 10/09/2019
1. KINGS OF THE NEW WORLD ORDER
2. WORLD ON FIRE
3. WORKING FOR THE YANKEE DOLLAR
4. FIELDS
5. DESERT DUST
6. THE SAINTS ARE COMING
7. BLOOD AND SOIL
8. CASTLES IN SPAIN
9. CHARLES
10. A WOMEN IN WINTER
11. INTO THE VALLEY
DISC FIVE: LOCKDOWN LIVE, LIVINGSTON, 9/3/2021
1. CHARADE
2. OF ONE SKIN
3. KINGS OF THE NEW WORLD ORDER
4. THE SAINTS ARE COMING
5. WORKING FOR THE YANKEE DOLLAR
6. HURRY ON BOYS
7. A WOMAN IN WINTER
8. CIRCUS GAMES
9. MASQUERADE
10. INTO THE VALLEY.
DISC SIX: RADIO CLYDE SESSION, 1/7/2007
1. MELANCHOLY SOLDIERS
2. THE SAINTS ARE COMING
3. WORKING FOR THE YANKEE DOLLAR
4. CHARLES
5. OUT OF TOWN
6. MASQUERADE
7. INTO THE VALLEY
8. VAMBO
9. TV STARS
Release Date: 24th June 2022
Label: Cherry Red
For all things Skids, click HERE and to purchase the album, click HERE