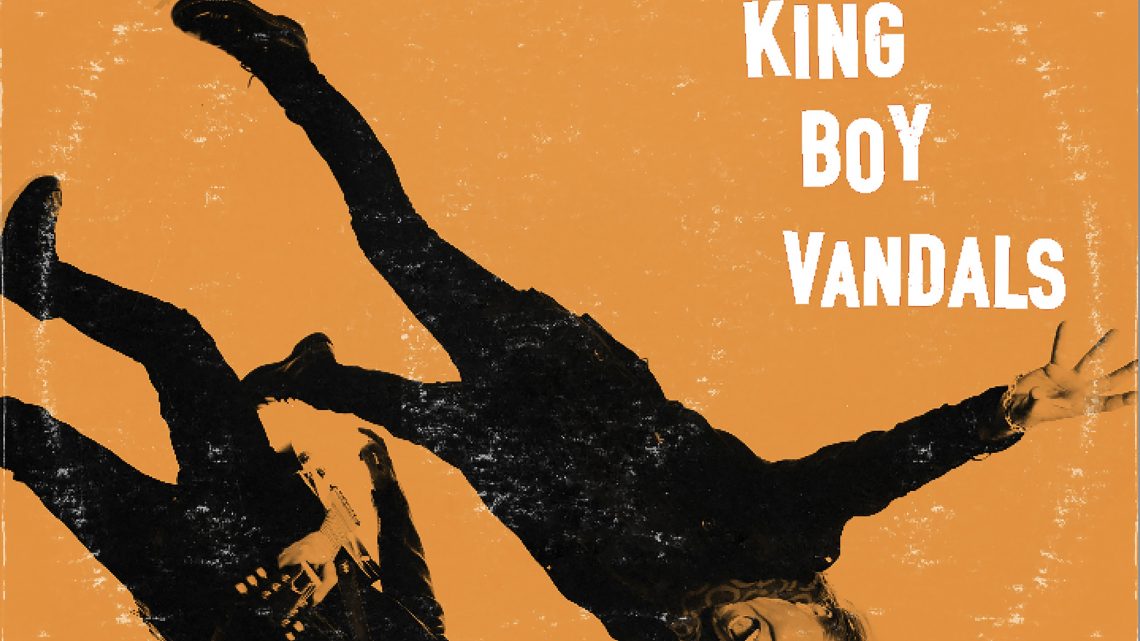 SLINKY VAGABOND readies KING BOY VANDALS For Release on Vinyl and Compact Disc December 6, 2021
20th September 2021
Slinky Vagabond is a concept band that originally formed in 2007 and became an integral part of the New York club scene and performed at celebrations for Joey Ramone's Birthday Bash alongside the New York Dolls, Fashion Week's Gen Art and Rock and Roll Fantasy Camp and Marc Bolan's 30th Anniversary Show alongside Patti Smith, Tom Morello, Joan Jett and Ronnie Spector. They release their album 'King Boy Vandals' on December 6 that can be pre ordered at: slinkyvagabond@slinkyvagabond.net 
The band's ethos was built with guest collaborations at its core and this has remained the same since 2007. The band's original lineup featured Keanan Duffty – the current driving force behind the band – Earl Slick (David Bowie, John Lennon), Glen Matlock (Sex Pistols, Rich Kids), Clem Burke (Blondie, The Ramones) and Pete Shelley (Buzzcocks) on backing vocals. They were structured like hip hop bands that construct songs on features, tracks and featured a veritable slew of collaborations.
'King Boy Vandals' carries on that tradition. Longtime friend and collaborator of Keanan Duffty Fabio Fabbri, guitarist, producer and songwriter, produced the record, co-wrote the songs and played guitar. There are guest appearances from Midge Ure (Ultravox/Visage/Live Aid co-founder), Dave Formula (Magazine/Visage), Richard Fortus (Guns N' Roses/Psychedelic Furs), David Torn (David Bowie/David Sylvian), Tony Bowers (Durutti Column/Simply Red) and Martin Turner (Wishbone Ash).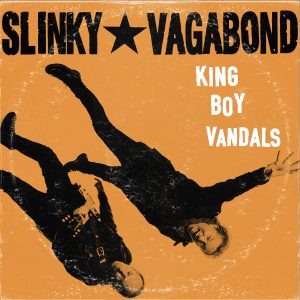 'King Boy Vandals' tracklist
The Beauty in You feat. Dave Formula, Tony Bowers
Prima Donna feat. Midge Ure, Tony Bowers
Old Boy feat. Midge Ure, Tony Bowers
I'm Falling Down feat. Dave Formula, Tony Bowers
Fear No Evil feat. Martin Turner, Richard Fortus
Euphoria feat. David Torn, Tony Bowers
Absolutely Dark
English Country Garden feat. Andy Hilfiger, Richard Fortus
Black Leather Jacket 
Rockin' into an Explosion feat. Tony Bowers.
To understand Slinky Vagabond's is to understand Keanan Duffty…
Like in 2007, Keanan Duffty remains the driving force behind the band. His career has seen him work with some of the greatest and most iconic music artists including David Bowie and The Sex Pistols. A Doncaster born fashion designer who has resided in New York for since 1993, has created himself an incredible career combining his two great loves – fashion and music. 
Rewind to 1985, Keanan has graduated and earned Bachelor of Arts degree with 1st Class Honours from Central Saint Martins in Fashion, still creating music through that time he was a regular feature in the trend setting media such as The Face, i-D, Blitz Magazine, the Sunday Times, Smash Hits, NME and Melody Maker for both his fashion and music. He releases singles and EP's through EMI appearing on BBC Radio 1 and is named one of i-D magazines most important people of the 1980s.
Jump forward ten years to 2003 (following a move to NYC in 1993), Keanan has built a reputation in NYC as an inspiring, entrepreneurial artist and designer bringing together his love of music and fashion and is apprcoahed by the Sex Pistols to style the band for the American tour and in 2007 Duffty personally collaborated with David Bowie to create a limited-edition fashion collection, which sold out in 1200 stores of the American retailer Target within weeks of its debut.
Fabio Fabbri recorded the album at his own Wolfmountain Studio in Italy. During his career as a producer, he has developed a particular style that characterises the sound of the songs and that was highly appreciated by all the guests that participated in the album.
Keanan Duffty and Fabio Fabbri on the making of the album…
"The title 'King Boy Vandals' is an anagram of Slinky Vagabond. We re-arranged the name just as we re-arranged the band," explains Duffty about the new album "In a similar fashion of mixing up integral elements, Slinky Vagabond interchanges guest musicians in a manner that creates a new and exciting whole."
"At the beginning, we didn't have a plan for this project," adds Fabio. "I felt a great energy playing music with Keanan: no limits, no barriers. Our different musical backgrounds created an exciting mix and we felt it was time to build a more structured project. I think the true essence of rock & roll comes out when you can work free from plans or deadlines."
Recorded prior to the pandemic, it was tightened and honed in post-production when the world halted. "We completed all the backing tracks and vocals at Fabio's studio, as I had been giving lectures regularly in Florence, Italy during 2018 and 2019," says Keanan. "Some of the songs were written from scratch. Others were already written as demos, for example 'English Country Garden' – I had written the music and lyrics and demoed it in New York. Fabio had some songs already written that needed lyrics and a vocal. So, fortunately we were done with all of that before the pandemic really began to take effect and lock everything down. As you know, Italy was hard hit in early 2020."
Slinky Vagabond is Keanan Duffty and Fabio Fabbri. King Boy Vandals was produced by Fabbri and will be released independently.
Facebook  | YouTube | Instagram | Soundcloud