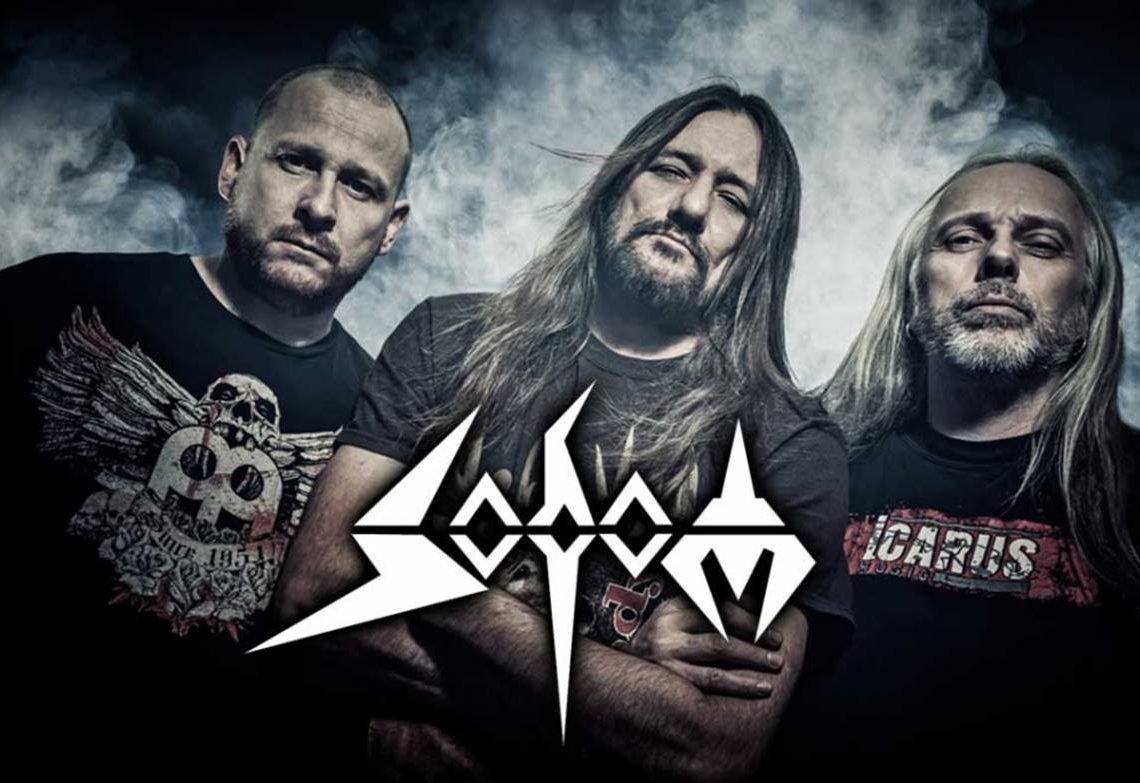 Sodom – Classic Grand – Glasgow 14/05/17
15th May 2017
It's been a long time since Sodom where last in Scotland (34 years to be precise & they were supporting Motorhead) & this was their Glasgow debut & they didn't disappoint.
The set started with In Retribution from their current album & from there on it was game fucking on. Onkel Tom (Tom Angelripper, bass & vocals) was on fine form & seemed genuinely humbled by the reception that was received. There was just so much love pouring out of the crowd who had waited 3 decades to see Sodom in their city. On closer inspection of the audience, there were people from all over the world. I was stood at the bar talking to a guy from Poland who had come over especially for the show. Such is the dedication of the fans.
Sodom literally just scraped the surface of new material, only playing 3 tracks from current offering,  that is Sacred Warpath (Sacred Warpath, In Retribution & Rolling Thunder) the set was littered with classics such as Agent Orange, Napalm (M-16), Caligula & set closer Ausgebombt. 
No Sodom set would be complete without Surfin Bird which segwayed nicely into Saw but also a fitting tribute to Lemmy Kilmister in the form of Iron Fist (quite fitting as this would be the tour Sodom would be opening for Motorhead when Sodom last played in Scotland.)
The crowd was a typical Glasgow audience. Absolutely insane & the pits were immense. I felt sorry for the one lone security dude who was having to cope with the cornucopia of crowd surfers.
The volume was loud but the crowd were trying hard not to be outdone. I'd be surprised if anyone went to work with any form of voice due to the amount of singing, shouting & general chanting. 
Walking on stage at dead on 8:15, Sodom were set to play for 150 minutes. Sadly, the set was cut short due to a venue curfew but we still got treated to 20 tracks & 105 minutes of full on classic German thrash.
So, the big question is this, 'was it worth the 3 decade wait for Sodom in Scotland?" The answer is simple. "YES IT FUCKING WAS"
This is a band that if you were to cut them open, they would bleed metal.  You can tell that Bernd "Bernemann" Kost (guitar) & Markus "Makka" Freiwald (drums), love sharing the stage with Tom & still being able to put a massive grin on everyone's face in the crowd. 
Tom hinted that the band maybe back next year. I do believe that all that were there, will be holding Mr. Angelripper to this. 
An absolute stonking night & my personal gig of the year so far & everyone left feeling SODOMIZED to the fullest.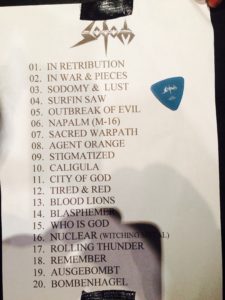 Check out Sodom HERE