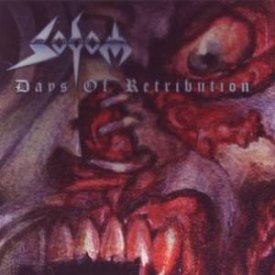 Sodom – Days of Retribution EP Review
11th July 2016
0
By
Fraser
Alongside Kreator and Destruction, Sodom stand as one of the elite in German, and indeed worldwide, thrash. Sodom have an extensive back catalogue of blackened thrash that is generally excellent, with the exception of a couple of ill-advised stylistic changes in the '90s – as is the case with many of our beloved, classic thrash bands. Last month, Sodom announced the release of their fifteenth album, Decision Day, will come at the end of August – and since the announcement we have been waiting with bated breath for a hint of new material. And though it may have passed under the radar of many, the hint we've all been waiting for is here. Released only with the German magazine Legacy, Sodom's new EP Days of Retribution features a new track from the upcoming Decision Day, a cover of Ace of Spades, a couple of bonus tracks from previous albums, and a couple of live tracks as well.  
First and foremost, the reason we are all here, the new track In Retribution. If this is an accurate taste of what we can expect from Decision Day, we are in for quite the treat come the 26th of August. From what we can hear from In Retribution, Sodom are really diving back into their black metal influences, giving a blackened brand of thrash that feels truly evil. Sodom have been following a trend set by the likes of brothers in arms Kreator, Testament and Exodus – while we cannot discount the importance and brilliance of their classic work, their newer material is some of their best.
Given Sodom has been heavily influenced by Motörhead, it is unsurprising that they would cover a track to pay tribute to the late, great, Lemmy. And while their rendition of Ace of Spades is certainly not the worst I've heard, it's not the best either. I can't help but feel choosing a slightly more obscure Motörhead track to cover would have been a hell of a lot more interesting.
Of the rarities, Waterboarding is definitely the strongest here. Taken from 2013's Epitome of Torture, Waterboarding dances from a slow, headbang inducing groove fest to exactly the kind of high velocity riffing one would expect from Sodom. Murder One, from In War And Pieces, is a largely forgettable slab of Motörhead worship – although hat chorus will get stuck in your head. Kamikaze Terrorizer – the bonus track on the Japanese version of their 2006 self-titled album – is a nice wee slab of Slayer worship, and sounds frankly awesome. The live tracks show Sodom still have the ferocity and the fire in their live show – although I'm not sure the world needed another live version of The Saw Is The Law on a Sodom release.
Days of Retribution is a short, seven track release that serves the sole purpose of building hype for their upcoming full-length. But it definitely achieves this – the new track makes me extremely hopeful for Decision Day, and it was cool to hear those B-sides. I just really wish they had covered a different Motörhead song – it would have taken this EP from a solid release to an awesome one.
Score: 7 out of 10
Album Info:
Track List:
1. In Retribution
2. Murder One
3. Ace of Spades (Motörhead cover)
4. Kamikaze Terrorizer
5. Waterboarding
6. Wachtrum (live)
7. The Saw Is The Law (live)
For fans of…
Kreator, Destruction, Slayer
How useful was this post?
Click on a thumb to rate it!
Average rating 0 / 5. Vote count: 0
No votes so far! Be the first to rate this post.
Related
About the author
This bearded wildman from North of the wall survives the harsh ever-present winter of Scotland on a healthy diet of thrash, death metal and beer.