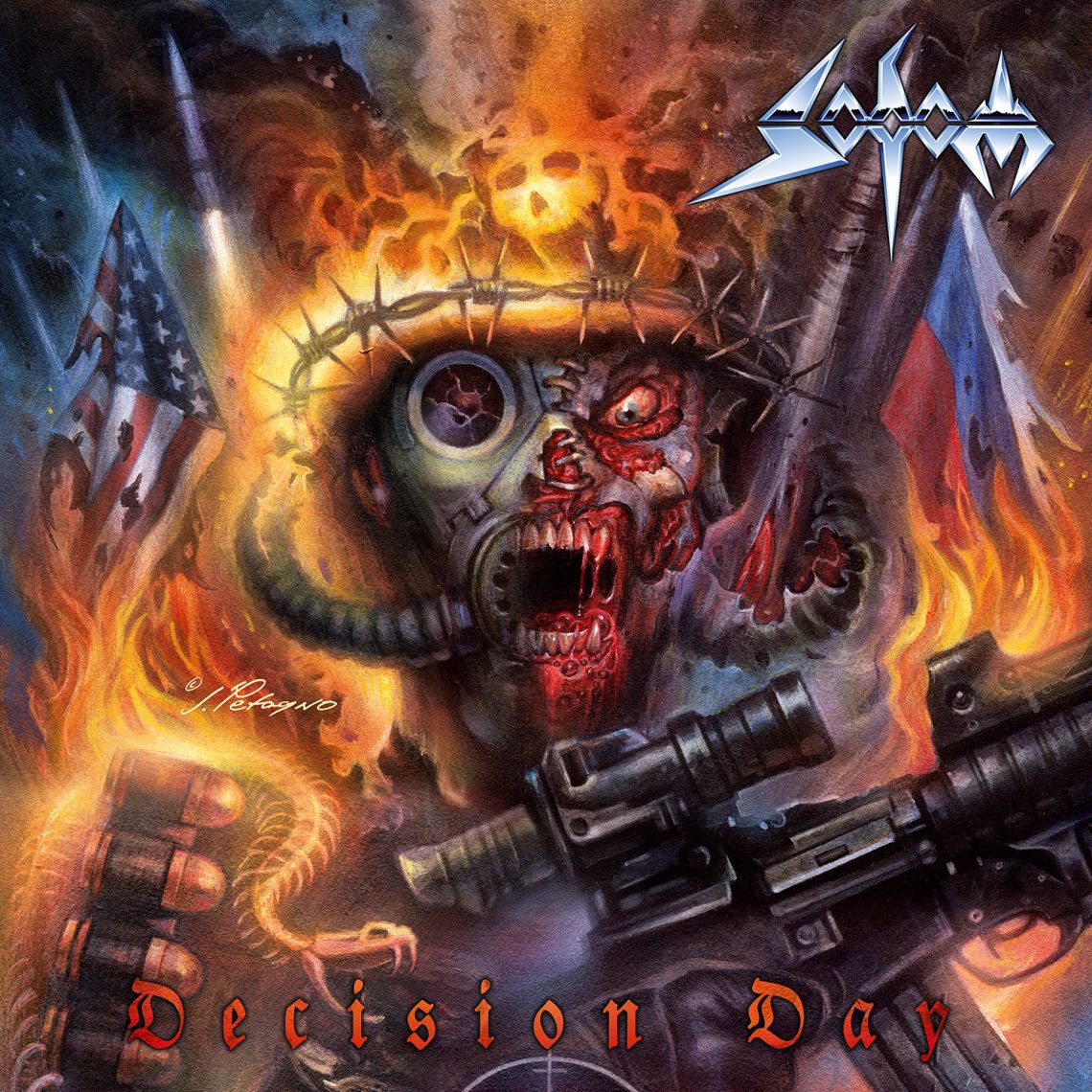 Sodom – Decision Day CD Review
28th July 2016
There are two regional scenes that immediately spring to mind when discussing thrash – the Bay Area of San Fransisco, and Germany. German thrash always had a rawer sound to it than that of those from the Golden State. And none are more raw, and blackened, than the warmongering Sodom. Famously started by thrash legend Tom Angelripper in 1981 as a means to help get out of the coal mines in the northern Ruhr, Sodom have cemented their place as one of the world's most extreme and vicious thrash metal bands. Fast-foward 35 years since their inception, Sodom are ending 2016's summer with their fifteenth album, Decision Day.
What I find has often marred previous Sodom albums is the deeply mediocre production – however, Decision Day does not fall into that trap. This is, simply put, the best sounding Sodom album there is – the sound quality here is excellent. Decision Day is still raw enough to satisfy the purists (or it certainly should be) but there is so much clarity – nothing is lost in the murky chaos. One of the most noteworthy aspects of Decision Day is that it appears Sodom have taken inspiration from their Teutonic brothers, Kreator – rather than the blitzkrieg savagery one expects from Sodom, we have something that is still excellent thrash, but with a hint of groove and Gothenburg melodeath elements – this takes Sodom's signature sound to a whole new dimension, making this the most interesting album they have released in years.
The attentive among you may have already heard the first track on Decision Day, the fantastic In Retribution. It was included on the Days of Retribution EP which was circled with a German magazine last month, which was reviewed by myself. Decision Day also features the title track of 2014's Sacred Warpath EP, which sounds like it may have been remastered. Decision Day's title track is outstanding, filled to brim with brilliant modern thrash riffing. The chorus in Decision Day is absolutely huge, and is guaranteed to get crowd singalongs when it's played live. It also contains a beautiful solo, though what does one expect from Bernd Kost?
https://www.youtube.com/watch?v=qq6oWFy-icw
Caligula follows, and is absolutely the album highlight. Perfectly displaying the aspects of Decision Day, Caligula has excellent riff work, another simply massive chorus and is still as undeniably heavy and fast as one would hope from Sodom. There is also a really interesting and ominous passage before Kost bursts into another blistering solo. Belligerence lulls you into a false sense of security with a groove-filled riff and Angelripper's slow, tortured screams. But when Belligerence's chorus kicks, in we are gifted with a lesson in pure savagery, which falls back into groove as quickly as it came. A brilliantly memorable and soaring solo follows the second round of frenzied thrash, before things take a softer turn.
With Decision Day, Sodom have delivered their most accessible album by far – it is still chaotic, raw and militant, but with excellent production and a touch more melody than one would expect it is a far easier listen than, say, Obsessed By Cruelty. Decision Day carries a touch of risk and experimentation with the hint of the melodeath and groove elements discussed earlier, but in this case it has 100% paid off – Decision Day stands as a behemoth of modern thrash.
Score: 9 out of 10

Decision Day Information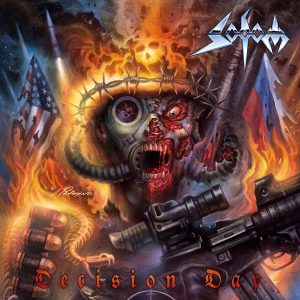 Track List:
1. In Retribution
2. Rolling Thunder
3. Decision Day
4. Caligula
5. Who Is God
6. Strange Lost World
7. Vaginal Born Evil
8. Belligerence
9. Blood Lions
10. Sacred Warpath
11. Refused To Die
Record Label:
Steamhammer/SPV
Release Date:
26th of August 2016
For fans of…
Kreator, Destruction, Slayer
Find Sodom on Facebook, and pre-order Decision Day here!