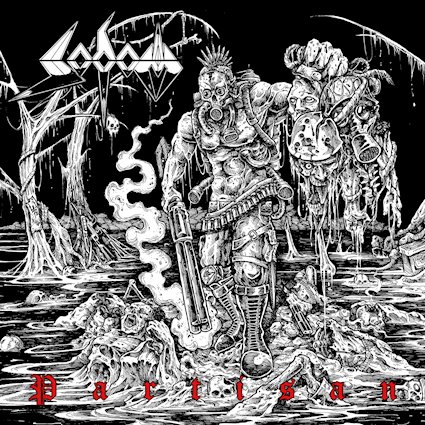 SODOM – New PARTISAN EP Released November 23rd on SPV
19th October 2018
Legendary German Thrash Metallers Sodom, who are currently in the studio working on their 16th album, have lined up the release of a spanking new 3 track 'Partisan' EP, as a Digi-CD, 10" clear vinyl single, download and stream on Steamhammer / SPV on November 23rd. Sodom are then set to storm in to the UK to play live at London's Electric Ballroom on 6th December alongside Exodus, Death Angel and Suicidal Angels, when the European MTV Headbangers Ball tour rolls in to town.
Sodom, who became a quartet when they went through a major personnel change in Spring 2018, are patently revitalised and explosively firing on all four cylinders on 'Partisan', the first fruit of the new line-up. "We're a real family again," enthuses frontman Tom Angelripper, continuing "We all really enjoy the new line-up consisting of Frank Blackfire (guitar, ex-Sodom, ex-Kreator, Assassin), Yorck Segatz (guitar, Beyondition), Husky (drums, Asphyx, Desaster) and myself. There's a real team spirit again, we're having a great time together, every one of us is interested in everything and – really important! – everybody is there for everybody else. Obviously that kind of atmosphere is bound to have a positive effect on the songwriting."
'Partisan' contains two ferocious new studio tracks, 'Partisan' and Conflagration', plus a live version of 'Tired And Red' (from the band's seminal 'Agent Orange' album), recorded at this year's Rock Hard Festival, where the new line-up made its stage debut on May 18th. 
'Partisan' is the current Sodom line-up's mission statement, indicating which course they are set to follow from now on. The song's main riff was composed by guitarist Frank Blackfire and defines the future parameters of Sodom's sound. Angelripper explains that "Frank has his very own guitar style, as we all know from our time together on 'Agent Orange' and 'Persecution Mania'. That's something that's very distinct on 'Partisan', the only difference being that the degree of toughness on our new material raises hell even better than our early stuff. And as always with Sodom, the chorus part really gets down to business and is thoroughly catchy." The 'Partisan' lyrics were penned, as always, by Angelripper himself: "That unique aura that surrounds a lone warrior in a battle, that unconditional relentlessness against yourself and the enemy, have always fascinated me. Partisans fight uncompromisingly for their goals. In a way, it's the same with Sodom."
'Conflagration', which was written by guitarist Yorck Segatz, is another typical Sodom number that shows just how much positive energy and zest the band currently exudes. 'Conflagration' sees Tom Angelripper analyse in his usual unmistakable way that the world is coming apart at the seams; "I've sketched a pretty apocalyptic scenario, but as often in my lyrics with fantasy elements." The two new tracks were produced by Sodom's regular sound engineer Cornelius 'Corny' Rambadt, who ensured that the dynamic songwriting is also reflected in the songs' sound. Tom reveals that "We consciously recorded the drums old-school style and experimented with different sounds to come up with a dynamic and vibrant product, in contrast to the usual sterile productions released by other bands which have unfortunately become the order of the day. The sound of our new EP perfectly fits our aim to combine the compositional class of recordings such as 'Agent Orange' and 'Persecution Mania' with the hardness of, for example, 'Tapping The Vein'."
'Tired & Red (Live at the Rock Hard Festival 2018)' sees Sodom celebrate the return of Frank Blackfire. Tom; "As you know, the number is off 'Agent Orange' and represents in a way an era which was very much marked by Frank and his guitar style. On stage you get a lot of added adrenalin, of course." A digital live clip of the driving 'One Step Over The Line', (off 'Tapping The Vein'), also recorded at the 2018 Rock Hard Festival, will additionally be unveiled prior to the release of 'Partisan', further whetting the appetite for the band's unmissable MTV Headbangers Ball shows.
www.sodomized.info / www.spv.de