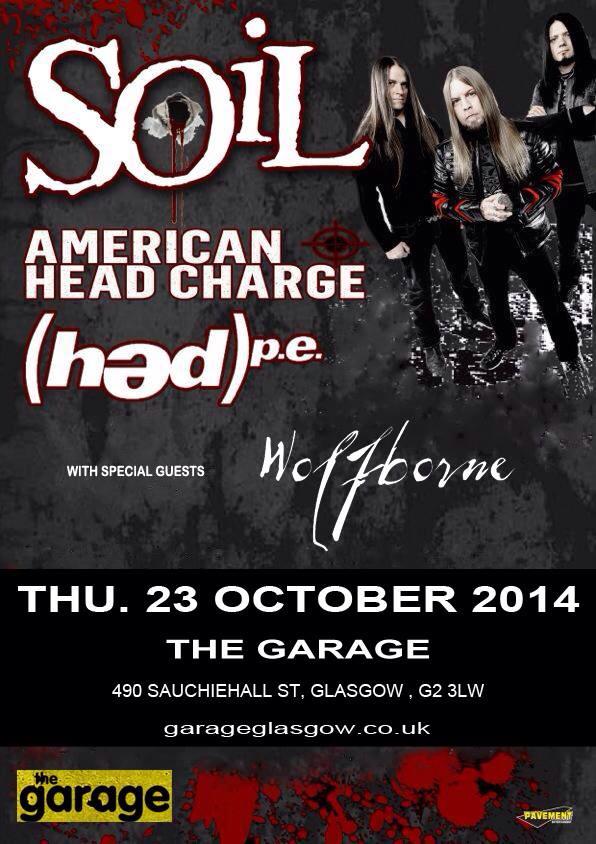 SOiL, American Head Charge + (HED) P.E
27th October 2014
On a wet & windy Thursday night.. 3 amazing bands hit the stage in the shape of (HED) P.E, American Head Charge & SOiL.
I have been desperate to see (HED) P.E for quite a long time & they didn't disappoint.
Jahred appeared on stage cloaked in camouflage from head to foot & as soon as the 1st track (No Turning Back) from their new album Evolution started. The Garage in Glasgow went bat shit crazy.. The pit was a great site.
They certainly didn't disappoint me. You could see Jahred really wanted to get into the crowd for RENEGADE (You push me so I'll push you right back.) which is what he has been doing all tour with the aid of the ego ramp. Unfortunately it wasn't a big enough venue to do so.
Absolutely stunning performance & a band I cannot wait to see again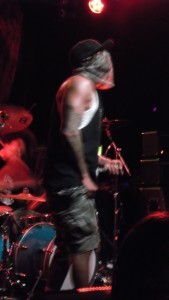 Hed PE Setlist

No Turning Back
Bloodfire
Killing Time
Whites / Blacks
Bartender
One More Body
Renegade
Raise Hell
Peer Pressure
Ghost Town – Specials Cover
Hold On
Next up where American Head Charge yet another band I had been waiting to see since discovering their debut The War Of Art way back in 2001.
I found their set to be pretty dull.. There was no real energy coming from them during their performance until 2 maybe 3 tracks from the end. Firstly the guitarist (new boy Ted Hallows)dived straight into the crowd & then during the final track Seamless, the vocalist Cameron Heacock decided to jump into the audience from the balcony & crowd surf..
Sadly this was the highlight for me.
Atleast I can scratch them off my bands I want to see bucket list. Don't think I'll be going again.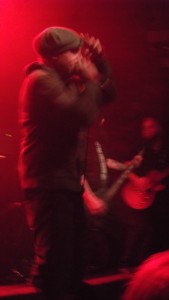 American Head Charge Set List
All Wrapped Up
Dirty
Dnd
Writhe
We Believe
Drowning
Just So You Know
Seamless

Now onto the headliners SOiL. This is the 3rd time I have seen this band live & they're still fucking AWESOME.
Firstly RYAN McCOMBS (vocalist) is back in the band & seems to be over his commitment issues..
"I joked around on the anniversary tour that I discovered I may have commitment issues, jumping around from one band to the other (laughs). You get into a situation, and for me the business side of music has always weighed a lot on me as far as just not liking the way a lot of things are done in the business. It seems like after I've been involved in a certain situation for awhile, it's hard for me to deal with a lot of the things that frustrate me about the business. It does weigh a lot on me, and I tend to lose sight of the enjoyment of it. Every once in awhile it just seems like the way my life has gone, I just need a breath of fresh air, and something new to relight my fire and my passion for what I've always loved to do. It was just the right thing, the right moment." Ryan McCombs 2012
Ryan is in fine form laughing & joking throughout the entire set.. Often explaining that he cannot make out the Glaswegian accent so had no idea what was being said to him. To which the band was then serenaded by the audience  "The Flower of Scotland.. Which is the first time I have heard an audience sing that top a band at a show.

One of the stories he told in Glasgow was to do with a Scottish crew member.. He actually put the following on Facebook just to re-iterate the Glasgow story
"Now let me get us all to a point of understanding a little something… One of the guitar techs on this tour goes by the name Ross.. This is probably due to the fact that his parents named him that at birth.. Perhaps they didn't, I don't really know actually. Maybe they named him Steve or even Hank.. Reality is that I just don't fu*king know. The name Ross, doesn't seem like a nickname.. If he went by a nickname, I would expect it to be something more like Skullcrusher or Ginormous Johnson McStudly pants.. Well, Ross being named Ross is not the point of all of this.. You see, Ross is Scottish. In Scotland and to others from there, he speaks with no accent at all but to some U.S. bloke like myself, I find it pretty damn difficult to make out what the holy-fu*k-muffin he is saying sometimes. If he gets a bit excited about something, then never you mind understanding a damn thing he spits your way.. My difficulty in understanding Ross has led to me looking blankly at him and offering one reply to whatever it is that he is saying,.. "Huh?!?" Listening to Ross speak sometimes makes me understand that odd look that people get on their faces when I start mumbling and running my words into each other when I talk.. I'm telling you all of this because as some of you know, I like to share quotes from the road from time to time.. Well Mr. Ross here has to do with two of my favorite quotes thus far.. Now, when you read anything that I am quoting from Ross, you must do so with an accent in your head that sounds like a well liquored up Scotty from Star Trek that's all excited because he got the toy blimp he wanted for Christmas.. "Oh a zeppelin,.. It's mine.." Ok,.. Well fu*k it all.. We're all on the same page here..
TIM: "Do you speak any other languages Ross??"
ROSS: (remember,.. hammered Scotty) "I cun hally speek anglish fuh fuk say-ick.."
**********
ROSS: "bligidy blagidy fugady foo, dalumpidy doopidy foo moo goo."
ME: *looking blankly at him..*
ROSS: *looks back at me waiting for a response*
(Frank, our German bus driver walks by and says "good morning" to me)
ME: *looking back at Ross after glancing up to respond to frank with a "morning Frank." the "huh" look remains on my face.* "You know Ross, Frank is from Germany and speaks better fucking English than you.. What the fuck?!?"
ROSS: "ahh fook it.."
**********
There, I am done.. And now you know a bit of worthless sh*t from the road..
Peace
Love
and yes,.. I have requested, and Ross has granted me the favor, of his speaking the words "I'm given er aww she's got captun, I cunt give er anay mowr.." Hey, I'm an arsehole and it makes us both laugh damn it..Ryan"
Anyway the pit was off the hook.. Plenty of crowd surfing & even during Halo, Ryan was fully in the middle of the pit singing his heart out.
Because no-one wanted to go home we were treated to an impromptu encore of Shine On from the album Whole (Halo was meant to be the natural conclusion)

All 3 bands were awesome & a great time was had by all.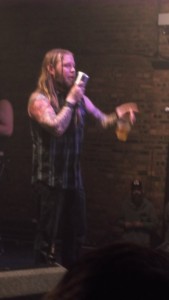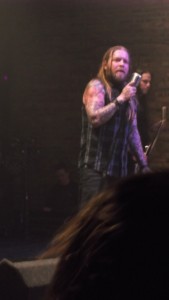 SOil Setlist
Loaded Gun
Two Skins
The Hate Song
Deny Me
Need to Feel
The One
Way Gone
Inside
Redefine
Unreal
Breaking Me Down
Halo
Encore
Shine On
Score 8.5 (just because I wasn't enthralled by American Head Charge)