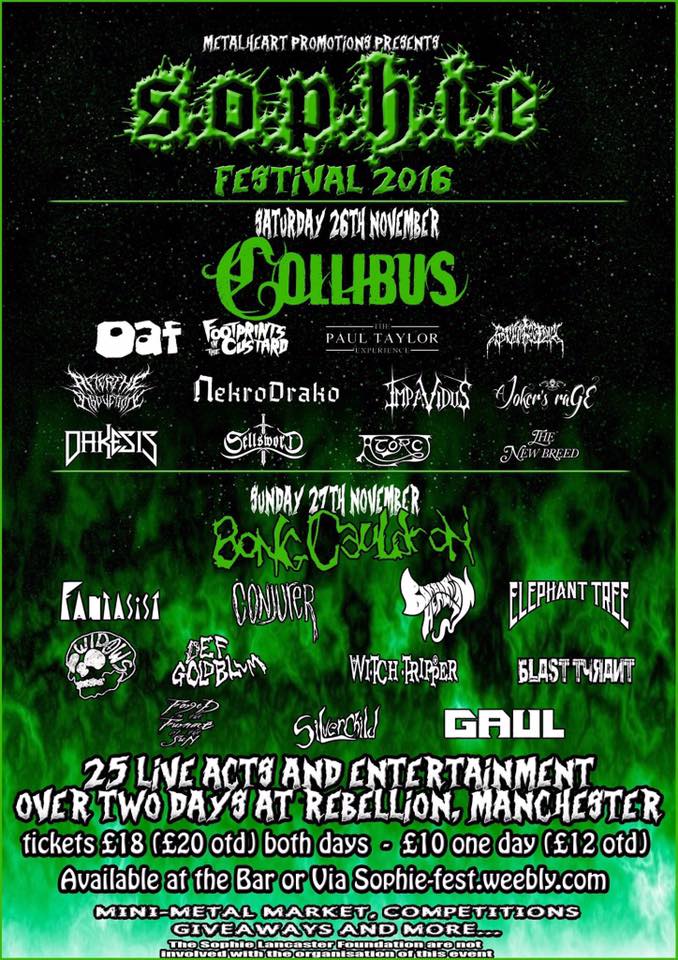 SOPHIE FESTIVAL 2016 REBELLION BAR MANCHESTER SATURDAY 26th November
3rd December 2016
PHOTOS BY LINDSEY APPLETON & PAUL NASH
We gather together at Rebellion bar in Manchester, celebrating the life of a young girl who was taken from us far too soon, today which would have been her 30th Birthday.
So this weekend in aid of the S.O.P.H.I.E Lancaster foundation to which the charity was named after Sophie who we tragically lost after horrific events, to which all of the proceeds will be donated to, we are here supporting this great charity.
The S.O.P.H.I.E Lancaster foundation was formed by Sylvia Lancaster after her daughter Sophie lost her life after a brutal attack in Bacup on Stubbeylee park on August 24th 2007.
The foundation goes into schools and prisons to teach people and raise awareness of prejudice against subcultures through their campaigns and educational work.
The foundation works in conjunction with politicians and police forces to ensure individuals who are part of a subculture are protected by law.
With all this being said we head off into the venue.
We are greeted upon entry by the organizers of the event Scot Reedy and Ric Kay who have arranged a fabulous line up of acts through the day including Monster Cirque fire breathers and dancers for the interludes, today looks set to be a pretty spectacular event.
We head over to the stage and set up are camera equipment ready for the first band.
'The Mighty Swob' as compere steps out onto the stage. Unsure of where the guys found this gentleman but he got the job done with lots of laughs throughout the night.
With people flurrying through the door, we eagerly await the first band.
First up are
THE NEW BREE
D a 5 piece from here in Manchester.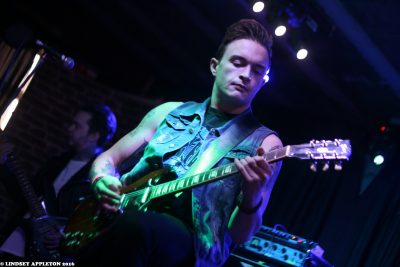 This young group set off the night nicely with subtle guitar riffs, elegant harmonies and melodic tones.
Nothing too overpowering upon entry to the event, this clean cut band enables you to steadily get in the party mood.
Next up are
GODHAND
, another Manchester based band.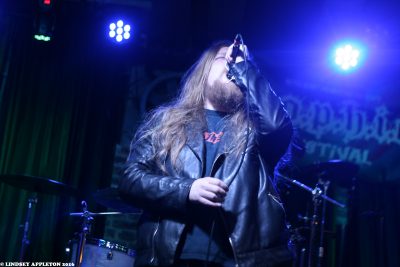 This hard hitting band starts off with a boom waking everyone up with their heavy rhythms and bellowing vocals.
This 4 piece has elements of Kvelertak emerging through their music, they build you up with their intense groundwork combining their heavy guitar riffs with thunderous drumming, the tempo gradually building up unleashing this beast which manifests from within.
Next we catch the magnificent
SELLSWORD
a 5 piece power metal band from York.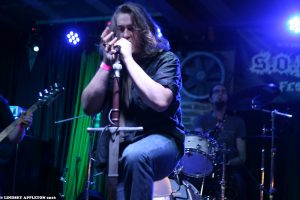 This group shows great variety as their are lots of different elements within their music, clean sounding powerful vocals with lots of harmony coming from front-man Stuart Perry as he surges great energy which results in awe inspiring vocals which generates the crowds.
'Battleground' seems to be the winner with the audience as a real crowd pleaser of a song, as the crowds really get into it moshing along banging their heads.
This uniquely structured song has a wonderful mid section with amazing guitar harmonies.
Overall this band has been really enjoyable to watch they show great inventiveness and great passion which shines through their performance.
TEQUILA MOCKINGBYRD
are next to grace the stage.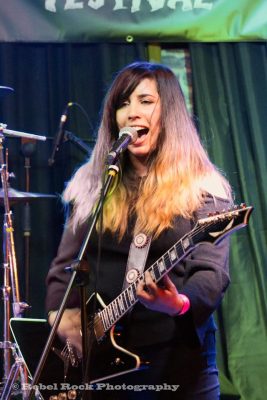 This trio of feisty females who hail from Melbourne Australia have really packed a punch here on stage tonight.
They soldier out an arsenal of catchy choruses, delectable riffs which explode your senses.
With styles of AC/DC seeping through their music they generate this into their own style of garage rock.
If your a fan of The Amorettes, I suggest you check out this tasty trio.
DAKESIS
take over next to wow the crowds.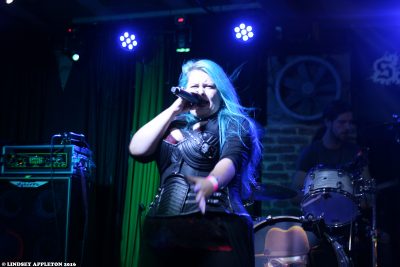 This Birmingham based Prog Power metal band do exactly what it says on the tin.
They came, they saw, they conquered.
With fantastic powerful songs such as 'The Great Insurrection', crowds chant along throwing the horns in the air saluting this band in all their glory.
With Gemma Lawler fronting this band with her powerful symphonic vocals mixed with the blistering blend of masterful guitar-work and melodic bass, this chunky beast of a track has been masterfully composed and performed to perfection.
You can easily visualize this bands music being featured as backing tracks to mystical movies such as 'Lord Of The Rings', as their melodies carry you off to that magical far off place.
With songs such as 'Judgement day' you just cant help but sing along to, Dakesis just keep your music taste-buds flourishing, and have the crowds here tonight eating out of the palms of their hands.
They finish their set with 'By The Fading Light', a fantastic song to finish their set with.
This is a band I could easily go out and watch all night long.
IMPAVIDUS
are next to brutalize the stage, a 4 piece metal band from right here in Manchester.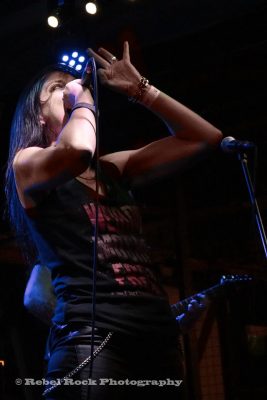 With hard hitting songs filled with driven beats, crunchy guitar-work and eclectic vocals, this band produces an onslaught of sound.
With Michelle leading the band, this petite woman dont let her size fool you as she can really power out some demonic vocals you wouldn't expect to hear from a female.
The song 'Lies' hits the spot with the crowds, a song which is delivered powerfully and energetically.
This band have cornered their niche on the music scene, with a unique style this band surges forward.
This band is one to watch out for!
Next are the fabulous
FOOTPRINTS IN THE CUSTARD.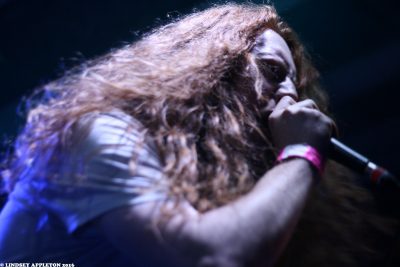 Well what can I tell you about this bunch of reprobates that you wont already know? The word unique doesn't quite cut it somehow.
Unless you have seen this band then you wont really know what I mean, just trust me until you have seen them with your own eyes, expect the unexpected.
This band sing about 'Blue Waffle and sex on a bouncy castle, so that should give you some clear indication of what you should expect from these guys.
Armed with giant inflatable bananas (at major festivals these would be giant inflatable penises), a quick costume change mid way through their set into mankinis and tutus, this Manchester 5 piece are set out to have a good time, and that's what they deliver. All be it in a very crude humor.
The silly outlandish get ups, crazy songs and banter wins them over with the crowds with a massive cheer at the end of their set.
Its hard not to like this band – unless you don't have a sense of humor – then I suggest you just don't go to see them!
OAF
, now here's one of the main reasons I was drawn to this event tonight, after seeing these guys at Hard Rock Hell United on the Hammerfest stage, I was just drawn to this uniquely obscure band.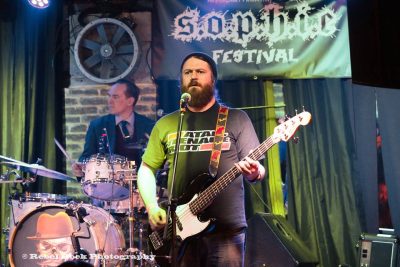 Oaf are a 2 piece from Brighton with Dom Lawson on bass and James Rayment on drums.
These guys have an old school punk feel to them as they power out some chunky tunes including new song 'Suck Master Bursting Foam' and 'Massive When Flacid Tiny When Erect' – read into this what you will, if you can get through the crude lyrics the music they create is rather intoxicating – in a good way!
Dom puts on this persona on stage as a miserable son of a gun, and the crowds play into his hands and engage in a battle royale which is quite funny to watch.
The crowds laps up their all time favorite 'Fuck off Seagull', Doms sharp banter reappears as he engages the crowds again.
Oaf formed back in 2007 and have made a name for themselves on the music circuit, James says 'we are just 2 friends that like to make alot of noise'.
That they do with deep bass tones, jazz styled drumming and dominant vocals which brutally massacre your ears, this duo is a must see.
We need more balls to the wall music from bands like Oaf.
Last up are
COLLIBUS
who are our headliners for this evening.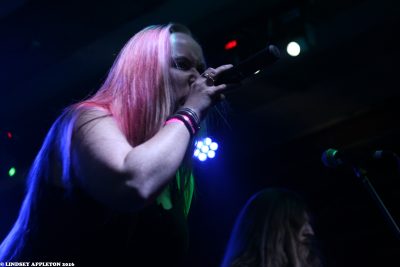 When Queens Dr.Brian May quoted: 'Collibus is already a phenomenon. Scary musicianship at the most furious end of the metal spectrum, crowned with Gemma Fox's passion and power as a vocalist. Ouch impossible to ignore'. He wasnt wrong was he?
Their presence on stage powerful.
Stephen Platt masterfully delivering some sumptuous riffs and unique shredding the intensity this band brings to the table is ten to none.
With Victor Vcn from the band Primer who has flown in from Germany to take over manning the drums and Ian 'GT' Davies from Onslaught on second guitar, this band has pulled out al the stops for tonight.
Gemma Fox produces high caliber vocals, and the variance goes from pulsating to sow and melodic which keeps you gripped to your seats.
With songs such as 'Thoughts in Vain' and 'Leave It All Behind' the crowds echo the lyrics back.
The band finishes the night with 'The False Awakening' which shows the bands vibrancy which is completely dynamite, their set tonight nothing more than a tantalizing performance.
Well tonight has been a huge success to Rebellion bar and their staff, Ric, Scott and the rest of the team and everyone who has donated to this fantastic charity the festival raised a whopping £2250!
Well done to all those involved!