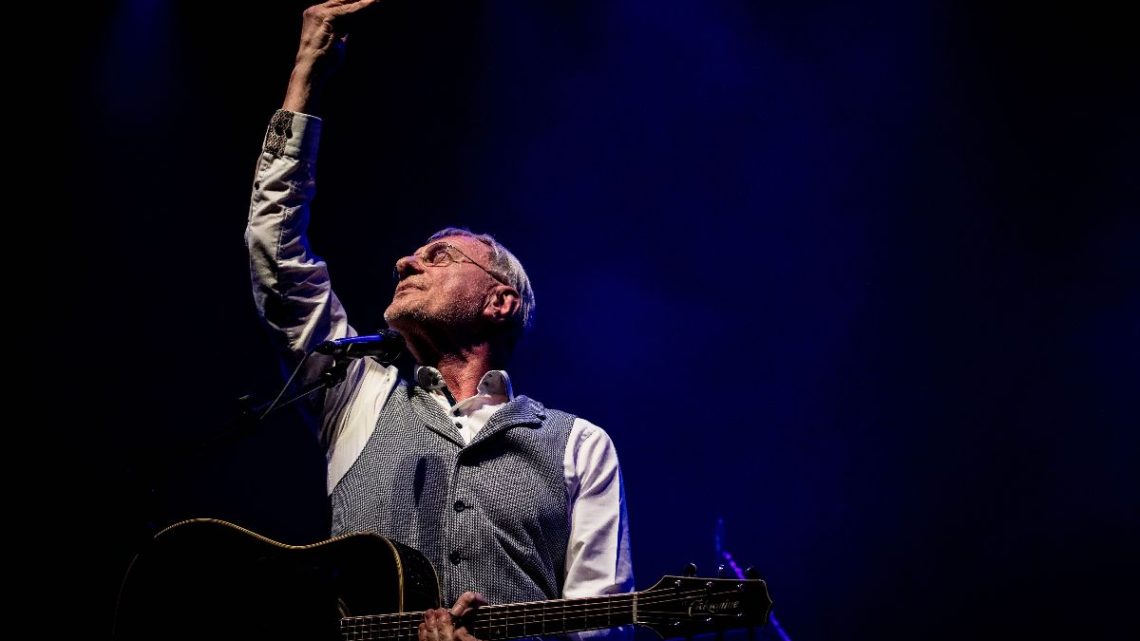 Steve Harley Announces Acoustic Band dates 2023
13th February 2023
Steve Harley has announced a set of Spring / Summer live dates with his acclaimed Acoustic Band [all dates below, some already Sold Out]. Having recently celebrated the 50th anniversary of Cockney Rebel, Steve is widely considered one of the most charismatic performers and he continues to play to sold-out venues across the UK and Europe.   The Times wrote, in a profile marking this half century, that signature hit 'Make Me Smile (Come Up And See Me)', "Remains one of the most beloved songs of the modern age". For Steve, life on the road is more than just a job: it is almost his life's blood.
 
The Acoustic Band for 2023 will find Steve supported by long-standing band-mate, violinist/guitarist Barry Wickens, with Oli Hayhurst on double bass, and Dave Delarre on lead guitar. Steve has been playing Live shows around the world for over 50 years and the thrill of another night in another place to another audience has not dimmed at all. "I still get a buzz when boarding the tour bus, like I did all those years ago. There's still that magical feeling. It has not diminished at all."
 
The acoustic sets will include songs taken from his last album 'Uncovered' [re-recordings of a couple of his own songs nine others he's always wanted to perform] but of course a selection from the vast and eclectic Harley Songbook. 'Mr Soft', 'Judy Teen', 'Sebastian' and the legendary 'Make Me Smile' will all be reproduced in the unique acoustic style. Close-Up Culture stated of an Acoustic Band show: "It was an intimate night in the presence of a great musician. An individual whose passion for live performance and perfection (it shows in his face) remains undiminished."
 
Rod Stewart, who covered Steve's song 'A Friend For Life', describes him as "One of the finest lyricists Britain has produced."
 
MOJO said simply, "Harley creates rock songs that are proud, lyrical and full of yearning."  Steve has also been described as "A consummate performer at the top of his game," and Record Collector said: "Harley's eloquent, on-the-edge shows never fail to impress".
 
Steve has previously received a Lifetime Achievement Award for Acoustic Music from the Acoustic Festival of Britain, and a prestigious Gold Badge of Merit from the British Academy of Composers and Songwriters.
STEVE HARLEY
 
ACOUSTIC BAND UK TOUR 2023
 
MARCH 2023
Thurs 23 – London, PizzaExpress Live SOLD OUT
Fri 24 – London, PizzaExpress Live SOLD OUT
Sat 25 – London, PizzaExpress Live SOLD OUT
 
MAY 2023
Sat 13 – Cardiff, Acapela Studio SOLD OUT
Sun 14 – Cardiff, Acapela Studio SOLD OUT
Mon 15 – Cardiff, Acapela Studio SOLD OUT
Thurs 18 – Sheffield, Memorial Hall: Acoustic Band
Fri 19 – Liverpool, Epstein: Acoustic Band
Sat 20 – Harpenden, Eric Morecambe Centre: Acoustic Band
Sun 21 – Shrewsbury, Theatre Severn: Acoustic Band
Fri 26 – London, PizzaExpress Live: Acoustic Band
Sat 27 – London, PizzaExpress Live: Acoustic Band, 1pm Show
Sat 27 – London, PizzaExpress Live: Acoustic Band, 8pm Show
 
JUNE 2023
Thurs 1 – Exeter, Corn Exchange: Acoustic Band
Fri 2 – Frome, Memorial Theatre: Acoustic Band
Sat 3 – Stroud, Subscription Rooms: Acoustic Band
Thurs 8 – Hayes, Beck Theatre: Acoustic Band
Fri 9 – Aldershot, Prince's Hall: Acoustic Band
Sat 10 – Harrogate, Theatre: Acoustic Band
Thurs 15 – Morecambe, Platform: Acoustic Band
Fri 16 – Barrow In Furness, Forum: Acoustic Band
Sat 17 – Sunderland, Fire Station: Acoustic Band
Mon 19 – Lowther, Pavilion: Acoustic Band
Thurs 29 – King's Lynn, Corn Exchange: Acoustic Band
Fri 30 – Newark, Palace: Acoustic Band
 
JULY
Sat 1 – Blackburn, King George's Hall: Acoustic Band