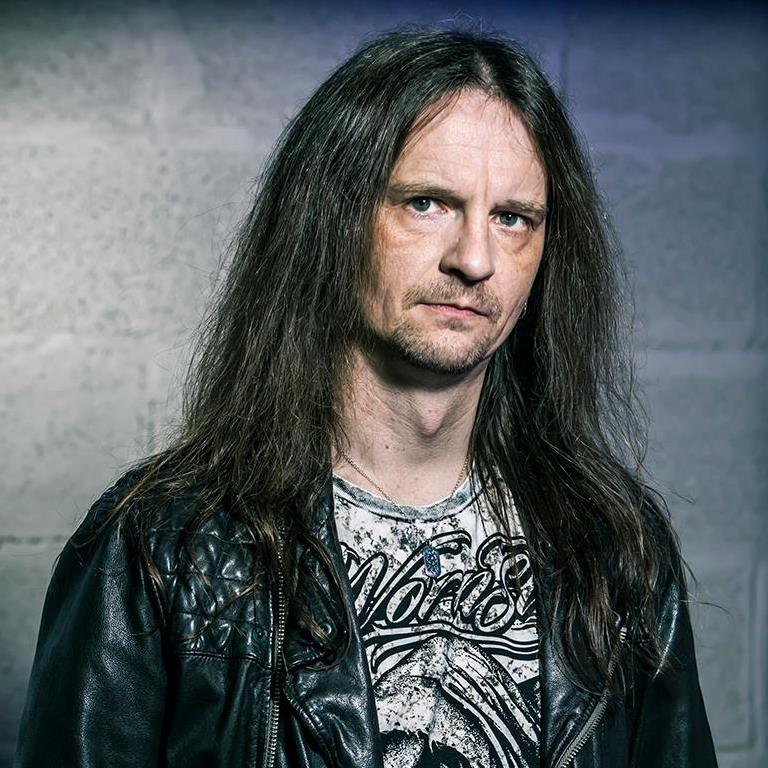 Steve Williams of Power Quest interview
26th September 2016
Steve Williams of Power Quest kindly granted Lindesy a brief interview
You guys have been announced to play SOS Festival 2017 here in the UK which is a really nice family festival, how important is it to you guys that you are able to perform to an all age crowd to which children can be part of the music festivities?
It's quite unusual nowadays to be able to play to an "all ages" crowd due to the various legalities associated with most venues being licensed premises so SOS will give us an opportunity to reach out to you the youngsters as well.
Headlining the Sunday night in 2017 should be great fun and it's shaping up to be a good year on the festival front with a main stage appearance at Hammerfest and a trip to Atlanta for ProgPower USA already locked in for next year.
You released your music video 'Face the Raven' on the 21st of August, can you tell us a little bit about that?

Face the Raven was the first song I wrote since re-activating Power Quest and was a slight departure for me in the sense that it's the first PQ song I've ever written on guitar. So for it to be the first track that we release following the comeback was quite a cool thing in itself.
Doug at Visceral Video did a great job with the lyric video alongside the amazing artwork from Felipe Machado Franco who PQ have worked with since 2008 and also does the art for bands like Blind Guardian for example.
You had Andrea Martongelli of Arthemis make a guest appearance at your show at the Underworld in Camden, how did that go?
Always a pleasure to play and hang out with Andrea. Of course he was a PQ member from 2002-2009 and only left the band due to time constraints. I'm proud to say he's one of my best friends in the world and rarely does a week go by without us talking to each other.
I knew the fans would love to see him sharing the stage with him again and he was so keen to make that happen as well. PQ is like a family….whether we are talking about the current line up or past members. We also include the fans in that family as well 
You are also playing London again in October opening up for the fabulous Sonata Arctica, I bet you guys are excited about this show.
Yeah it's a good opportunity for us to play at the world-famous Shepherd's Bush Empire. I know the guys are really looking forward to the show despite the fact that we only have 30 minutes to play, which will pretty much equate to 5 songs but hopefully people will get there early enough to catch us. We are on stage at 7:30pm that night.
Your newest guys Ashley and Dan look like they have always been part of the band, how did you go about choosing them and how are they settling into the band?
I've known of Ash for about 5 years now I think and the fact that he is an amazing vocal talent, all round nice guy and actually lives in the same city as me made it an absolute no brainer. I think he has already won over the fanbase with his outstanding performances both on stage and in the studio.
Dan is actually the twin brother of our other guitarist Gav Owen, so that kind of explains how we found him  I'm not sure I am aware of any other twin guitar combo in metal who are also twin brothers.
So far everything has been going really well and the whole band as gelled how I anticipated it would be.
You released your EP 'Face the Raven in digital format, with a competition where the winner won a 'ticket for life' to any show show, who came up with that idea?
It's actually the first 500 copies of the physical EP that allow entry into the competition where the winner will receive a "ticket for life" to any PQ headline show anywhere. This doesn't include festival appearances or shows where we are the support act though.
It was my idea and I just wanted to add something a little extra to the EP release for the fans. Of course the tracks are available digitally but the competition does not apply to them.
You recorded your EP with Alessio Garavello at Rogue Studios in London, what was it like working with Alessio?
We had a great time in the studio with Al. Of course, like Andrea, he was also a member of the band from 2002-2009 so he knows me and the PQ sound better than most people, so who better to have producing your recordings? He did a tremendous job in my opinion.
Also like Andrea, I talk with Al every week and he's another of my greatest friends in the world. Don't forget to check out his band A New Tomorrow as well.
What has it been like for you returning with the band?
In a word…..busy! lol! As the main songwriter, manager and the guy who organizes all the merchandising it's pretty full on. I share responsibility for booking shows with Ash and our Booking Agent so when all is said and done it's a pretty time-consuming business and that's before you factor in the issue of having a very busy day job outside of music as well.
All in all though I'm thrilled to be back and I think the time away just served to remind me that this band is part of my DNA.
Can we expect an album anytime soon?
I'm currently writing the new album and am probably about half way through that process. At this stage the plan is record in Spring 2017
Is there anything you would like to add?
The response to the return of the band as been overwhelmingly positive and I've found it quite humbling in many respects. It's awesome that the band means so much to so many people and I just want to say that we feel exactly the same way about our fans. It was incredible to see people travelling from Japan, USA, Sweden, Belgium, Germany, Poland, Italy, Slovakia and from all over the UK just to see our show in London a couple of weeks back.
So I'd like to thank all the PQ fans all round the world for welcoming us back with open arms and I can't wait to see you all on the road and bring you more music performed in the way it should be…….100% live without a backing track or computer in sight. That's heavy metal right? 😉