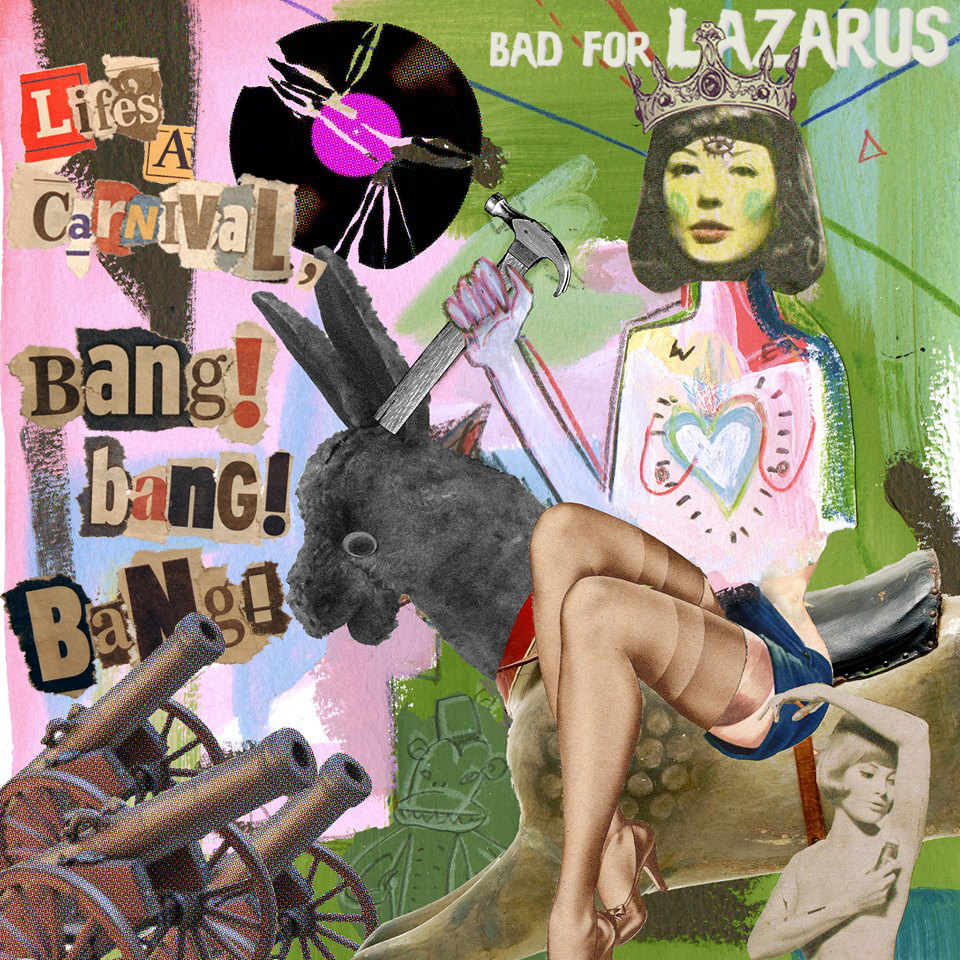 Stream: Bad for Lazarus – To's and Fro's
24th April 2014
Tos and Fros is the first glimpse from Bad For Lazarus' debut album 'Life's a Carnival Bang! Bang! Bang!' which is set for release on 1-2-3-4 Records on 28 July 2014
Brighton-based psych outfit Bad For Lazarus are today announcing the release of their debut album for Monday 28th July 2014. Revealing the title as Life's A Carnival, Bang! Bang! Bang! and unveiling brilliantly bewildering artwork, Bad For Lazarus are inviting us into their unique, kaleidoscopic world of rock and roll. After a full year of endless late nights,  the band are now ready to unleash their stunning self-produced debut LP, a hot-blooded pscyh-rock assault on the senses.
'Tos and Fros' is the first glimpse of the fruits of their labour, a rip-roaring album opener which you can hear below. Anthemic, driving, impassioned and undeniably cool, it's a real mighty call to arms, as compelling as you might expect from a band which casually boasts ex-members of Nine Inch Nails, The Eighties Matchbox B-Line Disaster and UNKLE.
The reception for BFL's first single, 'My Muddle' a little over year back bordered on hysterical, notching up a number spot two on the NME's most popular video chart and the ArtRocker Single Of The Month accolade. The band have since dedicated their lives to this record and nothing else, carefully crafting a unique statement of intent.   "When I started the band," says frontman Rich Fownes, "I said I wanted it to be like Buddy Holly meets Slayer. Well, here you go." Fuzzy but coherent, clean cut but generally irreverent, loud and mouthy but entirely melodic and accessible, Bad For Lazarus are 2014's blister-inflicting hot rocks.
Selling out Brighton venues for some time now, Bad For Lazarus set off on a full UK tour thoughout the Spring climaxing at The Camden Crawl 2014 in London
http://www.facebook.com/BadforLazarus
http://badforlazarus.com