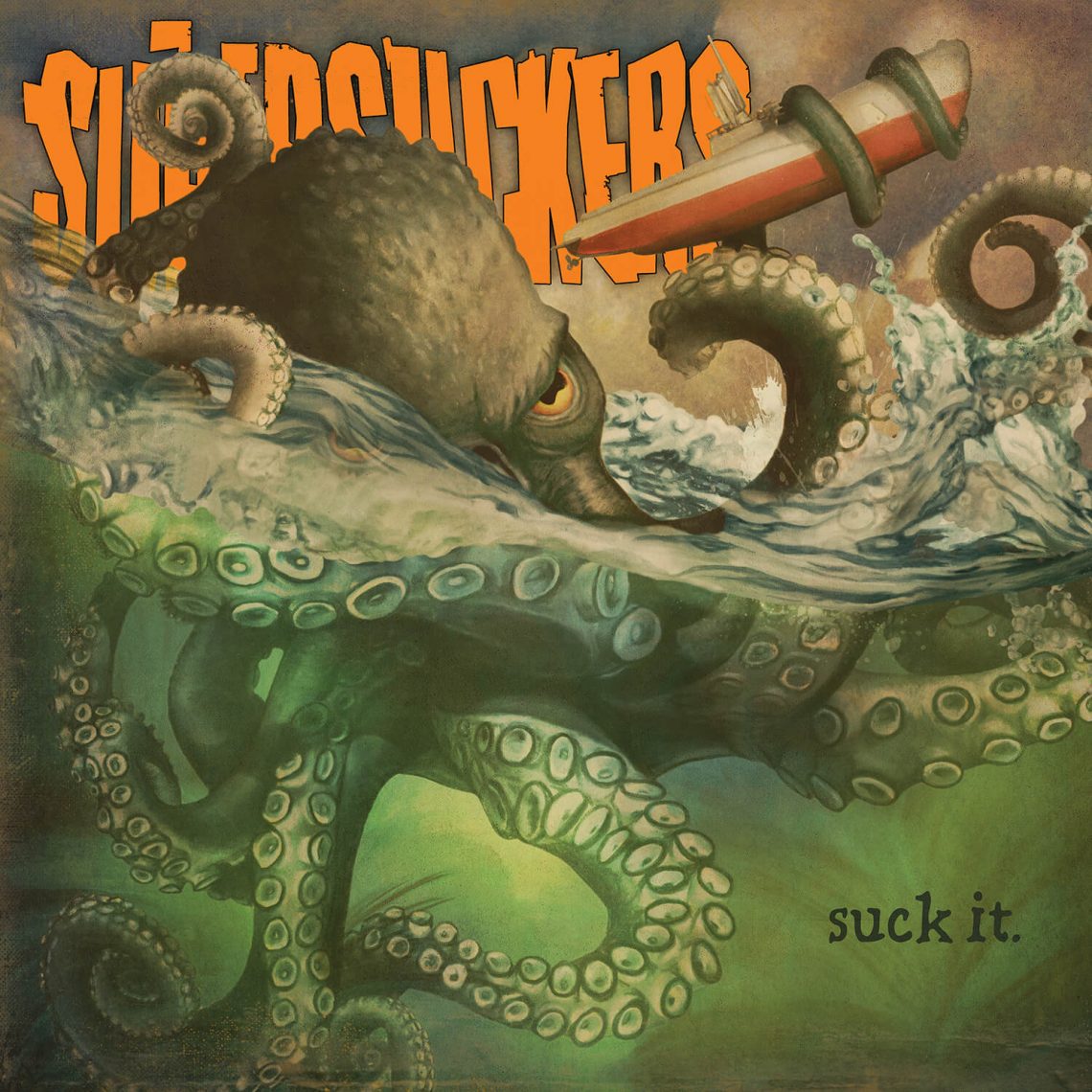 SUPERSUCKERS will release their new album in September!
1st August 2018
SOMEWHERE IN NEW JERSEY—"We've finally become the band that we've always threatened to be," says singer-bassist Eddie Spaghetti, calling, as ever, from the road. With the Supersucker odometer clicking on three decades this very year, the self-proclaimed Greatest Rock´n` Roll Band in the World is marking the occasion with a loud, resounding Suck It. Off the blocks, this 12th studio album from the band showcases a ruthless, get-it-done trio that sounds rebuilt from Motorhead parts, with a singer-bassist transmuting Lemmy`s mojo to rasp: "You said to grab it, just hook or stab it, and now I gotta have it – all of the time."
"Once we tapped into that vibe, we really ran with it," Eddie says of 'All Of The Time,' which opens an album he and core 'Suckers Marty Chandler (guitar) and drummer Chris Von Streicher (drums) recorded early this year at Bismeaux Studio in Austin, TX, cutting all ten tracks in four days. "And it sounds great," says Eddie. "There's not a lick I wish we could have back."
As a whole, Suck It brings to mind that old friend who's awesome to hang out with even if his life is in the shitter. "I tend to do my best work when I'm feeling good," Eddie says. "I don't tend to channel dark stuff into my Rock´n`Roll, but it makes for a more interesting record. I've come to realize what we do is not for everyone, but I still feel like we have hit songs. This one sounds like it's coming from dudes in their 50s who've been doing it for a long time and have this stupid hope that someday somebody will hear our song and make it popular like it oughta be. Because that is the truth."
Suck It will be released in Europe through SPV/Steamhammer on September 21st  2018 as CD DigiPak, LP version, download and stream.
Tracklisting:
All Of the Time 5:14
2. The History of Rock 'n' Roll 5:37
3. Dead Inside 3.33
4. Breaking My Balls 3:10
5. The Worst Thing Ever 3:46
6. What's Up (With This Motherfucking Thing?) 1:46
7. Cold Wet Wind 3:16
8. (Im Gonna Choke Myself and Masturbate) 'Til I Die 2:52
9. Private Parking Lot 3:12
10. Beerdrinkers and Hellraisers 3:37
SUPERSUCKERS Tourdates 2018
10.11. GB-Evesham – The Iron Road
11.11. GB-Glasgow – Audio
12.11. GB-Edinburgh – Bannermans
13.11. GB-York – Fibbers
14.11. GB-Milton Keynes – The Craufurd Arms
15.11. GB-Blackpool – Waterloo Music Bar
16.11. GB-London – Oslo
17.11. NL-Eindhoven – Helldorado
18.11. NL-Haarlem – Patronaat
23.11. ES-Bilbao – Kafe Antzokia
24.11. ES-Valladolid – Porta Caeli
25.11. ES-Madrid – Gruta 77
27.11. ES-Granada – Planta Baja
28.11. ES-Valencia – Loco Club
29.11. ES-Les Useres – La Burbuja
30.11. ES-Zaragoza – Sala Lopez
01.12. ES-Barcelona – Razzmatazz III
04.12. IT-Torino – Blah Blah
05.12. IT-Bologna – Freakout
07.12. CH-Basel – Hirscheneck
08.12. DE-Stuttgart – Goldmarks
09.12. DE-Berlin – Cassiopeia
10.12. DK-Copenhagen – Hotel Cecil
12.12. NO-Oslo – John Dee
14.12. SE-Gothenburg – Musikens Hus
15.12. SE-Stockholm – Slagtkyrkan
16.12. FI-Mariehamn – Pub Ettan