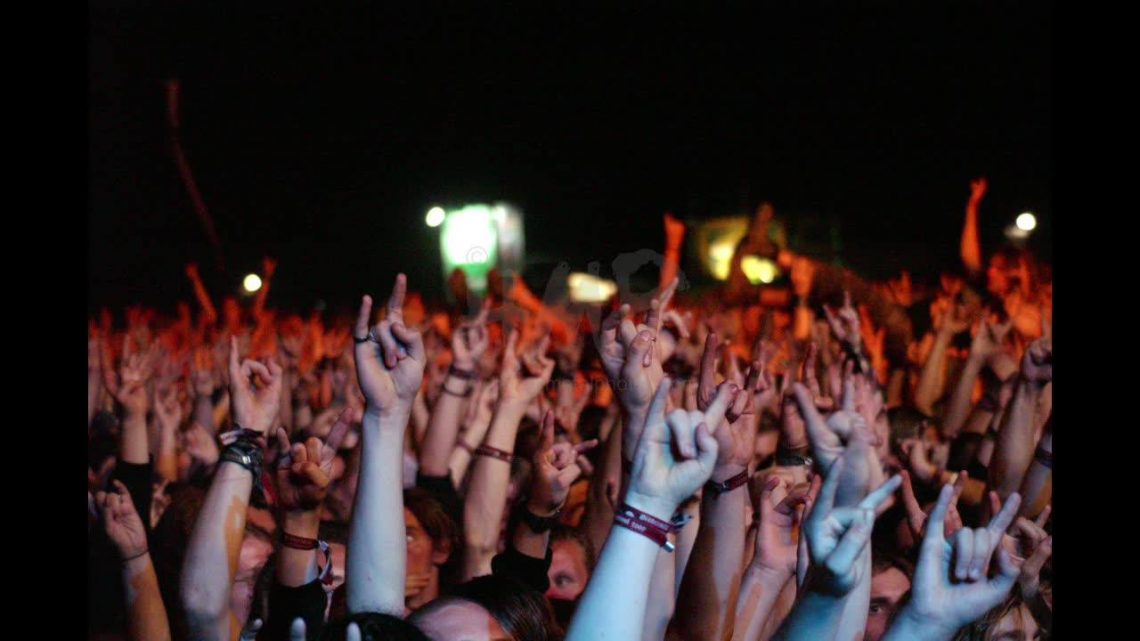 Tari from Time to Kill Records gives us some insight!
17th May 2021
0
By
Queen Nikki

Time to Kill Records started reigning in 2016 and are an extreme record label based in Italy who are a pure, oldschool, metal DIY record label and management. We had some time with Marita 'Tari' Mirabella who is the head of communications at Time to Kill Records to see how she was coping during the current state of the world.
Tari, thanks for catching up with us, we understand how important the 'behind the scenes' members of the music industry are,  especially given the current state of our Industry due to the ongoing pandemic. Which is why we are so eager for your stories to be told.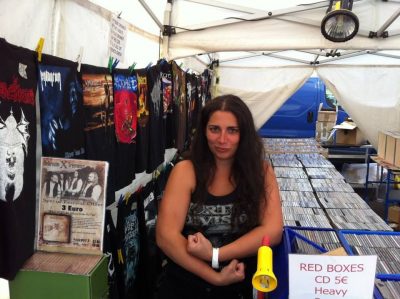 First of all, how did your journey in the music industry begin, tell us all about it, we'd love to know! What's your story?
Hey Nikki, Thank you. Well, first I started with writing and live show photography for a national magazine, then for international webzines and co-founding a small record label, called Punishment 18 Records. For many years I kept doing both the photography and the label work, which allowed me to network and to find new working opportunities. For example I organised a couple of small tours in Italy for the labels bands, supporting Darkane and then Vomitory. During those tours I experienced what it means to be a booking agent, tour manager and merchandise person at the same time and that, THAT was the field I wanted to stick to. All along I had a normal office job, from which I was made redundant in 2013. Luckily a local promoter asked me to take care of band hospitality at one of his festivals and in 2018 this led me to land my main job: "band hospitality/dressing room set up" for an Italian company.
Where are you currently based/ working, what is your role and how much has the ongoing pandemic affected your job?
I live in Bergamo, Italy, the first European epicentre of the pandemic. My last working day has been in the middle of February 2020, shortly after, all shows were cancelled and forbidden over here, then you all know what  followed for all of us. In 2020 I was booked to do merch for a metal band for a long European tour between the end of April and through May… just my luck! (Marita laughs) I've been trying to get a job on a proper medium tour for a such a long time and of course that couldn't happen of course!
Around the end of April of last year I found an ad from Time To Kill Records searching for a part-time social media manager and I applied. Apparently my experience in the music industry and above all having had a label myself were good enough qualifications to get me the job. Now I am head of communication for the label. As far as the live shows go, I have not worked at any other shows to this day since February 2020.
Well, at least it seemed to work out a little, so that's one good thing. Have you received any financial support during this time? From the govt. where you're located or grants etc.
Compared to my other colleagues around the world, I've been lucky, because I received some aid both from my country's government and from private funds too. It does not amount to a whole year worth of work in the live music industry, not even with the part-time label work, but I cannot and will not complain.
Have you had to take a job outside of the industry to get by during this time? If so, how did you adjust?
Yes, for the first three months of 2021 I've worked as a secretary at a local art gallery. Office work is something I had abandoned back in 2018 to work full time in the live music industry (great idea! haha) and would not have wanted to go back to it. But it ended anyway, so not something I have to worry about now.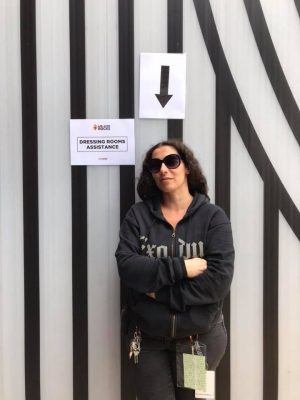 Have you always had a passion for music? What were your favourite bands growing up?
I think I have my first music related memories around the time I was 4-5  years old when I was consuming the Barbie Rock's cassette that my older cousin had given to me. At 15-16 years old when asked what I wanted to do, I used to answer "working behind the scenes in the music industry", even though I didn't know what that would entail or what it was about exactly. I grew up to rock music first (Queen are still my favourite band) and then to heavy metal. Megadeth was the band that got me into it and for that I'm also known as "Mrs. Mustaine".
Well, going from Barbie to Mrs Mustaine sounds like a pretty casual transition to me! 
Do you think your work in the industry has had an influence on your musical tastes?
I think it's more the opposite, my musical taste has influenced what I wanted to do in the industry. Listening to the albums is good, but nothing beats hearing the music you love, played in that very moment in front of an audience. The atmosphere at a live music event and the vibes you get from just being there are so unique and I want to make it possible for everyone to feel that.
Do you think that the industry should be more transparent and do you feel that labels & PR should be working closer together?
Well, the crew members are also known as the invisibles, we're more transparent than that… hehe!
Jokes aside, it depends what you are referring to. As for labels and PR having to work closer together, yes definitely. The whole music industry should be tighter these days, above all when relating to the institutions. I can speak for Italy, we have hardly been considered and it took months before we 'event-workers' were included in the aids the government provided. It is obvious that most governments have no idea of how our industry works and how even just one canceled show is at least a whole years worth of work, vanished in seconds with huge economic losses.
There really have been some significant losses. It's devastating! What's your opinion on what needs to change in the industry?
Speaking about the Italian scene, as it's the one I'm more familiar with, what Bauli in Piazza, We Make Events Italy and other organisations are doing is to finally work with the institutions to learn different ways to protect us event workers. Most people here had to open a VAT number and work as self-employed or get temporary contracts not tailored for our type of job. We always had to rely on rules and laws made for other fields, not specific for our own, which resulted in many of us not having the most basic rights recognised. Like sick leave, maternity/paternity leave, unemployment and so on. Given this crisis made us less invisible, it is time to sit at a table with the competent ministers and finally create something that will suit our sector like a glove. And I think that's what's happening in other countries too, it certainly should.
I absolutely agree, there really does need to be some tailored laws, globally, to protect event workers in the future and for at least the basic working rights!
You work with a lot of musicians, are there any emerging bands you've found that we should keep our ears and eyes on? 
Working with the label I discovered many interesting bands, which I would suggest to your readers and to you to check out  on our From Time To Kill Records website. (HERE) Novembre's guitarist Massimilano Pagliuso's Oceana, Hour Of Penance and Fleshgod Apocalypse's members side project Inno. But the two bands I must admit really made my hair whirl while headbanging to their albums are Infiltration (death metal from Russia) and Crawling Chaos (technical death metal from Italy). Not on TTK, Ghostheart Nebula.
Hell Yes! These are some incredible bands to check out, thanks for the hot tips. 
What is it that continues to drive you to work in the music industry? What kind of things do you find rewarding? 
It's my dream job, the one job I have always wanted to do, as I said, since I was a teenager. Contributing to making a show possible is so rewarding, when the band is on stage and you have those 5 minutes (if even) during which you can actually do nothing, you just walk up to the side of the stage and live the magic happening. That special connection that music creates that makes everyone feel part of a whole, that unites everyone with positive feelings… how I miss it.
Ohhh this gives me goosebumps, I miss it too! Well being all sweaty in front of the stage anyway.
You've said this is your dream job, but is there a specific dream role in the industry? 
What I would like to do is tour management and production management. At least until I reach those roles, it might change once I'm there, who knows.
It sounds like a great plan. Now, lets get dirty, what is the craziest story you have to share with us. Have you seen anything wild while on the job?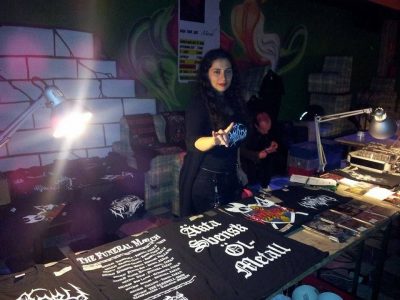 Let's see: I could tell you of that time we had to get a big mobile (clean) garbage bin and fill it with ice for an artist to jump in, or that time when a band soaked all of our table cloths in red wine and left a lovely apology message on a paper disposable dish (we still have it!); Then there was that time when an extreme metal musician abruptly stopped me and one of his band's mates in the middle of a festival backstage road, scaring us to death, just because there were little frogs crossing.
There are tons of stories, some wild, some weird, some just funny. In the end, that's one of the reasons why it's cool to do this sort of job.
Ohhh! Ofcourse Tari, extreme metal musicians are all about the cute frogs. This is adorable. 
Do you have any words of wisdom you'd like to say to either- other crew workers in the music industry or to the music fans about your position?
To the music fans: there's so much you could do while we cannot gather to live concerts! Support bands and local venues, buy music, buy merch!It's possible to donate to help event workers too, there are many international and national funds. Once it will be safe, go to every concert you can go to, above all, go to the small ones, those venues, crews and artists will be the ones that have suffered the most!
To colleagues of the industry, let's just hang in there and keep supporting each other.
It can't rain all the time.
That's a great bit of advice! Tari, thanks again for your time, it's been a pleasure as always and good luck! Lets hope this nightmare blows over soon so I can meet you in that sweaty pit. 
Here's a list of non-profit organisation to donate and help event workers:
Links:
Cover image curtesy of Marita- Heavy Metal Photos
About the author
"It does not require a majority, but an irate, tireless minority, keen to set bushfires in people's minds." Hail Satan!