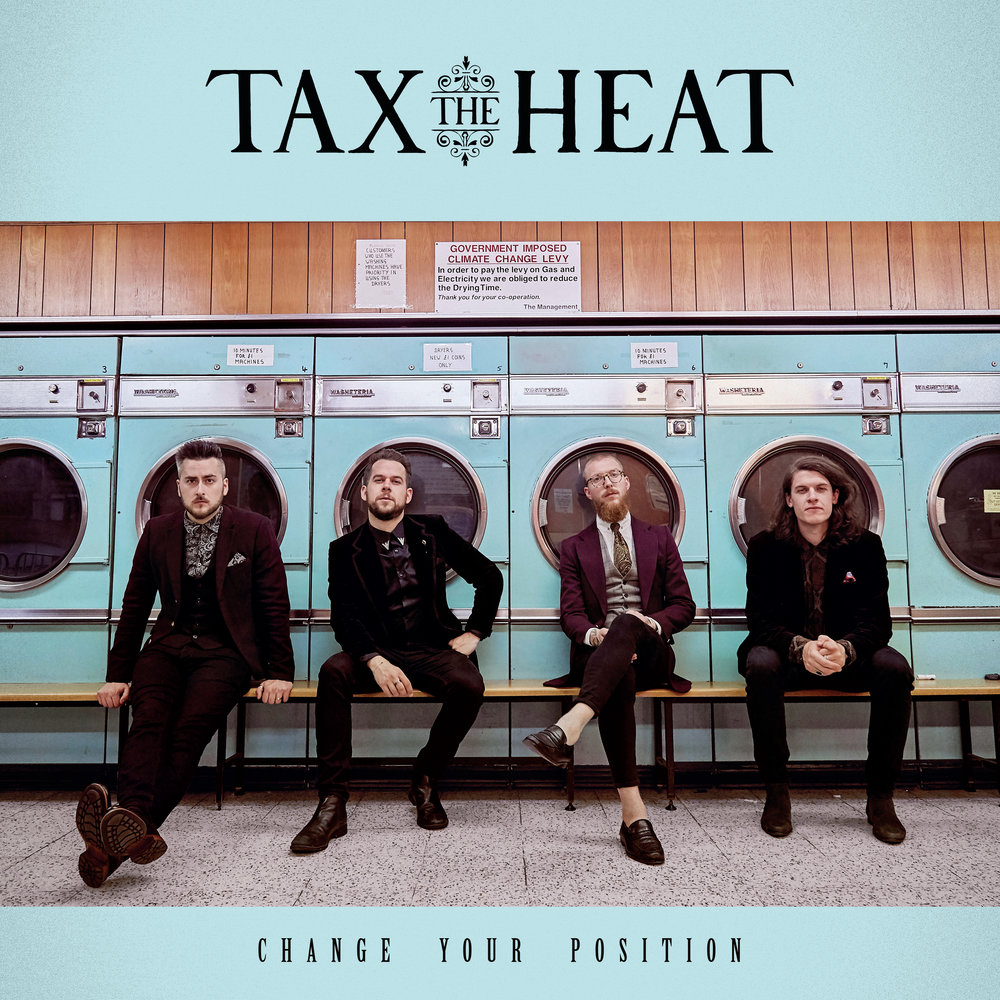 Tax The Heat – UK Tour 2018
10th April 2018
Following the announcement of two close to sell out album launch shows, Tax The Heat are delighted to announce a full UK headline tour in April 2018.
Full UK tour dates for Tax The Heat are now as follows: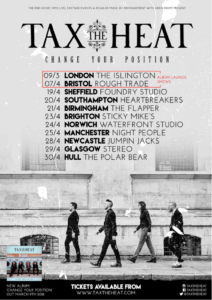 April 2018
Sat 7th                        Bristol, Rough Trade (Album Launch show)
Thurs 19th                   Sheffield, Foundry Studio
Fri 20th                        Southampton, Heartbreakers
Sat 21st                        Birmingham, Flapper
Mon 23rd                     Brighton, Sticky Mike's Frog Bar
Tues 24th                     Norwich, Waterfront Studio
Weds 25th                   Manchester, Night People
Sat 28th                       Newcastle, Jumpin Jacks
Sun 29th                      Glasgow, Stereo
Mon 30th                     Hull, Polar Bear   
Tickets for April headline shows go onsale 10am GMT Wednesday 31st January 2018.
All tickets available to purchase from www.taxtheheat.com
Support tbc
Alex Veale says, "When we wrote the Change Your Position album we followed our nose and let the music manifest itself in the way it did. Now we've started rehearsing for the tour it's become apparent how good this will feel to play the album live and loud in some fantastic intimate venues. We can't wait, join us!"

Nuclear Blast Entertainment are also pleased to announce the release of the forthcoming new album from Tax The Heat, "Change Your Position", on 9th March 2018. The album will be available as CD, Digital, Limited Edition Gatefold Vinyl and Limited Edition Light Blue Vinyl.
"Change Your Position" is the follow up to the 2016 critically-acclaimed debut album "Fed To The Lions". The new album sees the band take a huge step forward as both songwriters and performers. The band's unique blend of fuzz-driven rock with a modern alternative twist has won them a legion of fans. The album stamps its authority right from the off with the taut "Money In the Bank" (also the first single). From the staccato stomp of "Playing With Fire" to the huge riffs of "Cut Your Chains", from the garage rock of "On The Run" to the slow groove and instant lyrical hit of "All That Medicine". "Change Your Position" is a lean, focused album loaded with an energy that is set to propel the band to headline status.
The driving rhythms of Jack Taylor (Drums) and Antonio Angotti (Bass) are overlaid with the powerful riffs of JP Jacyshyn (Guitars) and distinctive melodies of Alex Veale (Vocals, Guitars).
For "Change Your Position" album
Order CD, Black Vinyl & Limited Light Blue Vinyl (all inc signed insert) here
http://www.nuclearblaststore.co.uk/shop/nuclearblast/products.php?cat=5144
Pre-order the album digitally from iTunes to receive 'Money In The Bank' and 'All That Medicine' as instant grat tracks:  http://nblast.de/TaxTheHeatCYPIT
From humble beginnings in 2015, Tax The Heat have become one of the most notable of new British rock acts. Multiple singles playlisted across radio in both 2015 and 2016 – taken from debut album "Fed To The Lions". The band also honed their live craft supporting the likes Cadillac 3, Reef, The Graveltones, Black Star Riders, Masters Of Reality, Virginmarys and Thunder and festival appearances such as 2000 Trees, Download, Calling and Ramblin' Man Fair.
"Change Your Position" will be released through Nuclear Blast on 9th March 2018.
How useful was this post?
Click on a thumb to rate it!
Average rating / 5. Vote count: