Tech Fest 2014 – first bands announced
20th March 2014
UK TECH-FEST, Europe's first ever progressive and technical metal outdoor festival, returns 10-14 July 2014 with a crushing next-generation metal line-up.
Back for its third year, the festival has upgraded venue to the prestigious Newark Showground in Nottinghamshire. Set to be the biggest ever gathering of bands pushing metallic creativity and technicality, TECH-FEST's growing popularity is a testament to this burgeoning forward-thinking scene and a sure sign of heavy metal's  bright future.
The first bands announced are:
The Ocean Collective

Vildhjarta (UK Exclusive)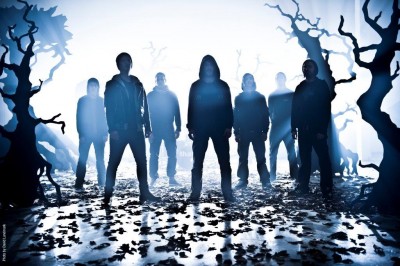 Glass Cloud (Europe Exclusive)
They are joined by THE SAFETY FIRE, THE EYES OF A TRAITOR (UK exclusive), FELIX MARTIN, MODERN DAY BABYLON, NAPOLEON, NO CONSEQUENCE, DISPERSE, DREWSIF STALIN, FRIEND FOR A FOE, DEADLY CIRCUS FIRE, FROM SORROW TO SERENITY, CARCER CITY, HORD, AEOLIST, BEAR, KADINJA, THE BELLEROPHON PROJECT, LIES OF NAZCA and THE SUN EXPLODES.
Official partners are once again Metal Hammer magazine, Ibanez guitars, Double Slit guitars, Zilla Cabs and this year they are also joined by North Custom Drums.
Following the huge success of the sell-out event in 2012, TECH-FEST UK went outdoors in 2013, packing about 1000 people into The Plough events field in Peterborough. Now at the Newark Showground, TECH-FEST 2014 is set to be even bigger with more bands, bigger names and even more activities. In addition to the music, food, drink and general festival goodness, there will once again be music workshops, Q&As and demonstrations with some of the top artists, as well as instrument and gear manufacturer stalls from the event sponsors  Zilla Cabs, North Custom Drums and Double Slit Guitars. Onsite camping will have showers and 24 hour food catering for a wide range of diets and tastes as well as a bar with a great selection of craft beers and ales, suitably complementing the calibre of the music.
With at least another 35+ bands to announce, UK TECH FEST 2014  is set to once again be one of the most unique and exciting festivals of the year.
Weekend tickets cost £59.99 (+£20 for camping) and are on sale now from Ticket Script
https://shop.ticketscript.com/channel/web2/start-order/rid/9FA4CMM4
Venue address:
Lincoln Rd
Newark-on-Trent
Winthorpe
Newark
Nottinghamshire
NG24 2NY
Newark Showground
http://www.uktechfest.com
http://www.facebook.com/uktechfest
https://twitter.com/UKTechMetalFest
http://www.metalhammer.co.uk
http://www.facebook.com/DoubleSlitGuitar
http://www.ibanez.com
http://www.zillacabs.com
http://www.facebook.com/northcustomdrums