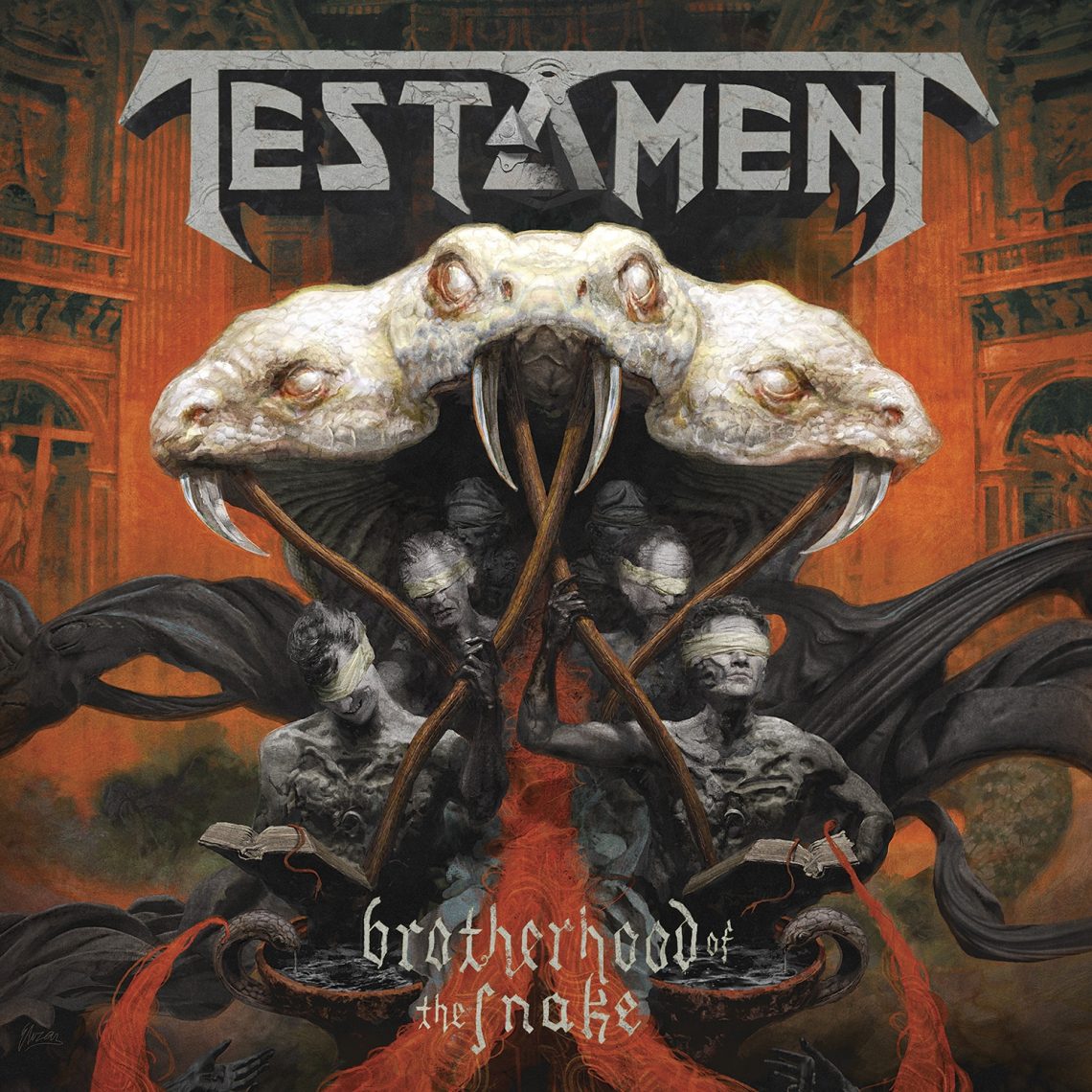 Testament – Brotherhood of the Snake CD Review
19th October 2016
Despite missing the early success of The Big Four, Testament are often praised as one of the best thrash bands going. The band are almost unique in that in the '90s, when their peers transitioned into more radio-friendly entities, Testament got even heavier and incorporated death metal influences. Following the legendary Thrash of the Titans benefit show and Chuck Billy's subsequent recovery from cancer, Testament played a handful of shows throughout the 00's. In 2008 – the same year Metallica released Death Magnetic – they unleashed The Formation of Damnation. Testament's first album in nine years, it had the collective metal community scratching their heads and muttering "Metalli-who?" Fast forward eight years, and their brilliant 2012 effort Dark Roots of the Earth, Testament are on the cusp of releasing their 11th opus: Brotherhood of the Snake. 
It feels like Testament have been teasing us for years with information regarding Brotherhood of the Snake. Hype has been building exponentially since they first announced they were working on a new record. But after two records that have been near-perfect, there was an air of worry that the Bay Area thrashers were due a drop in excellence.
This worry proves to be completely baseless. Chuck Billy is still one of thrash's most versatile and talented vocalists. Gene Hoglan is still a monster behind the kit. Steve DiGiorgio still dominates the low end. Alex Skolnick and Eric Peterson are still two of the best shredders in the business. And together, the quintet still make one of the best bands in thrash.
With its opening title-track, Brotherhood of the Snake proves right off the bat that Testament can still deliver. With exactly the kind of thrashy riff-work one expects from Skolnick and Peterson, Brotherhood of the Snake is catchy and, compared to the rest of the album, more mid-paced. The Pale King features a more ominous groove, though is still classically fast and Stronghold is bludgeoning in its sheer heaviness. We see Testament get a bit more melodic with Neptunes Spear, which features some absolutely beautiful lead guitar work throughout and a motherload of catchy riffs. 
However, two tracks stand out as not only album highlights, but career highlights. One of Testament's more melodic tracks, Seven Seals is simply stunning. The lyrics are wonderfully penned, and Chuck Billy displays almost his full range here. Seven Seals' chorus is absolutely huge, and if the track is played live will be a brilliant sing-along moment. The guitar leads throughout are beautiful, and the heavier sections are truly punishing. Finally, we come to album closer and Brotherhood of the Snake's second highlight, The Number Game. While Seaven Seals is a more melodic, epic track, The Number Game can only be described as brutalising. This is thrash at its finest. As much as Testament's melodic moments are excellent, nothing truly suits the band as much as their speed-obsessed savagery. It is obvious that The Number Game will almost certainly be a circle-pit starter when played live.
While Megadeth, Anthrax and Slayer have all released fantastic returns to form in the last year or so, and from what we've heard Metallica's newest album is shaping up to be rather good, Brotherhood of the Snake could be called the thrash album of the year. This is not Testament's return to form simply because Testament have always been consistent in their brilliance. They lack the mainstream appeal of Metallica and Megadeth, but when has mainstream appeal ever been synonymous with quality? The Kings of Bay Area Thrash deliver once again.
Metalli-who?
Score: 9 out of 10
Brotherhood of the Snake Information
Track List:
1. Brotherhood of the Snake
2. The Pale King
3. Stronghold
4. Seven Seals
5. Born In A Rut
6. Centuries of Suffering
7. Neptune's Spear
8. Black Jack
9. Canna Business
10. The Number Game
Record Label:
Nuclear Blast Records
Release Date:
28th of October 2016
For fans of…
Exodus, Megadeth, Kreator
Pre-order Brotherhood of the Snake here, and check out Testament on Facebook!