The Amorettes & Tequila Mockingbyrd Join forces for up & coming tours after line up changes
7th March 2019
Over the past few months critically acclaimed rock outfits The Amorettes and Tequila Mockingbyrd have both undergone line up changes and have now come together to honour all up and coming tour dates.
The touring line up for both bands will see Gill Montgomery (The Amorettes), Josie O'Toole (Tequila Mockingbyrd), Jacinta Jaye (Tequila Mockingbyrd) and Laurie Buchanan (Aaron Buchanan and the Cult Classics) come together for all remaining tour dates in 2019.
"I am very excited to have Josie, Jacinta and Laurie join The Amorettes for the shows we have coming up. We intend to have a lot of fun this summer, and who knows what the future will hold for us all! Watch this space!" – Gill Montgomrey (The Amorettes)
"We are so pumped for what lies ahead. The Amorettes were one of the bands we admired from afar back in Australia before the Tbyrds had even landed in the UK so to join forces with Gill is something else. And to have the incredible Laurie Buchanan on board too means a double whammy of guitar goodness! We really can't wait to get out there and make some noise." – Josie O'Toole (Tequila MockingByrd)
The Amorettes Latest single 'Born to Break' https://www.youtube.com/watch?v=Ol3nrReBDg8
Tequila Mockingbyrd Latest single 'Pretty Picture'
https://open.spotify.com/track/0OsE0AHckyW8TE0dr59Ecn?autoplay=true&v=T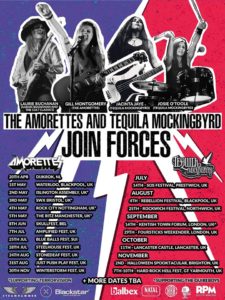 The Amorettes – UK/European Shows
20thApril         Dijkrok, NL
2ndMay           Islington Assembley, UK*
3rdMay            SWX Bristol, UK*
4thMay            Rock City Nottingham, UK*
8thJune            Skullfest, Belgium
7thJul               Amplified Festival, UK
25thJul             Blue Balls Festival, UK
28thJul             Steelhouse Festival, UK
24thAug           Stonedeaf Festival, UK
31stAug           Just Push Play Festival, UK
30thNov           Winterstorm Festival, UK
*Supporting Terrorvision
For all ticket info – http://www.theamorettes.com/site/#gigs
Tequila Mockingbyrd – UK Shows
14thJul             SOS Festival
4thAug             Rebellion Festival
25thAug           Rockwich Festival
14thSep           Kentish Town Forum*
29thSep           Foursticks Festival
2ndNov            Halloween Spooktacular
7th-10thNov     Hard Rock Hell Festival
*Supporting The Quireboys
For all ticket info – http://www.tequilamockingbyrdband.com/updated/tourdates/
How useful was this post?
Click on a thumb to rate it!
Average rating / 5. Vote count: