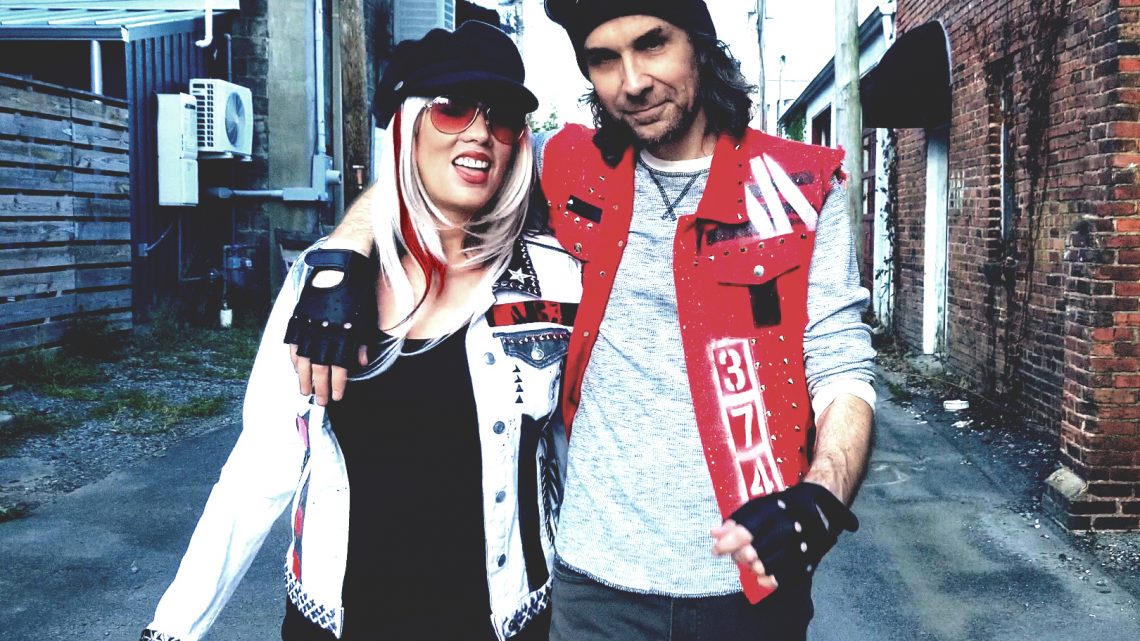 The Bloody Nerve Are Reaching the 'Reckoning'
29th March 2022
The Bloody Nerve reach another landmark in the roll-out of their episodically released, rock-rich concept album 'All Blood, No Treasure', releasing both the brand-new video for 'Episode 6 – Doin' All Day'; and the 3-track EP of Act II, 'Reckoning', on digital platforms and as a limited-edition CD.
"The album is broken up into four 'Acts'…" explains vocalist Laurie Ann Layne, "There will be a limited-edition CD available on the street date for each of the acts, with a full-length CD and dope vinyl when it's over."
Classic Rock praised "the juicily named 'All Blood, No Treasure' [as a] a gnarly mix of punkoid fire, Dead Weather-esque rock and social disenchantment," with the Act 1 finale, 'Roads', winning the top vote in their Tracks of the Week. Powerplay Magazine were similarly impressed, awarding the 'Act 1 EP' 9/10: "They mix it up rather well, grunge here, southern rock there, pop punk over in the corner… It has the audacity of youth. And The Bloody Nerve to wink at us while they do it."
"Act II is called 'Reckoning', because we always end up here," says Laurie, "We can't make up our rules as it turns out.  To protect that machine, things get more forceful and more ridiculous until it implodes."
Act II opened with the title track of the album 'All Blood, No Treasure': "Episode 4 is like the manifesto of sorts, like there's no hiding the dreadful reality anymore," explains Stacey, "It's brutal and sad all at the same time.  Deep down that's what we're all feeling, whether we admit it or not, and no matter our political priors. We feel like prey."
Episode 5: 'Down To The Letter' grabbed you and hit hard right from the get-go with its opening hook, quickly building to the fully fleshed out rock sound that charges the album. Stacey Blood's vocals come to the forefront with a sound that seems to warn, lecture, and mock all at the same time. 
"Episode 6 is the fork in the road," says Laurie Ann Layne of 'Doin' All Day', "It's truly the inner struggle: do we descend further with resentment or begin redemption with courage and faith?"
"'Doin' All Day' is prison slang for a life sentence," explains guitarist and singer Stacey Blood, "So we're using these optics to describe how we find ourselves more and more cuffed to new cultural pressures that don't come naturally to the human spirit.  There's a new warden every day, each less forgiving than the one before."
The brand-new video for 'Doin' All Day' shows Stacey and Laurie shackled together as prisoners, tied back-to-back in darkness or as if on CCTV in a cell — singing the lifer's plaintive prayer "Lord, pardon my enemies today…" — the styling of this opening verse reminding us that The Bloody Nerve aren't shackled by convention, cliché or genre.
But temperament changes quickly, as the soaring guitar solo from Stacey Blood that follows vividly shows, marking the song's sea change towards a much bigger, rockier sound. On screen, the pair walk blindfold through a forest, joined by a rope at their wrists with a sinister, almost 'Blair Witch Project', vibe.
As the song builds climactic power, Laurie Ann Layne's distinctive vocals move from backing to foreground, playing against Blood's whilst the music transformation is intensified by shots of the two prisoners pulling against each other, eyes now eerily aglow.
The song and video each bring Act II to a strong, satisfying ending. "You won't be free until you see," as the final lyrics proclaim, as the prisoners escape from their bonds and step out into the light.
Check out the striking video on YouTube, at https://www.youtube.com/watch?v=Fay23tTFqHw
The Bloody Nerve's Act II EP, 'Reckoning', now available on digital platforms:  https://ffm.to/zeerpxz
Lovers of physical media can also purchase a limited-edition CD, available from https://thebloodynerve.com/store/  Also, watch out for the next Act of this exciting, unfolding album.
Website: https://thebloodynerve.com/
Facebook: https://www.facebook.com/thebloodynerve/