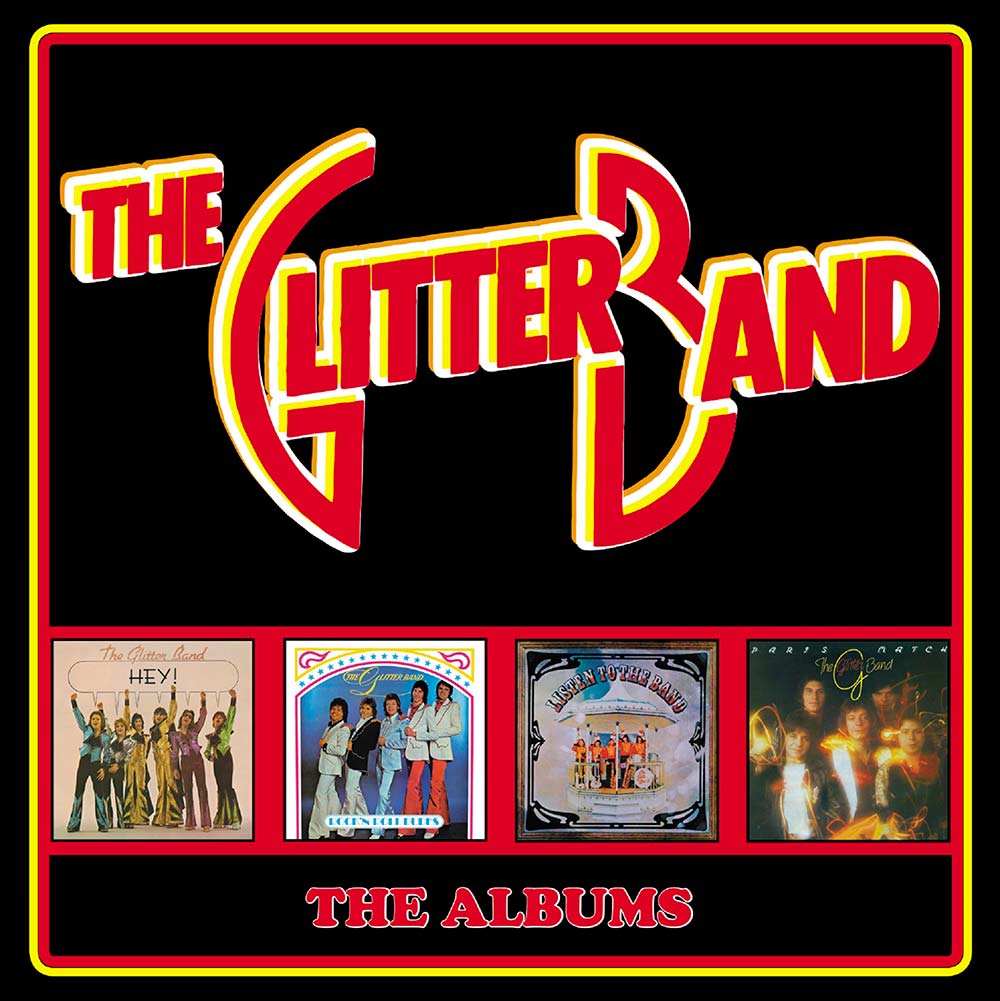 The Glitter Band – The Albums
21st November 2016
Originally a backing band The Glitter Band broke free & inked their own deal. That turned out to be a great decision. 7T's records have compiled this box-set of their 1st 4 albums. Each complete with bonus tracks & featuring the original artwork for each album. Including the correct cover for the Paris Match album.
It's only in retrospect that you realize how far advanced this band was. Utilizing 2 drummers, a horn section & non standard guitar tuning (Octave) which added a whole new melody line to compliment the horns perfectly.

The debut album Hey still sounds great. The drums are really clattery, the vocals heavily reverbed & the mixture of bass with the combination guitar & horns is tremendous.
The album is showered in cover versions as this was the era of debut albums had to have songs that people knew as well as originals. The Glitter Band have done their best to make them their own. The version of Gimme Some Lovin' (Spencer Davis Group & the movie Blues Brothers) is almost unrecognizable yet it makes such a refreshing change to hear something different done to an absolute classic.
Rock 'n Roll Dudes has a lot more originals & shows what they were capable of as song writers as the track Let's Get Together Again
A tad more commercial than their previous outing but the band is growing exponentially at this point & being a little more experimental.
Their 3rd album Listen To The Band more disco than rock. Although it still features a drum sound like cutlery falling down the stairs, the vocals are slight less effected by the reverb. This did produce a few hit singles but failed to find the recognition that their 1st 2 albums did. Listen To The Band has the single Alone Again which was the 1st single from them that didn't chart & sadly the band didn't have another hit single. 

Paris Match which now has the correct artwork & not labeled as The G Band. This shows a different direction of the band. This is more of a pop outing & a departure from their usual sound. Their version of the Stones classic Sympathy For The Devil has, as with all their other covers, had the Glitter Band treatment by making it their own.

The Glitter Band where a good band & the addition of bonus tracks throughout these 4 albums are an added bonus. The packaging is brilliant. Clam-shell box with a really nice booklet, filled with liner notes & lovely color photos. The CDs themselves are in high quality cardboard sleeves & have the original front & back covers replicated. The re-mastering has added a new brightness & the 70's hiss & clicks from the original recordings have been removed.
Another satisfying purchase from the 7Ts label & a very handy package.
Grab your gold lame suit & platform boots & remember or discover 70's glam rock at it's finest.
Score 7/10
Track List

Disc: 1- HEY
  5. All I Have to Do Is Dream
  8. Twisting the Night Away
  13. Angel Face (Reprise)
Bonus Track
  14. You Wouldn't Leave Me Would You?
Disc: 2 – Rock 'n Roll Dudes
  11. You're Trying Too Hard
Bonus Tracks
  12. Let's Get Back Together Again
  14. Got to Get Ready for Love
Disc: 3 – Listen To The Band
  2. People Like You and People Like Me
  11. The Tears I Cried
Bonus Tracks
  15. Don't Make Promises (You Can't Keep)
Disc: 4 – Paris Match
  3. I Really Didn't Love Her at All
  8. You Never Walk Out on Your Baby
  9. Look at What You've Been Missing
  10. Sympathy for the Devil
Bonus Tracks
  11. Gotta Get a Message Back to You
How useful was this post?
Click on a thumb to rate it!
Average rating / 5. Vote count: