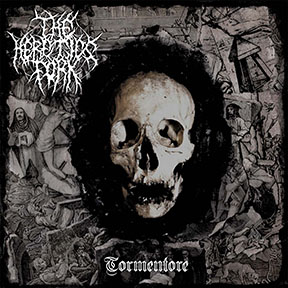 THE HERETICS FORK Will Leave You "Diminished Unto Lunacy"
26th September 2018
0
By
John Deaux
The mighty Toilet ov Hell has premiered a new song from
THE HERETICS FORK's
forthcoming album
Tormentore
(October 31 on
P2 Records)
. Get brutal below!
Stream "Diminished Unto Lunacy"
From the darkest reaches of the abyss comes THE HERETICS FORK. Cloaked in enigma, this is a band that operates under strict conditions of anonymity; preferring to let their warped, yet intense brand of brutal death metal stand on its own.
The band's debut recording – Tormentore –  features eight tracks of guttural, cavernous vocals, subsonic riffing and insane blast beats. Faces will melt, and bones will be crushed to dust under the weight of this hell-spawned and demented beast. 
Little is known about THE HERETICS FORK, but the threat is real. Very real. And it's coming. You have been warned.
For fans of BRODEQUIN, MORTICIAN, DEVOURMENT, DISGORGE and PORTAL.
"Impossibly downtrend riffs, inhumanly guttural vocals, and wall-to-wall blast beats. In other words, some seriously sick shit."
 – Indy Metal Vault
"There's something especially fetid about The Heretics Fork's approach to brutality. There's an element X, some kind of rat stuck in the plumbing, that makes all of the album engrossing and addicting in a discomforting, shameful way."
– Toilet ov Hell
How useful was this post?
Click on a thumb to rate it!
Average rating / 5. Vote count:
Related
About the author
Some say Yank My Doodle, It's A Dandy! is a biographical movie based on John. Some have even said that his favorite artist is Chesney Hawke! All we really know is he sleeps inside out and his hair tastes like candy floss.