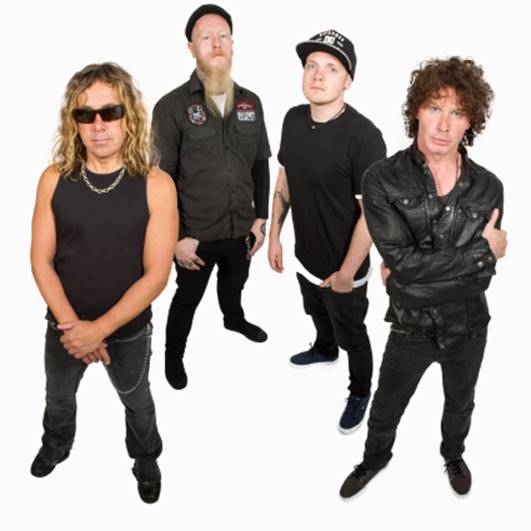 THE JOKERS OPEN FOR STATUS QUO AND ANNOUNCE SINGLE RELEASE.
23rd August 2016
Vital British classic hard rockers The Jokers perform as Special Guests of Status Quo at Parc Y Scarlets Stadium, Llanelli on Saturday August 27th.
 
The band state that "We are thrilled to be opening for the legendary Status Quo at the Parc Y Scarlets Stadium. Being from a Rock 'n' Roll background ourselves, The Jokers have looked up to Status Quo ever since we were kids." Singer Wane Parry adds; "Being a welsh man myself it is an honour to be playing such a venue in my beautiful home country."
 
The Jokers are releasing a brand new single 28th October 'Silver City', with B/side 'Summer Time'  taken from their highly acclaimed third album, 'Hurricane', on Steamhammer / SPV. 'Silver City' was recorded at Liverpool's Parr Street Studios, and produced, engineered and mixed by Tom Size (Aerosmith, David Lee Roth, Journey, Steve Miller Band, Huey Lewis, Mr. Big) at the Tomland Studios, San Francisco. 
Silver City is a power driven hypnotic sing a long rock tune with an infectious chorus and a groove you can't help but move to and the band will be premiering the new video for this single end of October.
'Hurricane,' released last Autumn, was roundly applauded by Classic Rock's Malcolm Dome, who stated in the November 2015 issue that "You can tell where The Jokers get their chops, as soon as 'Run 4 Cover' dashes round the corner. It's the allure of '70's British hard rock, with occasional nods towards the previous decade. And, keeping a distinct live attitude makes 'Hurricane' an inviting breeze. The Jokers mix influences from The Faces, Humble Pie and The Yardbirds, striking a rich vein with the soul flame on 'Her Word Is Love' and the funky patch on 'She's On Fire'… These Jokers ought to be taken seriously." 
 
Fireworks Magazine's Kieran Dargan mused in the November / December 2015 issue; "What a wonderful surprise; a superb album, deserving of a home in your collection sooner rather than later."
TOUR DATES
 
AUG 26  The Patriots  Newport
AUG 27 Parc Y Scarlett Stadium opening for Status Quo – Lanelli, Wales
SEPT 16 Fox & Goose – Southport
SEPT 30 – The Grapes – Stafford
OCT 8 – The Engine Rooms – Chapel House
OCT 22 – The Sunn – Llangollen
OCT 29 – Telfords Warehouse – Chester
NOV 4 – The Belford Club – Belford
NOV 5 –Dreadnought Rock – Bathgate
NOV 6 –Buskers – Dundee
NOV 11 – The Leopard – Doncaster
NOV 12 – The Patriot –Hotham
NOV 26-The Blind Pig – Halifax, Canada
DEC 3 – The Brew – Warrington
March 4  –The Patriot – Hotham
March 11 – The Boulevard
May 19 – The Blind Pig – Sowerby Bridge
The Jokers are:-Wane Parry on lead vocals, Paul Hurst on lead guitar, Phil Hartley on bass and Dan Evans on drums.
 
www.thejokers.com / www.spv.de