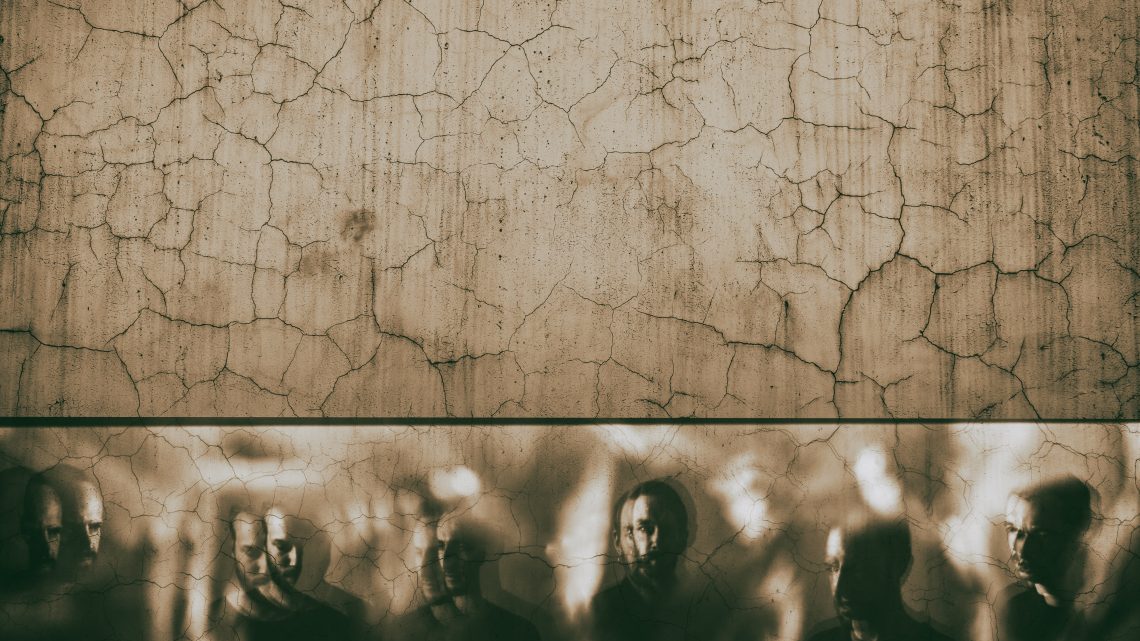 THE OCEAN ANNOUNCE EUROPEAN TOUR WITH LLNN & PLAYGROUNDED
28th April 2022
0
By
John Deaux
Coalescing around a shared vision of limitless sonic exploration and relentless heaviness, The Ocean will return to Europe on tour later this year with support from LLNN and Playgrounded. The band state,
"We're stoked to take our pandemic album Phanerozoic II out on the road after all this downtime, some rescheduled shows and some new ones", comments Staps. "With LLNN and Playgrounded we have 2 like-minded cutting edge bands on board that are 'redefining heaviness', to speak in Roadburn terms, not only by distorted guitars but also by their innovative use of electronics in heavy music."
The Ocean (Collective) have gained a formidable reputation within the post rock, post metal and experimental hardcore scene with 9 studio albums in nearly 20 years. Simultaneously revered as one of the most devastating live bands in modern heavy music, the band became a regular fixture on the European festival circuit, appearing on metal festival bills of the likes of Hellfest, Wacken, Resurrection or Summer Breeze as much as on mainstream rock open airs like Roskilde, Dour, Pukkelpop, or Oya and tastemaker's indoor boutique festivals like Roadburn or Dunk! Over the course of their storied career, The Ocean have toured Europe, North & South America, Australia and Asia with bands such as Opeth, Mastodon, Mono, Cult Of Luna, The Dillinger Escape Plan, Anathema, Between The Buried And Me and Devin Townsend. The band's own Pelagic Records has become one of the world's leading labels for post-rock and post-metal, with a catalogue of over 200 physical releases since 2009.
Over the last two decades, The Ocean have been in a perpetual state of evolution, releasing a steady succession of groundbreaking and acclaimed albums that have all sought to push heavy music forward, embracing the cerebral and the primal in equal measure. In September of 2020, in the middle of the pandemic, the Berlin-based collective released the eagerly-awaited concluding episode of the Phanerozoic journey: and even without any touring to support the release, Phanerozoic II entered the official German album charts at #9, making it the first Top 10 album in the history of the band.
Divided into two sections – Mesozoic and Cenozoic – Phanerozoic II once again showcases the detail and depth that have become two of the band's most enduring trademarks. While ostensibly delving into the extraordinary realities of the Earth's shifting temporal tides, main writer and guitarist Robin Staps and his comrades have long drawn hazy parallels between their chosen subjects and the emotional experiences that their music strives to convey. Phanerozoic II is essentially an album about time, with some very poignant and pointed allusions to the modern world woven into the new music's spiritual fabric.
"complex, overwhelming and mercilessly tight" – Kerrang!
"a Teutonic paean to Earth's geology" – Revolver
The Ocean will be joined by 
Copenhagen's LLNN who dropped 
Unmaker
 last fall, an album that is a stupefyingly unforgiving affair: abrasive and vile, 
at times effervescent and escharotic, and finally absolutely smothering, suffocating, terminal.
Completing the bill are Playgrounded. 
Hailing in equal parts from Greece & the Netherlands, Playgrounded have exploded onto the scene this spring with their sophomore album
"The death of Death"
, a stunningly heavy and melancholic album which shows the band in full flux, experimenting with distorted guitars and complex rhythmical arrangements as well as with influences from contemporary electronic music.  
Playgrounded analyse and take apart their surroundings, reducing reality to its smallest components, and subsequently converting them into sound to create a new platform – a representation of reality from which they build their artistic vision.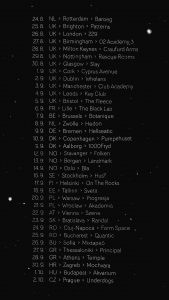 THE OCEAN, LLNN, PLAYGROUNDED
24/08 – NL Rotterdam, Baroeg
25/08 – UK Brighton, Patterns 
26/08 – UK London, 229 
27/08 – UK Milton Keynes, Craufurd Arms 
28/08 – UK Birmingham, 02 Academy 3
29/08 – UK Nottingham, Rescue Rooms
30/08 – UK Glasgow, Slay 
01/09 – IE Cork, Cyprus Avenue
02/09 – IE Dublin, Whelans
03/09 – UK Manchester, Club Academy 
04/09 – UK Leeds, Key Club 
05/09 – UK Bristol, The Fleece 
06/09 – FR Lille, The Black Lab 
07/09 – BE Brussels, Botanique 
08/09 – NL Zwolle, Hedon
09/09 – DE Bremen, Hellseatic
10/09 – DK Copenhagen, Pumpehuset 
11/09 – DK Aalborg, 1000Fryd 
12/09 – NO Stavanger, Folken 
13/09 – NO Bergen, Landmark
14/09 – NO Oslo, Bla
15/09 – SE Stockholm, Hus7
17/09 – FI Helsinki, On The Rocks 
18/09 – EE Tallinn, Sveta 
20/09 – PL Warsaw, Progresja 
21/09 – PL Wroclaw, Akademia 
22/09 – AT Vienna, Szene
23/09 – SK Bratislava, Randal 
24/09 – RO Cluj-Napoca, Form Space 
25/09 – RO Bucharest, Quantic 
26/09 – BU Sofia, Mixtape5 
27/09 – GR Thessaloniki, Principal
28/09 – GR Athens, Temple 
30/09 – HR Zagreb, Mochvara 
01/10 – HU Budapest, Akvarium 
02/10 – CZ Prague, Underdogs 
How useful was this post?
Click on a thumb to rate it!
Average rating 0 / 5. Vote count: 0
No votes so far! Be the first to rate this post.
Related