The Partisans: 1981-84, 3CD Digipak
3rd March 2020
Are you a fan of The Clash, The Stooges, The Exploited, Discharge or Broken Bones? If the answer is YES to any or all of the aforementioned, then you're going to get a kick out of this Welsh quintet bunch of punk The Partisans.
The self titled debut album takes up the 1st disc in this set. With just 12 tracks and a run time of a little over 24 minutes. It flys by.
The 2nd disc just so happens to be their 2nd album, The Time Was Right. Half studio and half live, this album has slightly better production and a longer run time. (13 tracks and 34 minutes). It's still a cracking album despite being 36 years old (correct at time of writing)
 It's not until the 3rd disc where it becomes a set really worth having. At a little over 50 minutes and 21 tracks, this is an aptly titled rarities disc.  The 2 No Future demos are present and correct and haven't seen the light of day for quite sometime. There's even the original mixes from the album The Time Was Right.
So much of this disc is unheard and unreleased it's an absolute treat. 
https://www.youtube.com/watch?v=VqBj7c68YHI
If you've seen these guys on the Punk Festival circuit, then you know just how good this anthology will be.
Score 7/10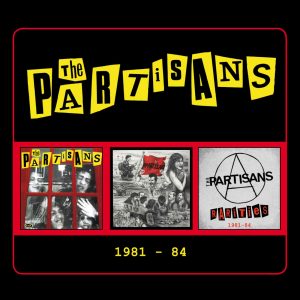 TRACK LISTING
DISC ONE
THE PARTISANS
1. NO U TURNS
2. 17 YEARS OF HELL
3. NO TIME
4. PUT YOUR MONEY WHERE YOUR MOUTH IS
5. DON'T BLAME US
6. ARMS RACE
7. I NEVER NEEDED YOU
8. I DON'T GIVE A FUCK
9. MINDLESS VIOLENCE
10. PARTISANS
11. FIRE
12. OVERDOSE
DISC TWO
THE TIME WAS RIGHT
1. I NEVER NEEDED YOU
2. ANGER AND FEAR (YOUR ALL ALONE)
3. THE MONEY ROLLS IN
4. ONLY 21
5. TIME WAS RIGHT
6. WHITE FLAG
7. 17 YEARS OF HELL (LIVE)
8. CHANGE (LIVE)
9. ARMS RACE (LIVE)
10. COME CLEAN (LIVE)
11. OVERDOSE (LIVE)
12. PARTISANS (LIVE)
13. BLIND AMBITION
DISC THREE
RARITIES 1981-84
1. ARMS RACE
(CARRY ON OI! VERSION)
2. NO U TURNS
(CARRY ON OI! VERSION)
3. I DON'T GIVE A FUCK
(NO FUTURE DEMO)
4. NO U TURNS
(NO FUTURE DEMO)
5. ARMS RACE
(NO FUTURE DEMO)
6. DON'T BLAME US
(NO FUTURE DEMO)
7. POLICE STORY
8. KILLING MACHINE
9. 17 YEARS OF HELL
(NO FUTURE DEMO 2)
10. BASTARDS IN BLUE
(NO FUTURE DEMO 2)
11. POWER & THE GREED
(NO FUTURE DEMO 2)
12. 17 YEARS OF HELL
(SINGLE VERSION)
13. POWER & THE GREED
14. BASTARDS IN BLUE
15. COME CLEAN
16. CHANGE
17. I NEVER NEEDED YOU
(ORIGINAL MIX)
18. TIME WAS RIGHT (ORIGINAL MIX)
19. ANGER AND FEAR (YOUR ALL ALONE) (ORIGINAL MIX)
20. ONLY 21 (ORIGINAL MIX)
21. TIME WAS RIGHT (MIX2)
Label
Captain Oi!
Release Date
20th March 2020
To purchase the album, click HERE